Envelop your skin in Nourishing Body Cream, a deeply hydrating body lotion to transform dry, dehydrated skin.
KEY BENEFITS
Medik8's signature Moisture Magnets™ and natural glycerin keep water locked in tight for all-day comfort and hydration. Meanwhile natural cocoa butter lavishes skin with emollients to keep skin soft and supple.
RESULTS
The sumptuous formula helps to improve skin tone and elasticity, smoothing dry, rough patches while restoring the skin's natural protective barrier.
KEY INGREDIENTS
Moisture Magnets, Natural Glycerin and Cocoa Butter
Delivery Options
Standard Delivery
£3.75 or FREE on orders over £35. Please allow 3-5 working days for delivery.
Priority Delivery
£4.95 or FREE on orders over £100. Next-Day delivery when you order before 6pm Monday to Friday (Excluding bank holidays) Shipped by DPD
Key Benefits
Daily Moisturisation
With the hydration of a rich lotion but the absorption of a light cream, Nourishing Body Cream™ is a perfect daily moisturiser. When applied after a bath or shower, the uplifting, clean scent doesn't overpower fragrances applied afterwards.
Hydrating
With a cocoa butter base alongside Medik8 signature Moisture Magnets™, the rich lotion provides the ultimate hydrating experience. Skin is left silky and soft, without any greasy residue, allowing you to put clothes on almost immediately.
How It Works
Nourishing Body Cream combines an indulgent texture with a cutting-edge formulation using intelligent Moisture Magnets.
Cocoa butter cream blends in quickly to rebalance the body's natural protective barrier. This helps to block water-loss from the upper layers of the skin.
Medik8's signature Moisture Magnets are hydrators which bind to skin cells. They then draw moisture to themselves from the lower layers of the skin and the surrounding atmosphere. The skin's surface is left supple, smooth and hydrated.
How To Use
Every morning and evening, massage Nourishing Body Cream into dry skin using gentle circular motions.
Perfect for rehydrating after bathing or showering. Follow with sunscreen if required.
Patch testing prior to use is advised. Refer to medik8.co/patch for an in-depth guide to patch testing.
Ingredients
Moisture Magnets
Medik8's signature hydrators bind to skin cells and grab onto water to lock moisture in tight where it is needed the most.
?Natural Glycerin
Glycerin gets to work as a natural humectant, trapping water within the skin to leave it quenched and comfortable.
?Cocoa Butter
A rich moisturiser to lavish skin with emollients, restoring its natural protective barrier to keep hydration locked in.
PARABEN FREE
VEGAN FRIENDLY
ZIPPER DONATION
NO SYNTHETIC COLOURS
NO PHTHALATES
ALCOHOL FREE
CRUELTY FREE
Used in Professional Treatments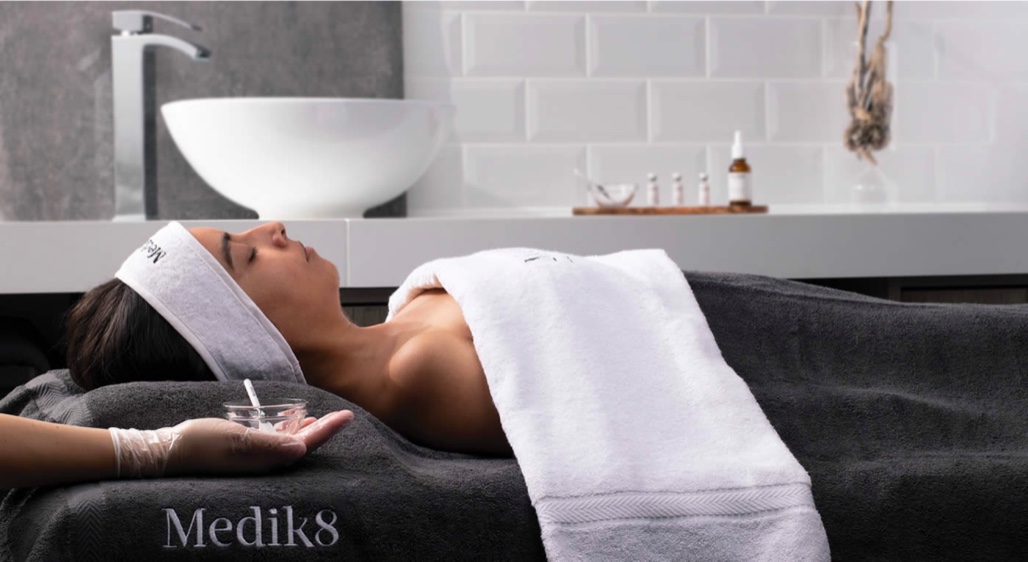 Boost the results of Nourishing Body Cream
Visit a Medik8 specialist for a detailed skin consultation and experience one of our relaxing body treatments.
Skin Rejuvenating Ritual
A complete top to toe treatment experience with finely ground bamboo particles and hydroxy acids to exfoliate and invigorate the body. Essential oils envelope the skin in a customised massage experience to leave skin feeling soft, supple and muscle tension relieved.
Universal AHA Professional Skin Peel
Suitable for everyone and any skin concern, this peel visibly brightens, smoothes, decongests and revitalises the skin. Ideal for a first time peel or to maintain results from other peels.
The Science Behind
"Medik8's signature Moisture Magnets™ are made up of molecules similar to the natural carbohydrate complex found in the upper layers of the skin. They are able to bind to skin cells like a magnet and then draw water to themselves; deeply hydrating where it is needed the most. The Moisture Magnets™ are then only removed with the skin's natural exfoliation process. The result is long-lasting hydration, for supple and smooth skin."
Daniel Isaacs, Medik8 Director of Research