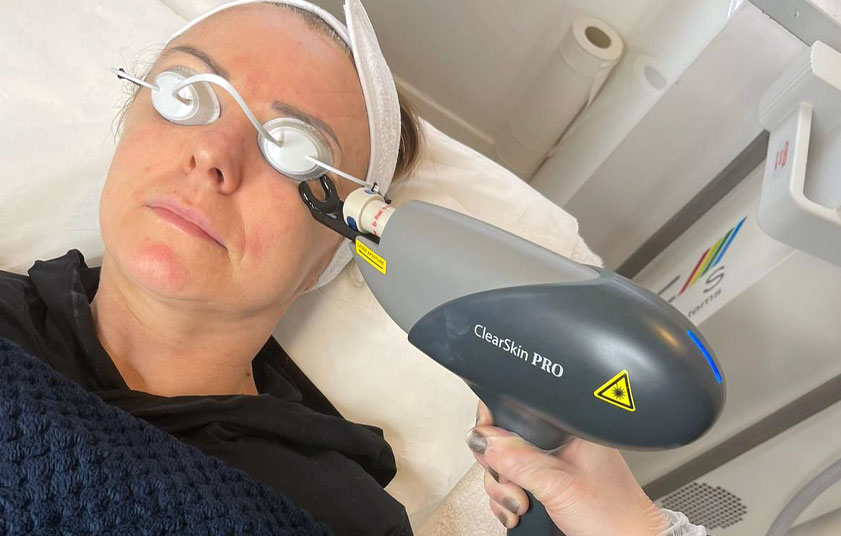 Skin Rejuvenation
As you age, your skin anchors you to a life lived to its limits. Clearskin Pro Skin Rejuvenation is great for lifting and firming, working more on skin laxity and advanced signs of ageing.
From summer days spent in the sun, to the testing times of puberty, to a deep frown that has blossomed into a beautiful smile, your skin has seen a lot. Be it wrinkles, freckles, sunspots or acne scars, Skin Rejuvenation can return your skin back to its absolute youthful best.
Safe and guaranteed to improve the appearance of your skin, it is possible to overcome the effects of aging, sun damage or stress and restore your skin's vitality and vigour with help from our ClearSkin Pro Skin Rejuvenation treatment at Skin Survival.
ClearLift Skin
Remodelling & Lifting
ClearLift Skin Remodelling and Lifting is great for clients who need skin firming and it helps with skin pigmentation and the early signs of ageing.
ClearLift Skin Remodelling and Lifting is a unique treatment wherein a safe and innocuous laser is used to replenish your body's depleting collagen reserves whilst elevating your skin tissues, giving you a smooth and uniform skin tone with minimal wrinkles.
Simply put, our ClearLift Skin Remodelling and Lifting treatment is second to none and proven to help you feel confident about your skin.
Laser Facial Treatments – Before and After
NIR (Near Infrared Treatment)
With no downtime and minimal discomfort, NIR will boost results.
NIR is a safe and inexpensive alternative to surgery and reduces the appearance of wrinkles and loose skin to achieve a more energetic and youthful appearance.
Acne Treatment
At Skin Survival, we work with the safest, highest-grade lasers to provide an acne treatment solution that works in your interest.
Enhancing your best features, we can treat active acne with ClearSkin PRO to reveal the smooth, healthy skin that lies beneath the surface.
Our team of dedicated experts are certified and trained in ClearSkin PRO Acne Treatment so, rest assured, with Skin Survival, you are in the best hands in the business.
Pigmentation Removal
Laser Pigmentation Removal works to reduce the appearance of freckles, pigmentation, and post-trauma pigmentation including acne scars and aging spots safely and effectively.
The laser only targets the pigmented lesion in the skin without damaging it. The laser heats up and splinters the pigment. The pigment is then drawn to the surface without harming the skin tissue. Once drawn to the surface, the pigmented lesions fade or dry and slowly vanish, leaving the skin with an even tone and complexion.
Do you want to regain your confidence in your skin? We invest heavily not only in our equipment, but also in you and your skincare.
Vascular Lesions
Lasers produce high-intensity light that can be used to pinpoint and heat not only blood vessels, but also state port wine stains, broken capillaries, haemangiomas, cherry angiomas and Rosacea.
The advantage of our lasers is that they target the blood vessels whilst leaving the tissue around the area completely undamaged.
Veins Removal
Instead of removing troubling veins with surgery, we heat the problem area with a laser, reducing and then destroying the veins and the dead tissue.
Ipixel
The Ipixel focuses a short, strong laser onto the surface of the skin. With each pass of the laser, toy pixels of the outermost layers of the skin are removed in a safe way.
Harmony XL Pro Machine
The award-winning Harmony XL Pro is a powerful, multi-faceted solution to your aesthetic needs.
With a wide and eclectic range of treatments to customise to your specific needs, the Harmony XL Pro is both versatile to and suitable for various age groups with several needs and desires, treating over 65 types of unique skin conditions.
Safe and secure, unlike other clinics whose damaging results speak for themselves, at Skin Survival, we prioritise your safety and comfort – that's why we invest in both calming treatment rooms and the most state-of-the art machinery on the market.
How will my skin look after treatment?
Skin appearances will vary, depending on the level of laser treatment you choose. After-effects can range from a slight tingling sensation, similar to mild sunburn, to a red or swollen appearance up to 5 days post-treatment for some of our laser skin treatments.
50% Sale
Still debating whether to secure this amazing, limited time offer? Ask yourself this…
When was the last time you indulged in a little self-care and treated your body to the revitalising treatments it deserves?
Book A Consultation
We are very excited to welcome you to the Skin Survival clinic.
Book a consultation today and let's begin your skincare journey together.
Frequently Asked Questions
How long does it take to recover from laser facial treatments?
Usually there is no downtime following a laser facial treatment and it is considered a true 'lunchtime procedure'.
How often should I have a laser facial treatment?
We offer six different laser facial treatments using Harmony XL pro, our experienced laser specialists will be able to assess the treatment area and advice on most suitable time intervals at your consultation to gat maximum results.
Does laser facial improve pigmentation?
Yes, in most cases it will remove all traces of pigmentation. Pigmentation lesions may darken and crust on the skin after treatment this is a normal side effect to treatment.