Relaxing Facial
Treatments by Medik8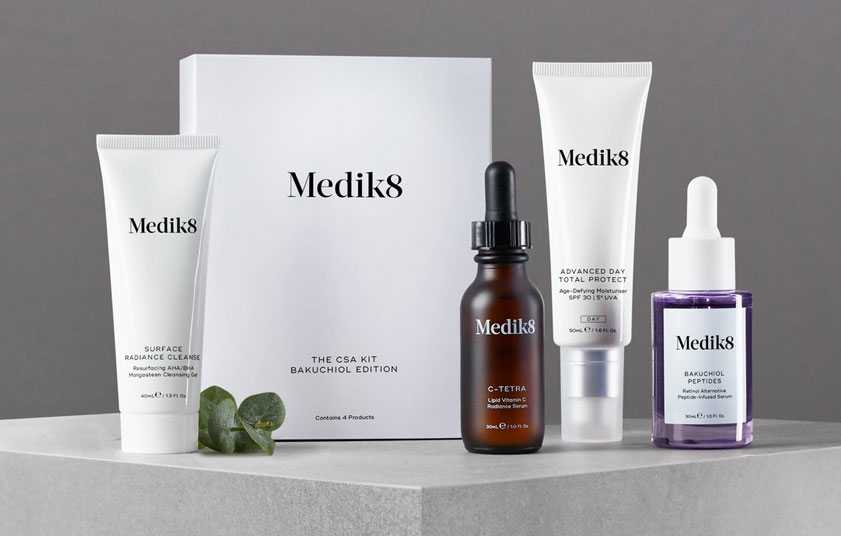 Platinum, Brightening & Deep Hydration
PLATINUM FACIAL
A relaxing age-defying facial with our platinum infused Age Defying Platinum mask that visibly lifts, rejuvenates and firms the skin for a more youthful appearance.
BRIGHTENING FACIAL
A luxurious illuminating treatment to brighten even the dullest skin. A targeted results-driven facial to combat uneven pigmentation and skin tone, breathing new radiance and luminosity into the skin.
DEEP HYDRATION FACIAL
A complete nourishing and comforting facial to restore skin vitality for dull, flakey and compromised skin. Gentle exfoliation allows the long lasting replenishing Medik8 Hero formulation to deeply deliver deep hydration.
Clarity, Calming and Pore Refining
CLARITY FACIAL
Deep cleansing actives are used to target oily, problematic and blemished skin. Re-balancing products are used throughout this facial to soothe, calm and generate a clearer complexion.
CALMING FACIAL
A gentle soothing treatment to instantly calm inflamed, hot, flushed, red, sensitive and highly sensitised skin. Using intelligent formulations to aid skin recovery.
PORE REFINING
Targeted actives and gentle exfoliation are used to gently break down pore blockages and promote the appearance of a smoother complexion with less visible, enlarged pores.
Relaxing Facial Treatments by Medik8
Medik8 are transforming expectations with cutting-edge science that allows our results-focused products to enjoy the same bathroom appeal, fine textures and elegant fragrances – all without compromising performance.
Frequently Asked Questions
HOW MUCH WILL RELAXING FACIAL TREATMENTS COST?
(MEDIK8)
Platinum Facial £80
Brightening Facial £75
Deep Hydration Facial £65
Clarity Facial £65
Calming Facial £70
Pore Refining £65
HOW LONG IS EACH FACIAL TREATMENT?
Each facial treatment is 60minutes, giving you enough time to relax and let go of the day's stresses!
HOW WILL I FEEL AFTER A FACIAL?
You will feel so relaxed and many of our clients say they feel like they are 'floating on air'. When your treatment is finished, your skin will be glowing!
Book A Consultation
We are very excited to welcome you to the Skin Survival clinic.
Book a consultation today and let's begin your skincare journey together.
50% Sale
Still debating whether to secure this amazing, limited time offer? Ask yourself this…
When was the last time you indulged in a little self-care and treated your body to the revitalising treatments it deserves?
Subscribe For News And Offers