Deeply nourish and visibly firm the look of your complexion with Medik8's cult-favourite, multi-ceramide night cream.
Product may differ from that pictured. We are transitioning to remove the plastic spatula from this product for sustainability reasons.
KEY BENEFITS
Expertly designed to be used after vitamin A, the innovative formula works perfectly alongside Medik8 retinol and retinal serums, to leave the complexion feeling instantly cocooned in hydration and comfort.
RESULTS
Advanced Night Restore works over time to improve the visible signs of ageing, leaving skin with a smoothed, restored and plumped appearance.
KEY INGREDIENTS
Ceramide Complex, Cell Repairing Peptide, Saskatoon Berry and Dragon Fruit Extract
Delivery Options
Standard Delivery
£3.75 or FREE on orders over £35. Please allow 3-5 working days for delivery.
Priority Delivery
£4.95 or FREE on orders over £100. Next-Day delivery when you order before 6pm Monday to Friday (Excluding bank holidays) Shipped by DPD
Key Benefits
Intense Moisturisation
The ceramide-infused night cream works while you sleep to help restore the natural skin barrier and deeply hydrate skin.
Overnight Antioxidant Repair
Advanced Night Restore is infused with a complex of antioxidants that work overnight to prevent free radical damage that has been accumulated over the day, for firmer, youthful-looking skin.
Firming & Plumping Results
The nourishing night cream helps to firm and plump the appearance of the skin, encouraging a youthful-looking complexion. Fine lines and wrinkles are visibly softened by morning.
Perfect Product Pair
Designed to be used after vitamin A, Advanced Night Restore works perfectly alongside our next-generation, best-seller Crystal Retinal to moisturise skin with ceramides to keep skin feeling nourished and soothed.
How It Works
This nourishing night cream gently recuperates the skin after a long day. As twilight falls, the skin cells are at their most active and ready for overnight repair.
1.Saskatoon berry is a key ingredient in the Midnight Repair Complex which also contains a cell repairing peptide and dragon fruit extract.
2.Ceramide 1 and 3 are combined with naturally occurring skin lipids to deeply restore the skin's barrier. This boosts the skin's natural protection against skin-ageing ready for the next morning.
3.N-acetyl glucosamine works in synergy with retinol to boost the production of hyaluronic acid, helping to firm, plump and encourage a youthful-looking complexion.
How To Use
1. After cleansing in the evening, use the spatula to apply Advanced Night Restore to face, neck and décolletage.
2. Use light, upward strokes and allow cream to fully absorb.
3. Patch testing prior to use is advised. Refer to medik8.co/patch for an in-depth guide to patch testing.
4. Interested in routines & layering?
Advanced Night Restore features in many of our carefully curated regime guides, including our Beautiful Skin Everyday regime. Click the link for additional product recommendations and easy-to-follow layering advice.
Ingredients
??Ceramide Complex
An intelligent combination of ceramide 1 and 3 alongside cholesterol and fatty acids which mimic the skin's natural lipid barrier; intensely restoring and nourishing.
Cell Repairing Peptide
An iron hexapeptide effectively neutralises free radicals which can cause premature skin ageing. This helps to prevent damage to skin cells and proteins.
?? Saskatoon Berry
The canadian superberry, bright purple saskatoon is rich in anthocyanins; supercharged antioxidants with exceptional ability against damaging free radicals.
??Dragon Fruit Extract
Derived from the night blooming cactus of Mexico, dragon fruit extract provides exceptional antioxidant protection while lifting and toning the complexion.
??N-Acetyl Glucosamine
This naturally occurring molecule in the body works synergistically with previously applied retinol serums to encourage the production of hydrating hyaluronic acid.
Full Ingredients
NO ARTIFICIAL FRAGRANCE
VEGAN FRIENDLY
NO SYNTHETIC COLOURS
PARABEN FREE
ZIPPER DONATION
NO PHTHALATES
ALCOHOL FREE
CRUELTY FREE
Used in Professional Treatments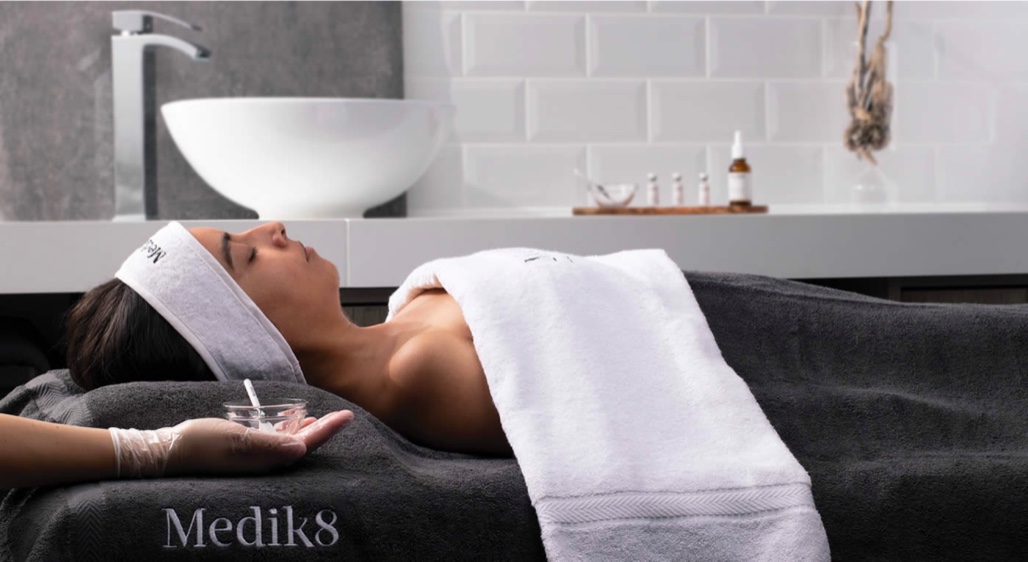 Boost the results of Advanced Night Restore
Visit a Medik8 specialist for a detailed skin consultation and experience one of our relaxing anti-ageing facial treatments.
Rewind Professional Skin Peel
A targeted peel that helps to promote collagen production to reduce the appearance of fine lines and wrinkles. It fades away imperfections, leaving the skin visibly smoothed and rejuvenated.
The Science Behind
"Ceramides are naturally present in the skin's waterproof barrier which protects against external irritants and stops moisture from escaping. Ceramides are just one component of the lipid barrier, alongside cholesterol and fatty acids. When ceramides are used in skincare, they must be combined in an optimised ratio with both cholesterol and fatty acids, so they can easily slip into the skin's natural barrier without disrupting it. Our extensive research into ceramide combinations has yielded an optimised mixture of ceramide 1 and 3, cholesterol and fatty acids, which are almost 'skin identical', allowing them to easily nourish the skin and restore its protective barrier."