Protect and replenish your skin with Advanced Day Total Protect, an SPF 30 5* UVA protection day cream that offers comprehensive defence against environmental stressors.
KEY BENEFITS
The advanced moisturiser is very lightweight and has an invisible finish on the skin, making it the perfect daily cream.
RESULTS
Fine lines and wrinkles are visibly reduced and future skin ageing is prevented.
KEY INGREDIENTS
Pollution Shield, Anti-Infrared, Anti-Blue Light and Anti-A.G.E, SPF 30 and 5* UVA protection
Delivery Options
Standard Delivery
£3.75 or FREE on orders over £35. Please allow 3-5 working days for delivery.
Priority Delivery
£4.95 or FREE on orders over £100. Next-Day delivery when you order before 6pm Monday to Friday (Excluding bank holidays) Shipped by DPD
Key Benefits
Advanced Sun Protection
Protects from harmful sun damage (UVA/UVB) with SPF 30 and ultra-high 5* UVA defence.
Comprehensive Environmental Defence
Advanced Day Total Protect casts a protective shield over the skin to defend against pollution, infrared, blue light and glycation.
Lightweight
Lightweight with an invisible finish, Advanced Day Total Protect is a perfect base for make-up.
How It Works
With a host of protective technologies against environment damage, Advanced Day Total Protect is the ultimate SPF 30 moisturiser for youthful-looking skin.
Medik8's carefully chosen complex of advanced sunscreen filters are proven to be high-performing, kind to skin and photostable: the best combination for advanced protection against sun damage.
Moringa extract is a breathable film former that sits on the skin surface to provide exceptional anti-pollution defence, helping to quench free radicals before they can damage the skin.
Carnosine is a multi-tasking dipeptide which protects from both glycation and infrared light. Glycation is a natural ageing process in which dietary sugars react with proteins such as collagen, transforming them into advanced glycation end-products (A.G.E.s) that cannot be renewed, which leads to fine lines and wrinkles. Advanced Day Total Protect uses carnosine to help inhibit the glycation reaction and keep skin protected from glycation-derived skin ageing. Carnosine can also protect the skin from infrared rays, which make up around half of the sun's rays and could play a part in the breakdown of collagen.
Finally, Advanced Day Total Protect features antioxidant theobroma cacao seed extract to mitigate the negative effects of blue light emitted from the sun.
For more information on our high performing sunscreen filters and more, see our blog.
How To Use
As the last step in your skincare routine, apply a liberal amount (¼ teaspoon or 5 pumps) of Advanced Day Ultimate Protect to the face, adding more for the neck and décolletage, avoiding the eye area.
Use light, upward strokes and allow to absorb.
Reapply throughout the day as needed.
Patch testing prior to use is advised. Refer to medik8.co/patch for an in-depth guide to patch testing.
Ingredients
Advanced UV Filters
A complex of premium, modern chemical sun filters carefully selected for their high performance on the skin, photostability and skin friendly benefits.
A next-generation antioxidant that forms an urban shield on the surface of the skin to prevent damage caused by environmental pollutants.
A protective peptide that is naturally produced in the body, carnosine blocks skin-damaging sugars from binding to collagen in the skin in a process called glycation. This helps to prevent the formation of wrinkles, while shielding skin from infrared damage.
Derived from cocoa, this powerful extract protects the skin from the harmful effects of blue light, while quenching dangerous free radicals.
With a unique ability to attract and retain more than 1,000x its own weight in water, hyaluronic acid can draw in moisture, leaving the complexion feeling both nourished and supple.
Full Ingredients
<!–
What we choose not to include
–>
NO ARTIFICIAL FRAGRANCE
PARABEN FREE
VEGAN FRIENDLY
ZIPPER DONATION
NO SYNTHETIC COLOURS
NO PHTHALATES
ALCOHOL FREE
CRUELTY FREE
Used in Professional Treatments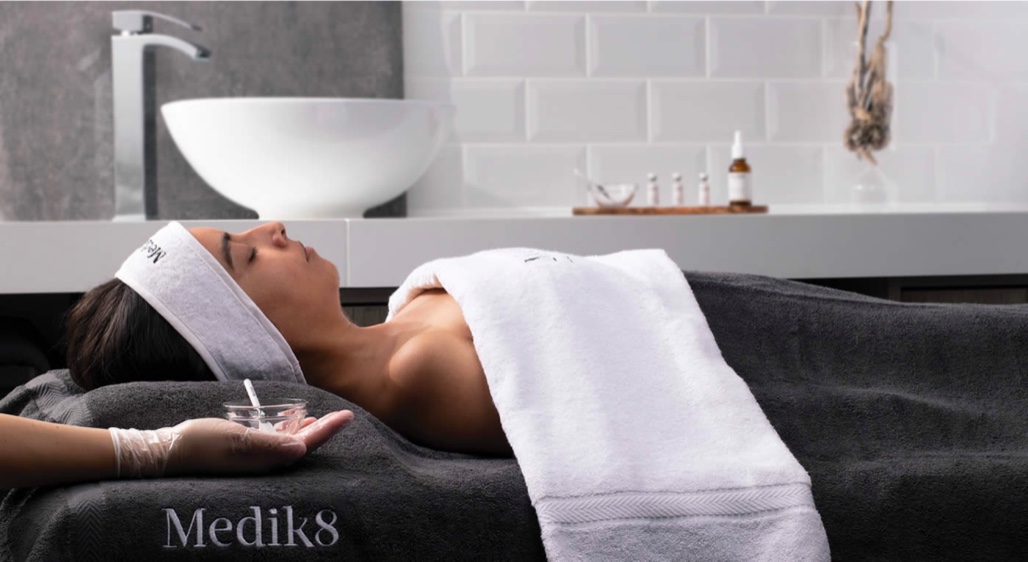 Boost the results of Advanced Day Total Protect
Visit a Medik8 specialist for a detailed skin consultation and experience one of our relaxing anti-ageing facial treatments.
Rewind Professional Skin Peel
A targeted peel that helps to promote collagen production to reduce the appearance of fine lines and wrinkles. It fades away imperfections, leaving the skin visibly smoothed and rejuvenated.
The Science Behind
COCOA SEED EXTRACT
Blue light defence is provided by theobroma cacao seed extract, an ingredient sustainably sourced from Peru. The extract is derived from a rare, premium variety of cocoa: criollo porcelana, often referred to as the world's most expensive chocolate. Blue light is very similar in wavelength to harmful UV light and studies have shown that it can cause hyperpigmentation and free radical damage. Containing cocoa peptides and saccharides, the cocoa extract helps to maintain the skin's photoreceptors while tackling harmful free radicals to prevent blue light damage.