Medik8's ultimate day cream. Advanced Day Ultimate is our highest protection SPF 50+ PA++++ sunscreen, elevated with next-generation DNA repair enzymes and our most advanced 360° environmental shield, ever.
KEY BENEFITS
The beautifully hydrating cream leaves the complexion with an invisible protective shield; and a non-greasy finish, ready for the day ahead.
RESULTS
The appearance of fine lines and wrinkles are visibly reduced, skin is infused with long-lasting hydration, with future signs of ageing kept at bay.
KEY INGREDIENTS
SPF 50+ PA++++ Defence, Premium Modern UV Filters, DNA Repair Enzymes, Blue Light Shield, Pollution Defence, Anti-Infrared, Anti-Glycation
Delivery Options
Standard Delivery
£3.75 or FREE on orders over £35. Please allow 3-5 working days for delivery.
Priority Delivery
£4.95 or FREE on orders over £100. Next-Day delivery when you order before 6pm Monday to Friday (Excluding bank holidays) Shipped by DPD
Key Benefits
Ultimate UV Defence
To make our ultimate sunscreen, we use the highest level of sun protection: SPF 50+ PA++++, to prevent sun-induced premature signs of skin ageing.
DNA Repair Enzymes
Encapsulated photolyase, a light-activated DNA repair enzyme, helps to support the skin's natural repair mechanisms after exposure to UV.
Medik8's Most Advanced Environmental Shield
Providing skin with the ultimate environmental defence, the sunscreen features protection from blue light, infrared light, glycation and pollution.
All Year Round
Advanced Day Ultimate Protect offers resilient protection in every situation, season or location. Ultimate protection in the hottest summer sun, nourishing on the skin in the coldest winter. It is designed to be a mainstay in your skincare routine, 365 days a year.
Daily Hydration
Infused with nourishing squalane and hydrating multi-weight hyaluronic acid to deliver daily moisture to the complexion.
How It Works
Our highest SPF product in the Medik8 range, offering the highest level of PA+ protection against UVA rays – PA++++. We use a complex of premium, modern sun filters carefully selected for their photostability, high performance on the skin, and skin friendly benefits.
Advanced Day Ultimate Protect sun protection is boosted by DNA repair enzymes. Exposure to UV rays can result in DNA damage, with a resulting effect on natural processes such as free radical defence mechanisms and collagen production. Photolyase, a light-activated enzyme, supports the skin's natural repair mechanisms to prevent the future formation of visible fine lines, wrinkles and hyperpigmentation caused by UV exposure. The photolyase is encapsulated to optimise penetration into the skin, delivering next-generation anti-ageing results that include healthier-looking and more resilient skin with a natural glow.
UV rays are not the only thing we need to protect our skin from; we are also exposed to a number of other daily factors all year round which could cause premature ageing.
Advanced Day Ultimate Protect features sustainably sourced blueberry seed oil, a natural shield against blue light. Blue light from the sun can cause free radical damage or visible hyperpigmentation across the complexion. Blueberry seed oil is able to absorb the blue light before it hits the skin, minimising damage from blue light exposure.
Marrubium vulgare extract provides superior anti-pollution defence to limit the damage caused by environmental pollutants, by protecting the skin cells and helping to strengthen the skin barrier.
Carnosine is a multi-tasking dipeptide which protects from both glycation and infrared. Glycation is a natural ageing process in which dietary sugars react with proteins such as collagen, transforming them into advanced glycation end-products (A.G.E.s) that cannot be renewed, which leads to fine lines and wrinkles. Advanced Day Ultimate Protect uses carnosine to help inhibit the glycation reaction and keep skin protected from glycation-derived skin ageing. Carnosine can also protect the skin from infrared rays, which make up around half of the sun's rays and are known to play a part in the breakdown of collagen.
Nourishing squalane and hydrating hyaluronic acid work to infuse the skin with long-lasting moisture, smoothing the appearance of fine lines and wrinkles.
How To Use
As the last step in your skincare routine, apply a liberal amount (¼ teaspoon or 5 pumps) of Advanced Day Ultimate Protect to the face, adding more for the neck and décolletage, avoiding the eye area.
Use light, upward strokes and allow to absorb.
Reapply throughout the day as needed, and every 2 hours if in direct sunlight.
Perfect for layering over your favourite Medik8 vitamin C serum.
Patch testing prior to use is advised. Refer to medik8.co/patch for an in-depth guide to patch testing.
Ingredients
Advanced UV Filters
A complex of premium, modern chemical sun filters carefully selected for their high performance on the skin, photostability and skin friendly benefits.
Derived from plankton extract, photolyase is a light-activated DNA repair enzyme which supports the skin's natural defence mechanisms against DNA damage caused by UV light.
Sustainably sourced from 800,000 upcycled blueberries*, blueberry seed oil is rich in beta-carotene and acts as a natural shield against blue light.
A powerful antioxidant that provides essential protection to shield delicate skin from pollution-induced damage.
A protective peptide that is naturally produced in the body, carnosine blocks skin-damaging sugars from binding to collagen in the skin in a process called glycation. This helps to prevent the formation of wrinkles, while shielding skin from infrared damage.
Squalane is an almost skin-identical lipid that helps to support the natural skin barrier, working to moisturise and nourish the complexion.
With a unique ability to attract and retain more than 1,000x its own weight in water, hyaluronic acid can draw in moisture, leaving the complexion feeling both nourished and supple.
*Per 1kg of material
For more information on our high performing sunscreen filters and more, see our blog.
Full Ingredients
<!–
What we choose not to include
–>
NO ARTIFICIAL FRAGRANCE
PARABEN FREE
VEGAN FRIENDLY
ZIPPER DONATION
NO SYNTHETIC COLOURS
NO PHTHALATES
ALCOHOL FREE
CRUELTY FREE
Used in Professional Treatments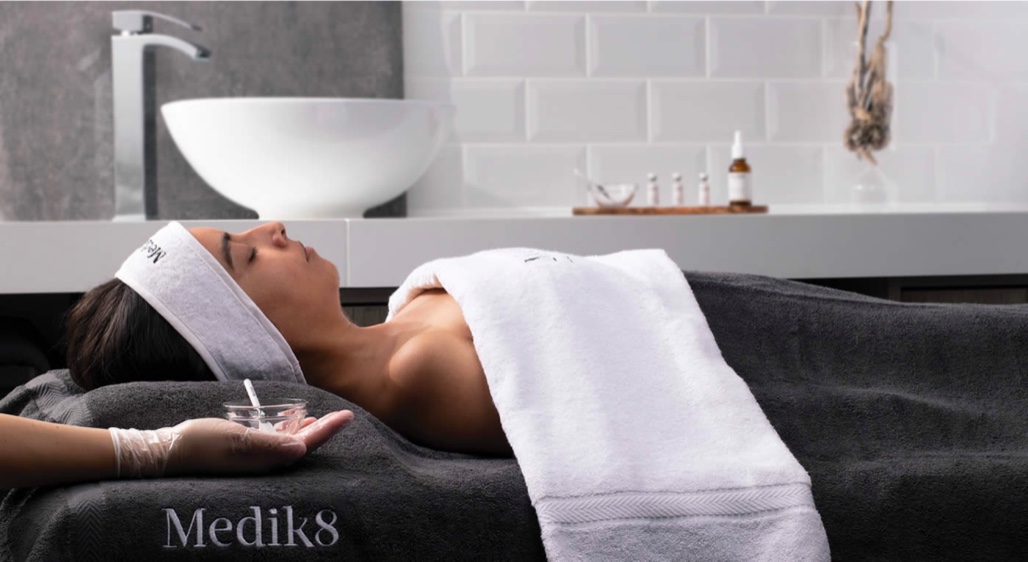 Boost the results of Advanced Day Ultimate Protect
Visit a Medik8 specialist for a detailed skin consultation and experience one of our relaxing anti-ageing facial treatments.
Platinum Facial
Our signature facial. A true treatment innovation delivering visible and immediate rejuvenating results. Platinum powder and haritaki superfruit are blended with lifting polysaccharides to visibly plump and firm skin, revealing a more youthful and radiant looking complexion.
Rewind Professional Skin Peel
A targeted peel that helps to promote collagen production to reduce the appearance of fine lines and wrinkles. It fades away imperfections, leaving the skin visibly smoothed and rejuvenated.
The Science Behind
"No sunscreen is able to block 100% of UV rays from the skin. Even an SPF 50+ that is applied perfectly only protects against ~98.3% of UVB rays.[1] This leaves ~1.7% of UVB rays that can still hit the skin and have the potential to impact skin health – one of the most concerning effects is direct DNA damage. While our skin naturally contains proteins called DNA repair enzymes, which work to limit the damage caused, they deplete in number as we age.[2] Our solution is to replenish the skin's natural levels of DNA repair enzymes by applying them topically in Advanced Day Ultimate Protect. Encapsulated photolyase helps to reinvigorate skin's natural repair mechanisms,[3] visibly diminishing the signs of DNA damage, including fine lines, wrinkles and discolorations."
Daniel Isaacs, Director of Research
[1] L. Duteil et al, Pigment Cell Melanoma, Res, 2014, 27(5), pp 822-6. doi: 10.1111/pcmr.12273.
[2] S. Moriwaki et al, Mutat Res, 1996, 364, pp 117-123. doi: 10.1016/0921-8777(96)00029-8.
[3] E. Berardesca et al, Molecular Medicine Reports, 2012, 5, pp 570-574. doi: 10.3892/mmr.2011.673.