This daily moisturiser works with the skin's natural mechanisms to balance the complexion and boost hydration.
KEY BENEFITS
Balance Moisturiser uses a high-performance blend of prebiotics and postbiotics to rebalance the skin's microbiome, promoting a healthy, radiant complexion.
RESULTS
Perfect for use under foundation, skin is left supple, matte and blemish-free.
KEY INGREDIENTS
Prebiotics, Postbiotics, Beta-glucan and Niacinamide
Delivery Options
Standard Delivery
£3.75 or FREE on orders over £35. Please allow 3-5 working days for delivery.
Priority Delivery
£4.95 or FREE on orders over £100. Next-Day delivery when you order before 6pm Monday to Friday (Excluding bank holidays) Shipped by DPD
Key Benefits
Boosts Hydration
This daily moisturiser works with the skin's natural mechanisms to balance the complexion and boost hydration, leaving a mattifying effect that looks flawless underneath make-up.
Lightweight and Soft
Lightweight and silky soft, it blends easily across the skin, sinking in effortlessly to provide a matte and visibly nourished complexion. Ideal for blemish-prone complexions or those with enlarged pores.
Scents from Essential Oils
Its delicate citrusy scent is derived from natural essential oils that have been carefully selected to refresh and uplift.
Glycolic Acid Activator
The Glycolic Acid Activator instantly dissolves into the skin as a perfect base for Balance Moisturiser to get to work.
Perfect Product Pair
Crystal Retinal is the perfect choice of vitamin A to use with Balance Moisturiser to help minimise the appearance of blemishes; as it is the only form of vitamin A to be directly antibacterial.
How It Works
Blemishes can be caused by changes in the skin's microbiome, the bacteria that lives on the skin's surface. Balance Moisturiser helps to rebalance the microbiome.
Prebiotics and postbiotics feed the good bacteria living on the surface of the skin to encourage a healthy flora, helping to balance and restore a long-lasting clear complexion.
Cinnamon extract works in synergy with the pre and postbiotics to reduce levels of blemish-causing bacteria, such as P. acnes.
Meanwhile, beta-Glucan enhances the skin's ability to repair itself for immediate comfort and niacinamide soothes red, inflamed blemishes.
Glycolic Acid Activator is used to supercharge the power of Balance Moisturiser.
How To Use
After cleansing in the morning and evening, apply Balance Moisturiser evenly across the face, neck and décolletage.
Optional: For boosted performance and exfoliation, use Glycolic Acid Activator 2-3 times a week. After cleansing in the evening, apply 4-6 drops to the face, neck and décolletage. Once dry, apply Balance Moisturiser. Apply products separately, do not mix Glycolic Acid Activator and Balance Moisturiser directly.
Patch testing prior to use is advised. Refer to medik8.co/patch for an in-depth guide to patch testing.
Interested in routines & layering?
Balance Moisturiser & Glycolic Acid Activator features in our carefully curated regime guide, Clear Complexion. Click the link for additional product recommendations and easy-to-follow layering advice.
Ingredients
Probiotics & Postbiotics
Maintaining skin balance through enhancing good bacteria and limiting the bad, pre and postbiotics promote a healthy, blemish-free complexion.
Niacinamide
Otherwise known as vitamin B3, this soothing anti-inflammatory quickly reduces redness and irritation surrounding the blemish, while regulating sebum production to prevent blocked pores.
Beta-Glucan
A natural extract from oats, beta-Glucan enhances the skin's ability to repair itself and provides immediate comfort to inflamed skin.
Cinnamon Extract
A natural antibacterial, cinnamon extract helps to limit blemish-causing bacteria, while also balancing the skin's oil production.
Glycolic Acid
A powerful AHA, glycolic acid helps to visibly resurface and exfoliate the outermost layers of skin, to leave a brighter and clearer complexion.
NO ARTIFICIAL FRAGRANCE
PARABEN FREE
VEGAN FRIENDLY
ZIPPER DONATION
NO SYNTHETIC COLOURS
NO PHTHALATES
ALCOHOL FREE
CRUELTY FREE
Used in Professional Treatments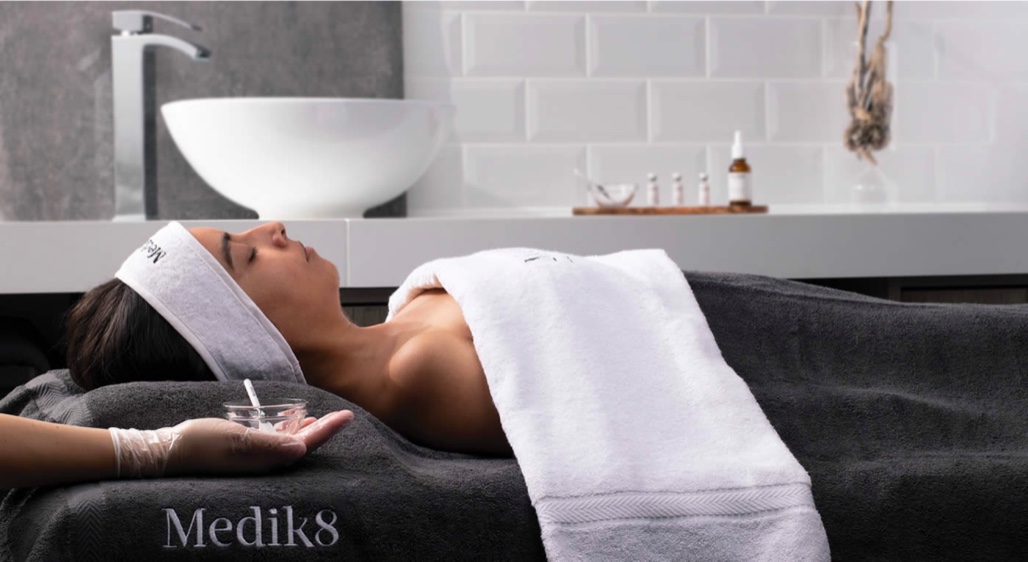 Boost the results of Balance Moisturiser with Glycolic Acid Activator
Visit a Medik8 specialist for a detailed skin consultation and experience one of our transformative Blemish treatments.
Clarity Facial
This clarifying treatment contains passion flower and cranberry fruit extracts. They work in harmony with deep cleansing actives to restore a visibly clear and soothed complexion. Impurities are swept away and moisture levels are boosted, resulting in skin that is re-balanced, clarified and visibly healthy.
Clarity Professional Skin Peel
This peel contains a powerful blend of acids that sink deep into pores to effectively clarify and decongest the complexion. Rapidly brings blemishes under control and dramatically reduces the risk of future breakouts.
The Science Behind
PREBIOTICS & POSTBIOTICS
The skin's health is heavily dependent on its microbiome, the billions of invisible microorganisms which live on its surface. Changes in pH, hydration and environment can all affect the microbiome balance. Uneven natural flora can contribute to many skin conditions, such as dry, flaky skin and the formation of blemishes. Pre and postbiotics are used in Balance Moisturiser to restore the natural balance of the microbiome. Postbiotics are live bacteria, which intermix with the natural microbiome and alter its composition. They can change the pH of skin to favour the growth of good bacteria, and produce antimicrobials to help protect the skin. Prebiotics are based on carbohydrates and act as food for the growth of postbiotics at the expense of the skin's bad bacteria. Pre and postbiotics work synergistically to help the skin regain its natural balance.