Care for skin in need of a boost of hydration with this deeply soothing and nourishing bio-cellulose mask.
KEY BENEFITS
Ultimate Recovery Bio-Cellulose Mask is the ultimate S.O.S treatment for skin in need of hydration.
RESULTS
Skin is left nourished, refreshed and soothed.
KEY INGREDIENTS
Zinc, Hyaluronic Acid, Rockweed Algae Extract.
Delivery Options
Standard Delivery
£3.75 or FREE on orders over £35. Please allow 3-5 working days for delivery.
Priority Delivery
£4.95 or FREE on orders over £100. Next-Day delivery when you order before 6pm Monday to Friday (Excluding bank holidays) Shipped by DPD
Key Benefits
Intense Hydration
Considered the gold-standard in sheet mask materials, bio-cellulose creates an impenetrable veil to lock in moisture tight; deeply infusing the lightweight serum into the skin.
Suitable for Sensitive Skin
Enriched with detoxifying minerals and deeply hydrating hyaluronic acid to help cool, restore and comfort even the most sensitive of skin types. The easy-to-use mask is free from fragrance and alcohol to calm delicate skin and provide intense hydration
Rejuvenation
Perfect for rejuvenating skin whenever you are in need of recovery, after professional treatments such as microneedling and microdermabrasion or when you just need some TLC after a long week.
Recovery
Helps to calm sore, dry skin by harnessing the power of nourishing and detoxifying natural minerals.
How It Works
A nourishing Ultimate Recovery Bio-cellulose sheet mask suitable for all skin types. This Hydrating Mineral Sheet Mask can be used as a weekly hydrating treatment, or whenever skin needs a boost.
Bio-cellulose masks are formed from millions of tiny natural fibres tightly woven together, forming a micro-thin sheet resistant to breakages and tears. The bio-cellulose is able to hold many times its own weight in liquid and is infused with an ultra-hydrating, lightweight serum. The tiny fibres fit perfectly into contours and fine lines to ensure optimal hydration levels where you really need it.
Enveloping the complexion in a veil of hyaluronic acid, the serum draws water from the lower layers of the skin and the atmosphere to rehydrate the upper layers. Infused with mineral zinc, the mask promotes natural skin balance and the skin's natural healing process, while rockweed algae extract enhances moisture levels and fights free radicals. Skin is left nourished, refreshed and soothed.
How To Use
After cleansing, remove the mask from the foil sachet and unfold
Peel away a single side of the outer protective layers and smooth the bio-cellulose mask over the face, taking care to align the eyes and mouth
Take off the second protective layer and relax for up to 15 minutes
Gently lift away from the face and massage the remaining serum into the skin
Use as a weekly hydrating treatment, or whenever skin needs a boost
Interested in routines & layering?
Ultimate Recovery Bio-Cellulose Mask features in our carefully curated regime guide, Calming Routine. Click the link for additional product recommendations and easy-to-follow layering advice.
Ingredients
A natural mineral, zinc helps to regulate oil production, promote the skin's natural healing process and reduce inflammation.
With a unique ability to attract and retain more than 1,000 times its own weight in water, hyaluronic acid draws moisture from the surrounding atmosphere into the skin, leaving the complexion both nourished and supple.
Rockweed Algae Extract
A species of brown algae with extraordinary mineral content. Rockweed algae promotes moisturisation and provides antioxidant protection.
Tightly woven natural fibres form a veil so fine it is able to fit into the finest lines and wrinkles for optimal delivery of the lightweight serum infused within the mask.
Full Ingredients
<!–
What we choose not to include
–>
NO ARTIFICIAL FRAGRANCE
NO SYNTHETIC COLOURS
PARABEN FREE
NO PHTHALATES
VEGAN FRIENDLY
ALCOHOL FREE
Used in Professional Treatments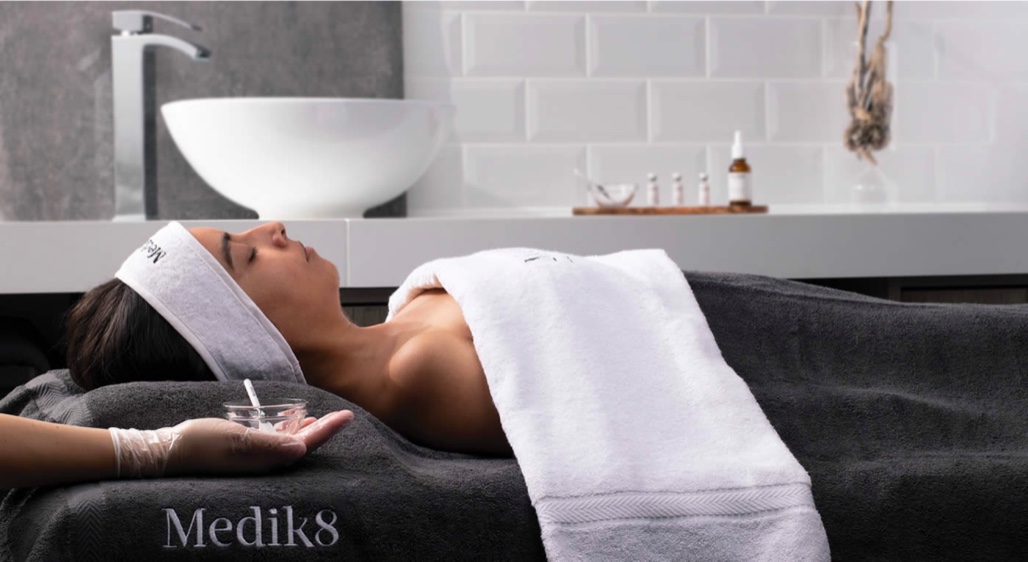 Boost the results of Ultimate Recovery Bio-Cellulose Mask
Visit a Medik8 specialist for a detailed skin consultation and experience one of our hydrating anti-ageing facial treatments.
Deep Hydration Facial
A multi-level hydration treatment delivering intense nourishment for dry, thirsty skin. The nutrient-rich mask floods skin with moisture to help plump dehydration lines and revive suppleness. Skin is left soft to the touch, intensively hydrated and healthy-looking.
Universal AHA Professional Skin Peel
Suitable for everyone and any skin concern, this peel visibly brightens, smoothes, decongests and revitalises the skin. Ideal for a first time peel or to maintain results from other peels.
The Science Behind
Zinc is an essential mineral used by the body to promote its natural defensive system. In the Medik8 Ultimate Recovery Bio-Cellulose Mask, we use a specialised version of zinc, called Zinc PCA, that has been fused with PCA, a moisturising molecule that occurs naturally in the skin. This hybrid ingredient helps to hydrate and care for the complexion, leaving it smooth, soft and supple. Interestingly, zinc PCA has also been found to reduce sebum levels, which can even help to keep blemishes at bay.