Instantly revitalise rough, dry or bumpy skin with this 3 step exfoliating kit
KEY BENEFITS
Featuring both AHAs and BHAs, this powerful yet gentle trio work to smooth over visible, raised skin bumps caused by a common skin condition called keratosis pilaris.
RESULTS
The kit leaves legs and arms soft, sleek and silky. Rough, dry, flaky skin is history.
KEY INGREDIENTS
Moringa Butter, Urea, Lactic Acid & Salicylic Acid
Delivery Options
Standard Delivery
£3.75 or FREE on orders over £35. Please allow 3-5 working days for delivery.
Priority Delivery
£4.95 or FREE on orders over £100. Next-Day delivery when you order before 6pm Monday to Friday (Excluding bank holidays) Shipped by DPD
Key Benefits
Smooth Body Scrub
The scrub uses a powerful complex of chemical and mechanical exfoliants to smooth the appearance of dry, bumpy skin. Infused with nourishing moringa butter, the creamy scrub effortlessly glides over the body to reveal skin that is visibly renewed, refreshed and soft to the touch.
?Smooth Body Mitt
Our mitt gently targets localised areas of rough, bumpy skin to expertly buff away blocked hair follicles. Easy-to-use and perfect for travel, exfoliation has never been so simple.
Smooth Body Lotion
Lightweight and fast absorbing, Smooth Body Lotion uses a powerful trio of exfoliants; lactic acid, salicylic acid and urea, which work together to gently resurface the skin. The exfoliating lotion also provides profound nourishment, thanks to an infusion of a complex of moringa butter and squalane to replenish the skin with hydration and essential lipids, helping soften and smooth the appearance of rough or dry skin.
Tri-phase approach
Smooth Body Exfoliating Kit uses a tri-phase approach to help tackle a number of different skin concerns and ultimately is designed to leave the body skin visibly smooth and soft to touch.
How It Works
Smooth Body Exfoliating Kit uses a tri-phase approach to help tackle a number of different skin concerns and ultimately is designed to leave the body skin visibly smooth and soft to touch.
Smooth Body Scrub is a rich, moringa butter infused formula which uses a dual actioned approach to exfoliation. Bamboo particles and natural pumice act as physical exfoliants which mechanically scrub off dead skin cells, whereas high strength lactic acid works to chemically exfoliate the skin; breaking down the bonds between skin cells and thus helping to trigger cellular renewal for fresh skin cells. Using both methods, the skin's texture, clarity and radiance can be improved, all whilst giving a rich, moisturising glide on the skin.
The double-sided Smooth Body Mitt expertly removes dry flaky skin and gently unblocks hair follicles, minimising the likelihood of more keratin plugs.
Smooth Body Lotion uses a powerful trio of chemical exfoliators; high strength urea, lactic acid and salicylic acid to loosen pore blockages. The lotion's moisturising qualities are boosted by its ultra nourishment complex. Antioxidant moringa butter shields and protects skin from pollution damage, whereas shea butter and multi-weight hyaluronic acid nourish and hydrate the skin. Squalane works to help strengthen the natural skin barrier, while locking moisture into the skin for long-lasting smoothness.
How To Use
Use Smooth Body Scrub 2-3 times a week. Before showering or bathing, massage Smooth Body Scrub in circular motions over dry skin. Leave for up to 5 minutes before rinsing off.
Use Smooth Body Mitt with or without Smooth Body Scrub. Use dry for a more intense exfoliation, or damp for a gentler exfoliation. Gently buff over skin in light circular motions.
Rinse regularly. Wash before first usage and as required thereafter on a 30° cycle and leave to air dry. It is normal for the fabric to gradually wear with use.
Apply Smooth Body Lotion daily to areas of rough, bumpy or dry skin until skin's texture has improved. Massage in using gentle circular motions. Follow with sunscreen when required. Results can be maintained by applying 3-4 times a week.
Patch testing prior to use is advised. Refer to medik8.co/patch for an in-depth guide to patch testing.
Ingredients
12% Lactic Acid (total)
A gentle AHA that softly exfoliates the skin, while deeply hydrating.
2% Salicylic Acid
An oil-soluble BHA that is able to penetrate into blocked pores to break down build ups of keratin and sebum, minimising the appearance of plugs and bumpy skin.
7% Urea
A part of the skin's Natural Moisturising Factors, it naturally draws water into the upper layers of the skin for hydration. It is also a powerful keratolytic agent, softening keratin plugs so they are easier to remove leaving the skin soft and smooth.
Moringa Butter
A next-generation antioxidant in a rich cream that forms an urban shield on the surface of the skin to neutralise damage caused by environmental pollutants.  It is also rich in oleic acid and therefore able to enhance the skin's natural barrier.
Full Ingredients
<!–
What we choose not to include
–>
NO ARTIFICIAL FRAGRANCE
VEGAN FRIENDLY
NO SYNTHETIC COLOURS
PARABEN FREE
ZIPPER DONATION
NO PHTHALATES
ALCOHOL FREE
CRUELTY FREE
Used in Professional Treatments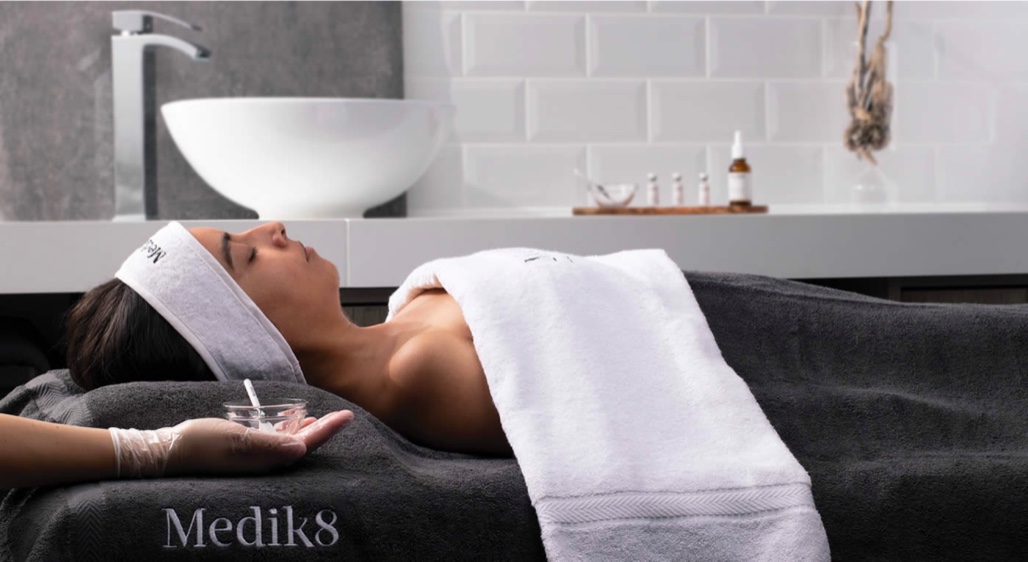 Boost the results of Smooth Body Exfoliating Kit
Visit a Medik8 specialist for a detailed skin consultation and experience one of our relaxing body treatments.
Skin Rejuvenating Ritual
A complete top to toe treatment experience with finely ground bamboo particles and hydroxy acids to exfoliate and invigorate the body. Essential oils envelop the skin in a customised massage experience to leave skin feeling soft, supple and muscle tension relieved.
Universal AHA Professional Skin Peel
Suitable for everyone and any skin concern, this peel visibly brightens, smooths, decongests and revitalises the skin. Ideal for a first time peel or to maintain results from other peels.
The Science Behind
"Moringa butter is a botanical emollient derived from the moringa oleifera seed which has been used since ancient Egyptian times for moisturising and soothing the skin. It was traditionally used to purify drinking water. It is used in skincare as a powerful antioxidant that minimises free radical damage on the skin. It is able to draw dirt and impurities to itself so they can be easily cleaned away. Protecting the skin from heavy metals, cigarette smoke and small particulate matter, moringa offers essential antioxidant protection throughout the day."
Daniel Isaacs, Director of Research