Tackle the signs of ageing and redness in one cream.
KEY BENEFITS
A complete anti-redness and anti-ageing cream designed to prevent flare-ups and provide instant coverage.
RESULTS
Calming within seconds of application, the nourishing cream absorbs quickly to leave skin smooth and supple.
KEY INGREDIENTS
0.5% Bakuchiol, Feverfew Extract, Chamomile Extract, Niacinamide, Aloe Vera Extract, Caffeine & Fading Green Pigment
Delivery Options
Standard Delivery
£3.75 or FREE on orders over £35. Please allow 3-5 working days for delivery.
Priority Delivery
£4.95 or FREE on orders over £100. Next-Day delivery when you order before 6pm Monday to Friday (Excluding bank holidays) Shipped by DPD
Key Benefits
Redness Neutralising
Mineral green pigments quickly blend with your skin tone upon application, instantly neutralising redness for a more even complexion. Perfect for use under make-up or alone for quick colour correction and all-day hydration.
Anti-Ageing
Containing 0.5% bakuchiol the cream offers retinol-like anti-ageing results without irritation, at clinical trial levels.* [1]
[1] S. Dhaliwal et al, Prospective, randomized, double-blind assessment of topical bakuchiol and retinol for facial photoaging, British Journal of Dermatology, 2018, Epub
Soothing & Calming
Niacinamide and aloe vera soothe and calm skin to keep sensitivity at bay.
Immediate Relief
The restorative cream provides immediate relief for all types of redness including rosacea, thread veins and redness caused by blemishes.
How It Works
This intelligent redness corrector has 6 targeted actions on the skin to prevent and care for redness-prone skin.
The cream reduces red and sore inflammation in the skin using niacinamide and bisabolol derived from calming chamomile extract. It also helps to suppress the immune system to minimise future reactions in the skin.
Aloe vera and bakuchiol, derived from Indian Babchi seeds, quickly interrupt the inflammatory response to stop flushing.
The nourishing cream is able to enhance the skin's natural barrier with niacinamide, which stimulates the production of protective ceramides in the upper layers of the skin. Meanwhile, it helps to reduce blood flow to the skin's surface by constricting blood vessels. Caffeine reduces the surface area of veins to diffuse their appearance.
Last but not least, the formula also offers instantaneous colour correction with mineral green pigments that immediately blend with your natural skin colour as it is applied.
How To Use
After cleansing and applying serum in the morning and evening, apply a small amount of Calmwise Colour Correct to face, neck and décolletage, avoiding the delicate eye area.
Use light, upward strokes to blend in the cream and allow to absorb.
On more sensitive areas, gently tap the product into the skin.
Make-up can be applied soon afterwards as needed.
Patch testing prior to use is advised. Refer to medik8.co/patch for an in-depth guide to patch testing.
Interested in routines & layering?
Calmwise Colour Correct features in our carefully curated regime guide, Calming Routine. Click the link for additional product recommendations and easy-to-follow layering advice.
Ingredients
0.5% Bakuchiol
An incredible alternative to retinol (ideal if you are pregnant or sensitive to vitamin As), bakuchiol is a natural extract of Babchi, a plant native to India. Included at clinical trial levels link, this anti-ageing powerhouse offers retinol-like results without any of the irritation.
Chamomile Extract
The main extract from chamomile, bisabolol soothes and reduces inflammation for soft and calmed skin; protected with antioxidant power.
Niacinamide
One of the most potent anti-inflammatories in skincare, niacinamide effectively soothes and restores irritated, redness-prone complexions.
NO ARTIFICIAL FRAGRANCE
PARABEN FREE
VEGAN FRIENDLY
ZIPPER DONATION
NO PHTHALATES
ALCOHOL FREE
CRUELTY FREE
Used in Professional Treatments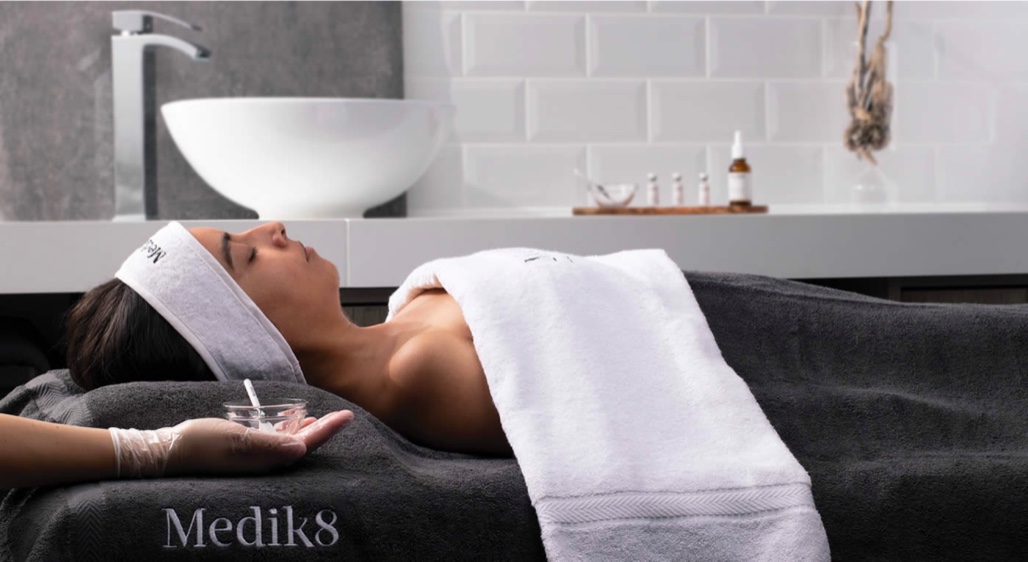 Boost the results of Calmwise Colour Correct
Visit a Medik8 specialist for a detailed skin consultation and experience one of our soothing Redness treatments.
Calming Facial
A professional treatment to soothe and comfort sensitised, irritated skin. The unique application of the calming bio-cellulose mask enriched with zinc and hyaluronic acid caresses the face to restore comfort levels. Feelings of tightness and inflammation disappear revealing visibly calm, even and radiant skin.
Sensitive PHA Professional Skin Peel
A new addition, this peel is for extremely sensitive or redness-prone skin to visibly smooth skin texture and help promote a stronger skin barrier.
The Science Behind
Complementary colour theory is often used in cosmetics to camouflage imperfections. In Calmwise Colour Correct, we use light green mineral pigments to minimise red tones within the skin. Red and green sit opposite each other on the colour wheel. This means that they neutralise one another when they overlap. So applying a green tinted cream over redness-prone skin will instantly and effectively balance out skin tone. What's more, our fading green technology ensures that the mineral pigments dissolve completely into the skin, blending seamlessly with your skin tone to create a soft focus veil over the complexion. Skin is both protected and perfected.