Enriched with the purifying energy of bentonite and kaolin clay, this clarifying facial mask gently detoxes the skin to promote a clear, radiant complexion.
KEY BENEFITS
Deep-seated impurities are instantly melted away, the skin's natural oils are brought back into balance and pores are undeniably refined.
RESULTS
Skin is left positively radiant, optimally hydrated and flawlessly clear.
Delivery Options
Standard Delivery
£3.75 or FREE on orders over £35. Please allow 3-5 working days for delivery.
Priority Delivery
£4.95 or FREE on orders over £100. Next-Day delivery when you order before 6pm Monday to Friday (Excluding bank holidays) Shipped by DPD
Key Benefits
Purifying & Decongesting
Deep-seated impurities are instantly melted away, the skin's natural oils are brought back into balance and pores are undeniably refined.
Nourishing
Expertly blended to nourish and care for your complexion, the silky formula uses extracts of cranberry to enhance skin texture and luminosity, while vitamin E locks in moisture for optimal hydration.
At-Home Spa Experience
This creamy clay mask glides over skin to create the ultimate at-home spa experience. Once applied, indulgent notes of cranberry, honeysuckle and passionflower lift the senses while natural clays draw out impurities from deep within the skin to clear and refine the complexion. In just 10 minutes, skin appears uplifted and revitalised.
Effortless Removal
The innovative mask doesn't cement like other clay facials, meaning it won't leave skin dehydrated and it can be removed effortlessly with just a few splashes of warm water.
How It Works
Natural Clay Mask is an indulgent skin treat that deeply purifies and refreshes all skin types, including those with blemish prone skin. Blemishes are formed when a pore becomes blocked with oil and skin cells, creating the perfect environment for blemish-causing bacteria to thrive.
Bentonite clay is able to absorb oil and impurities to clear pores of blockages. Bentonite also has antibacterial properties to help minimise levels of blemish-causing bacteria.
Kaolin is a very mild clay that is suitable for sensitive skin, but still has exceptional absorption powers to help clear congestion.
Vitamin E and cranberry fruit extract provide much needed antioxidant support to protect fresh and clear skin.
How To Use
Apply a thin layer of Natural Clay Mask over the face and relax for up to 10 minutes. Avoid the delicate eye area.
Rinse well with water.
Can be used weekly or more often if desired.
Patch testing prior to use is advised. Refer to medik8.co/patch for an in-depth guide to patch testing.
Interested in routines & layering?
Natural Clay Mask features in our carefully curated regime guide, Clear Complexion. Click the link for additional product recommendations and easy-to-follow layering advice.
Ingredients
Bentonite
Natural and mineral-rich, bentonite is often described as the healing clay. It is able to draw out impurities to reduce shine and congestion, leaving the skin soothed and refreshed.
Kaolin
Purifying the skin from oil and debris, natural kaolin is deemed to be the mildest of all clays and suitable for even the most sensitive of skins.
Cranberry Fruit Extract
Deliciously scented for the ultimate spa experience, this natural fruit extract contains potent antioxidants to ward off free radicals.
Vitamin E
An exceptional antioxidant, vitamin E is able to protect and repair skin under free radical stress.
Full Ingredients
<!–
What we choose not to include
–>
PARABEN FREE
VEGAN FRIENDLY
ZIPPER DONATION
NO SYNTHETIC COLOURS
NO PHTHALATES
CRUELTY FREE
Used in Professional Treatments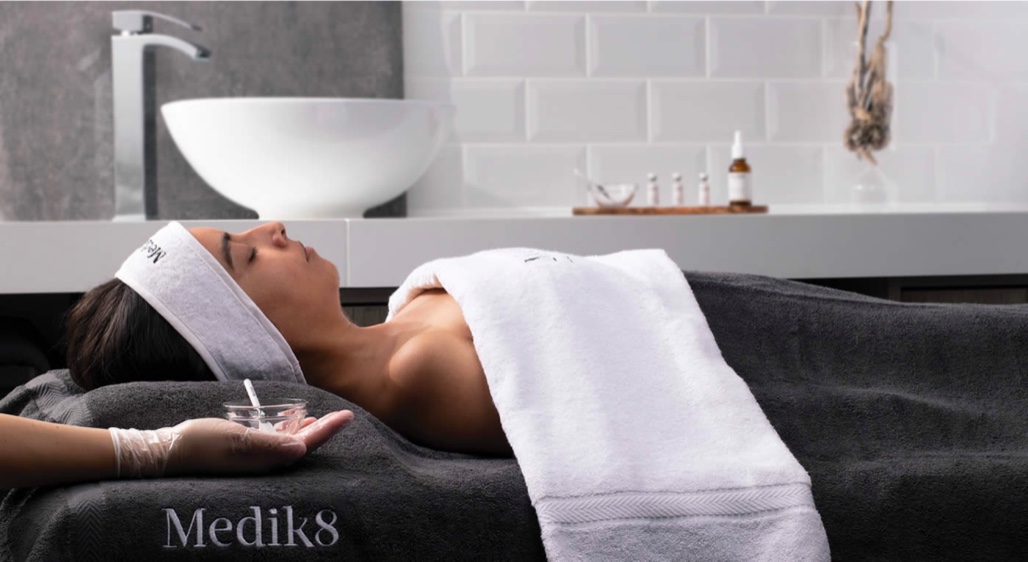 Boost the results of Natural Clay Mask
Visit a Medik8 specialist for a detailed skin consultation and experience one of our transformative Blemish treatments.
Clarity Facial
This clarifying treatment contains passion flower and cranberry fruit extracts. They work in harmony with deep cleansing actives to restore a visibly clear and soothed complexion. Impurities are swept away and moisture levels are boosted, resulting in skin that is re-balanced, clarified and visibly healthy.
Clarity Professional Skin Peel
This peel contains a powerful blend of acids that sink deep into pores to effectively clarify and decongest the complexion. Rapidly brings blemishes under control and dramatically reduces the risk of future breakouts.
The Science Behind
"Clays such as kaolin and bentonite are super absorbent which means they able to extract unwanted oil and impurities from the skin. This is because their structures are made up of millions of tiny platelets with spaces in between. In water, these platelets arrange themselves into a 'house of cards' structure, with a huge surface area. The spaces between the cards act as a magnet to draw in and trap impurities within it. This allows the clays to effectively absorb oil and debris from the skin, to leave it decongested and purified."
Daniel Isaacs, Medik8 Director of Research