Reveal flawless, radiant skin with Pore Refining Scrub.
KEY BENEFITS
This creamy, dual-action facial scrub uses a powerful complex of chemical and physical exfoliants to completely transform the appearance of your skin.
RESULTS
Pores are left virtually undetectable and skin feels soft, smooth and supple. Best of all, the velvety formula enhances the skin's receptiveness to the rest of your beauty routine by allowing follow-up products to penetrate deeper.
KEY INGREDIENTS
L-Mandelic Acid, Salicylic Acid, Jojoba Micro-Exfoliators & Niacinamide
Delivery Options
Standard Delivery
£3.75 or FREE on orders over £35. Please allow 3-5 working days for delivery.
Priority Delivery
£4.95 or FREE on orders over £100. Next-Day delivery when you order before 6pm Monday to Friday (Excluding bank holidays) Shipped by DPD
Key Benefits
Picture-Perfect Complexion?
With its silky-soft, creamy texture and a sweet, honeysuckle fragrance, Pore Refining Scrub delights the senses as it helps renew and resurface the skin.
Tighten Pores
Salicylic and mandelic acid lift impurities from deep within the skin; decongesting enlarged pores so they can shrink back to their original size.
Natural Glow
Biodegradable jojoba grains delicately polish the surface of the skin; effortlessly restoring a healthy, natural glow.
Regime Enhancing
The velvety formula enhances the skin's receptiveness to the rest of your beauty routine by allowing follow-up products to penetrate deeper.
How It Works
A dual-action exfoliator, Pore Refining Scrub harnesses the power of both exfoliating acids and physical exfoliators for a deeply cleansed complexion
Mandelic acid is an AHA with BHA properties, working on the surface of the skin to slough off dead skin cells. As it is also slightly oil-soluble, it is able to enter the oil within pores to break down blockages which can lead to blemishes.
Natural jojoba micro-exfoliators gently lift dead skin cells from the surface of the skin to reveal a radiant, refreshed looking complexion underneath
BHA salicylic acid also gets to work within pores to help clear residue. By breaking down the impurities inside the pore, the scrub helps to minimise the appearance of enlarged pores.
Niacinamide is used in Pore Refining Scrub to help inhibit the production of sebum, keeping pores tight and clear.
How To Use
Massage Pore Refining Scrub into moistened face and neck with soft circular motions.
Gently remove by splashing with water and pat dry.
Can be used as a weekly exfoliating treatment or more often if desired.
Patch testing prior to use is advised. Refer to medik8.co/patch for an in-depth guide to patch testing.
Ingredients
?L-Mandelic Acid
A softly exfoliating AHA with BHA power, chirally correct mandelic acid is able to work both on the surface of the skin and within pores for a deep but gentle exfoliation.
Salicylic Acid
Decongesting and exfoliating from within the pore, this BHA breaks down the clogged oil and skin cells which could lead to blemishes or blocked pores.
Jojoba Micro-Exfoliators
Perfectly spherical natural micro-exfoliators gently buff away dead skin cells to leave the complexion refreshed and refined.
Niacinamide
Otherwise known as vitamin B3, this soothing anti-inflammatory reduces redness and irritation, while regulating sebum production to minimise pore size.
Full Ingredients
<!–
What we choose not to include
–>
NO ARTIFICIAL FRAGRANCE
PARABEN FREE
VEGAN FRIENDLY
ZIPPER DONATION
NO SYNTHETIC COLOURS
NO PHTHALATES
CRUELTY FREE
Used in Professional Treatments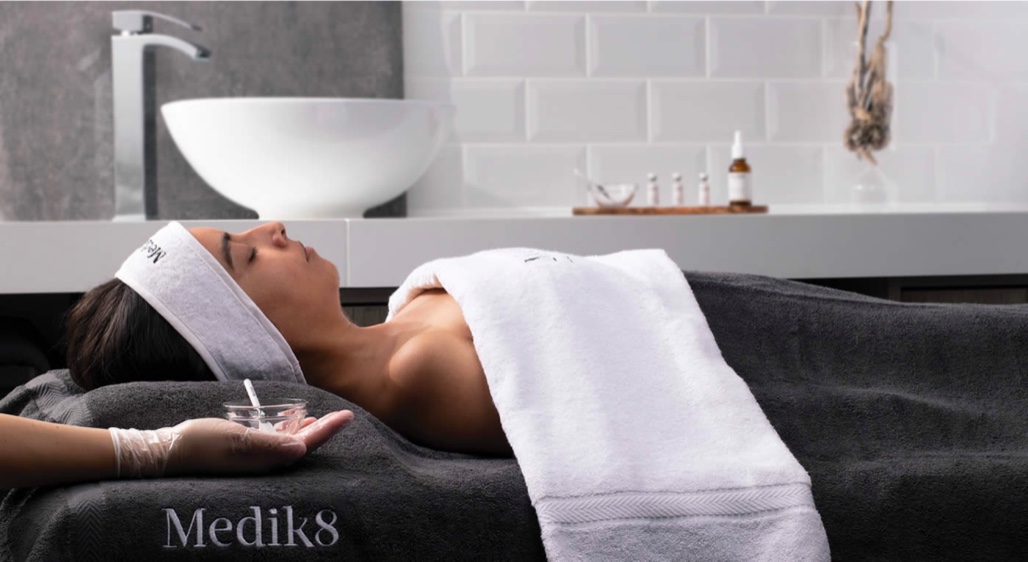 Boost the results of Pore Refining Scrub
Visit a Medik8 specialist for a detailed skin consultation and experience one of our transformative Pore Refining treatments.
Pore Refining Facial
A skin perfecting facial treatment with a 360 degree targeted approach to tackle the appearance of enlarged pores. Advanced charcoal and moringa extract work in synergy to gently break down blockages. Skin's natural elasticity is rebooted for a flawless, smooth complexion.
Universal AHA Professional Skin Peel
Suitable for everyone and any skin concern, this peel visibly brightens, smoothes, decongests and revitalises the skin. Ideal for a first time peel or to maintain results from other peels.
The Science Behind
JOJOBA GRAINS
Derived from jojoba, a botanical native to the Sonoran Desert in North America, our natural micro-exfoliators contain no harmful microplastics. Biodegradable and sustainably sourced, the jojoba micro-exfoliators are perfectly spherical to provide gentle yet effective exfoliation, without scraping or damaging the skin.