Discover Medik8's best-selling cleanser. Featuring an exfoliating AHA/BHA complex for visible skin smoothing and brightening results.
KEY BENEFITS
Recommended for all skin types, particularly those trying to improve the appearance of signs of ageing, dullness and uneven texture.
RESULTS
Skin is left feeling thoroughly refreshed, awakened and noticeably radiant.
KEY INGREDIENTS
L-Mandelic Acid (AHA), L-Lactic Acid (AHA), Salicylic Acid (BHA), Mangosteen Peel Extract & Glycerin
Delivery Options
Standard Delivery
£3.75 or FREE on orders over £35. Please allow 3-5 working days for delivery.
Priority Delivery
£4.95 or FREE on orders over £100. Next-Day delivery when you order before 6pm Monday to Friday (Excluding bank holidays) Shipped by DPD
Key Benefits
Brightening & Smoothing
AHAs and BHAs join forces in this powerful cleanser to provide rapid surface exfoliation while also decongesting impurities residing in the skin, resulting in a visibly smoother, evenly toned complexion.
Transformative Gel
When massaged into damp skin, the pH-balanced gel formula transforms into a hydrating lather, releasing an uplifting citrus scent for an awakening cleansing experience.
Antioxidant-Infused
Mangosteen and raspberry extracts work as antioxidants to help promote a healthy-looking complexion.
Youthful Complexion
Exfoliating acids are proven to minimise the visible signs of ageing – think smoothed fine lines, wrinkles and an all-round youthful glow.
Perfect Product Pair
Lipid Balance Cleansing Oil and Surface Radiance Cleanse make for the perfect double cleanse partners to ensure you get the most effective sunscreen and makeup removal in the evening.
How It Works
Surface Radiance Cleanse is a transforming gel formula that envelopes skin in a deeply refining cleansing experience.
AHAs (alpha hydroxy acid) mandelic acid and lactic acid, work on the upper layers of the skin to loosen dead skin cells so they can be easily exfoliated away. This can help to support the natural skin cell renewal process, bringing to the surface a visibly fresher, evenly toned and textured complexion.
BHA (beta hydroxy acid) salicylic acid penetrates into pores to decongest and dissolve impurities and excess oil which often lead to enlarged pores and blemishes, working to clarify the appearance of the skin.
Mangosteen peel extract works as an antioxidant by neutralising any damaging free radicals residing on the skin, for visibly brighter, youthful skin.
The gel-to-lather formula is also infused with humectant glycerin, to maintain skin hydration during and after cleansing.
How To Use
Every morning and evening, apply Surface Radiance Cleanse into the palm of the hand and massage into moistened face and neck.
For sensitive or dry skin, use up to once a day or whenever a deeper cleanse is required.
Gently remove by splashing with water and pat face dry.
Patch testing prior to use is advised. Refer to medik8.co/patch for an in-depth guide to patch testing.
Ingredients
L-Mandelic Acid
A softly exfoliating AHA with BHA power, mandelic acid is able to work both on the surface of the skin and within pores for deep but gentle exfoliation.
L-Lactic Acid
A gentle AHA that softly exfoliates the skin, while deeply hydrating for a nourished complexion.
Salicylic Acid
Decongesting and exfoliating from within the pore, this BHA breaks down the clogged oil and skin cells that can contribute to enlarged pores and blemishes.
Glycerin
A natural humectant, glycerin traps water within the skin to leave it hydrated and comfortable.
Mangosteen Peel Extract
Rich in natural antioxidants, mangosteen protects the skin from free radical attack which can trigger premature ageing.
Full Ingredients
<!–
What we choose not to include
–>
NO ARTIFICIAL FRAGRANCE
PARABEN FREE
VEGAN FRIENDLY
ZIPPER DONATION
NO SYNTHETIC COLOURS
NO PHTHALATES
ALCOHOL FREE
CRUELTY FREE
Used in Professional Treatments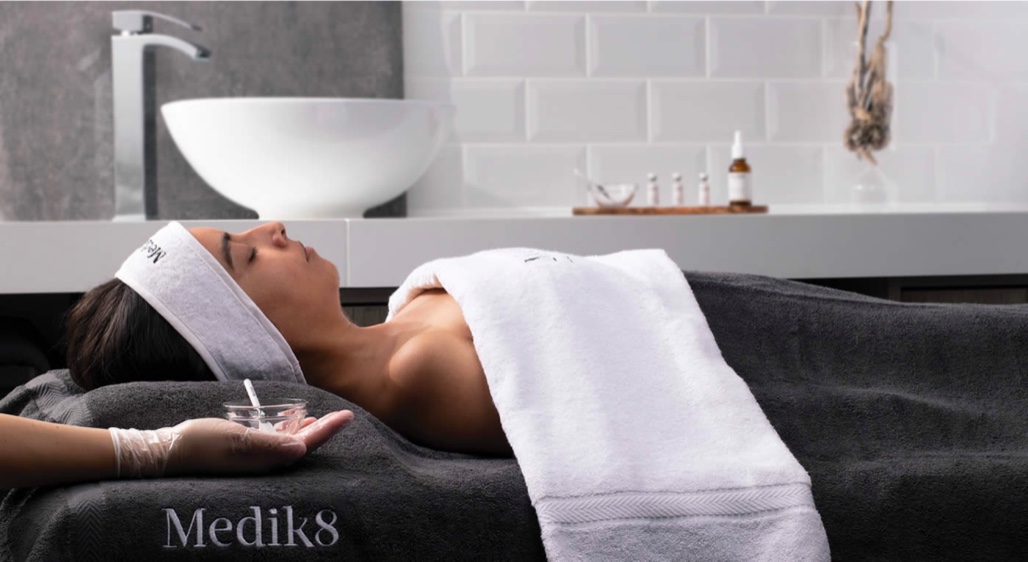 Boost the results of Surface Radiance Cleanse
Visit a Medik8 expert for a detailed skin consultation and experience one of our results-driven facials or peels. Read more about our treatments here.
Used in Professional
Surface Radiance Cleanse is loved by professionals, featuring in all Medik8 Professional Peels, plus many of our facials and body treatments.
The Science Behind
Medik8 Cleansers are designed by our in-house formulation scientists and researchers. Every aspect of our cleanser formulations are carefully optimised to ensure high performance while maintaining skin comfort: all are pH balanced and feature considered surfactants, hydrators, and efficient cleansing actives.