Experience the power of next generation exfoliating poly hydroxy acids (PHAs) with Press & Glow; the hydrating acid toner that helps to exfoliate the surface of the complexion for noticeable everyday glow.
Note: Visual may differ slightly to packaging received.
KEY BENEFITS
Skin is visibly resurfaced, hydrated and smoothed.
RESULTS
Press & Glow works in tune with vitamin A so you can boost your daily glow without sensitising the skin. Glowing skin has never been easier.
KEY INGREDIENTS
PHA Gluconolactone, Prickly Pear Extract, Aloe Vera, Acai Extract
Delivery Options
Standard Delivery
£3.75 or FREE on orders over £35. Please allow 3-5 working days for delivery.
Priority Delivery
£4.95 or FREE on orders over £100. Next-Day delivery when you order before 6pm Monday to Friday (Excluding bank holidays) Shipped by DPD
Key Benefits
Acid Toner for All Skin Types
This everyday, twice a day PHA exfoliating acid toner is the perfect addition to any skincare routine. 96% of sensitive skins found that Press & Glow was gentle on the skin, with no stinging sensations* that are common with acid toners.
Smooth Surface Exfoliation
Skin is visibly resurfaced, hydrated and smoothed. Over time, Press & Glow helps to create a perfected skin surface which is not only better at absorbing active ingredients like vitamin C and A, but also creates a better base for makeup.
Daily Glow
The daily toner helps to gently lift the appearance of hyperpigmentation and can brighten the skin surface. The complexion is left visibly glowing, soothed and toned. The overall health of the skin is visibly maximised.
Perfect Product Pair
Press & Glow, was designed to work in perfect harmony with vitamin A (retinol or retinal products). We recommend Crystal Retinal as Press & Glow's perfect partner, for visibly glowy, smoother, more youthful looking skin.
*Proven via an independent study, out of 54 participants with sensitive skin, conducted over 2 weeks.
How It Works
Balance is key when it comes to exfoliation; overuse of powerful AHAs everyday can often lead to sensitisation of the skin and premature skin ageing due to the skin's inability to repair itself. PHAs are made up of larger molecules than AHAs and BHAs, meaning they do not penetrate into the skin as deeply and instead exfoliate the surface of the skin. This makes PHAs the perfect match for those even with sensitive skin, who want to achieve true daily exfoliation while keeping the skin barrier healthy.
Gluconolactone is a high-performing PHA which breaks down the glue between dead skin cells whilst effortlessly hydrating the skin due to its humectant (water-loving) properties, ensuring the skin remains cool and comfortable after use. It breaks down the bonds between dead skin cells allowing them to shed off with ease, restoring both texture and tone; unveiling that enviable skin glow. Gluconolactone is clinically proven to work perfectly in partnership with vitamin A[1], as it can aid the absorption of vitamin A and get the gold-standard anti-ageing ingredient to exactly where it is needed in the skin.
Prickly pear extract helps to boost the activity of natural exfoliation enzymes, allowing the skin exfoliation cycle to return to a more youthful pace. This again works well in conjunction with vitamin A for all round skin cell rejuvenation. While the enzymes help to restore the natural exfoliation in the upper layers of the skin, vitamin A helps to boost cell regeneration from the lower layers of the epidermis.
Aloe vera and acai extract use their calming properties to visibly take down inflammation and irritation, whilst hydrating the skin.
[1] B. Green et al, Polyhydroxy Acids (PHAs) Provide Conditioning Effects to Skin Without Increasing Sensitivity to UV Light, American Academy of Dermatology Poster Exhibit: New Orleans, LA, February 22-27, 2002.
How To Use
Unlock by twisting the top half of the pump anti-clockwise until it clicks to activate.
After cleansing in the morning and evening, hold a facial pad (reusable is best) firmly over Press & Glow and push down 3-4 times.
Sweep the pad over the complexion, avoiding the delicate eye area.
Twist the pump clockwise until it clicks to secure.
For Press & Glow Refill, transfer the pump saved from your previous Press & Glow bottle onto the Press & Glow Refill.
Pump may be used on 5 Press & Glow Refills before disposal in your usual bin. Recycle the bottle and cap alongside your household recycling.
Patch testing prior to use is advised. Refer to medik8.co/patch for an in-depth guide to patch testing.
Interested in routines & layering?
Press & Glow features in many of our carefully curated regime guides, including our Beautiful Skin Everyday regime. Click the link for additional product recommendations and easy-to-follow layering advice.
Ingredients
A high performing, water-soluble PHA, gluconolactone converts into gluconic acid to gently exfoliate and hydrate the skin, resulting in a visibly more even, smoother skin surface.
A natural enzyme activator, it helps to increase the rate of desquamation of the skin, and then the rate of cell renewal. This can help improve the clarity and luminosity of the skin, as well as the appearance of fine lines and wrinkles.
Ideal for reducing skin irritation and enhancing the skin's moisture retention properties, as well as helping to prevent free radical damage.
?Acai Extract
It can help to take down inflammation, while protecting the skin from free radical damage.
Full Ingredients
<!–
What we choose not to include
–>
NO ARTIFICIAL FRAGRANCE
PARABEN FREE
VEGAN FRIENDLY
ZIPPER DONATION
NO SYNTHETIC COLOURS
NO PHTHALATES
ALCOHOL FREE
CRUELTY FREE
Used in Professional Treatments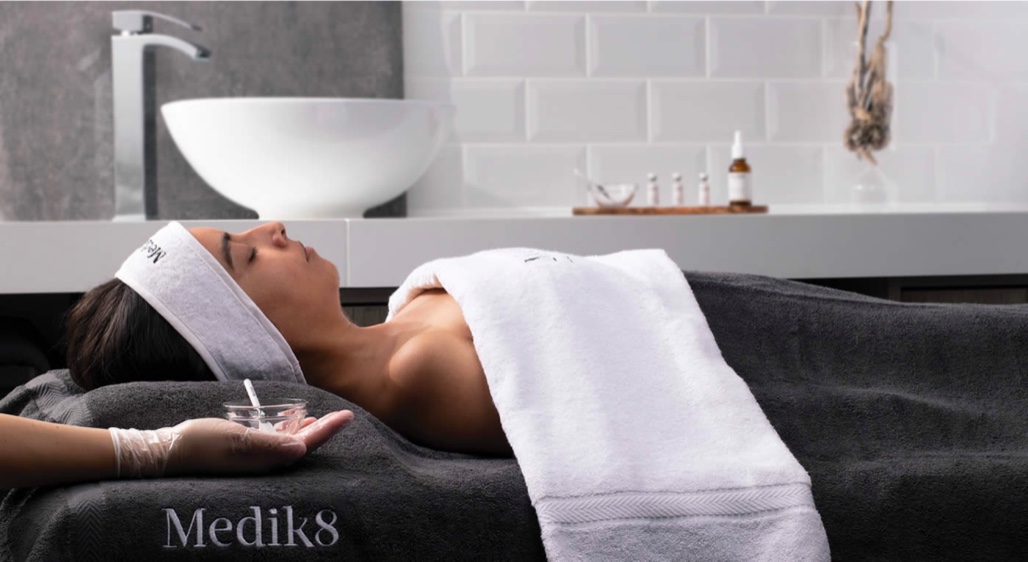 Boost the results of Press & Glow
Visit a Medik8 specialist for a detailed skin consultation and experience one of our relaxing anti-ageing facial treatments.
Rewind Professional Skin Peel
A targeted peel that helps to promote collagen production to reduce the appearance of fine lines and wrinkles. It fades away imperfections, leaving the skin visibly smoothed and rejuvenated.
The Science Behind
"Poly hydroxy acids (PHAs) are a new generation of exfoliating acid. PHAs are different to traditional exfoliating acids, as they have more hydroxyl (OH) groups within their molecular structure. More OH groups make the molecule larger, so they don't penetrate as much into the lower skin layers. Instead, they work on the skin's surface without disturbing the delicate layers that lie beneath. This ensures optimum skin renewal with minimal irritation. They work by breaking down the 'glue' that binds dull, dead cells to the surface of the skin. This helps to speed up cellular turnover, while revealing a brighter, smoother complexion. PHAs also have powerful humectant properties, meaning they draw moisture from the air into the skin for increased hydration. This ensures PHAs are gentle and soothing on the skin – without any of the drying or irritating effects that are commonly associated with acid toners."
Daniel Isaacs, Medik8 Director of Research