A lightly exfoliating AHA/BHA foaming cleanser, designed to visibly decongest and purify skin to reduce the appearance of imperfections.
KEY BENEFITS
The perfect Medik8 cleanser for blemish-prone skins who want to achieve a flawless-looking complexion.
RESULTS
Over time, the appearance of clear, evenly toned skin is achieved and maintained, while feeling hydrated and smooth.
KEY INGREDIENTS
Salicylic Acid (BHA), Mandelic Acid (AHA), Natural Tea Tree Oil, Niacinamide
Delivery Options
Standard Delivery
£3.75 or FREE on orders over £35. Please allow 3-5 working days for delivery.
Priority Delivery
£4.95 or FREE on orders over £100. Next-Day delivery when you order before 6pm Monday to Friday (Excluding bank holidays) Shipped by DPD
Key Benefits
Blemish Busting
Clarifying Foam features a gentle blend of starring blemish actives: salicylic acid, mandelic acid, natural tea tree oil and niacinamide, in one effortless cleanser.
Exfoliating Acids
AHAs (alpha hydroxy acids) and BHAs (beta hydroxy acids) work in synergy to promote a visibly clear and perfected complexion that is less prone to breakouts.
Gentle Power
Niacinamide offers comfort to the skin throughout cleansing, while tea tree oil helps to softly detoxify the skin.
Hydrating Formula
The lightweight, pH-balanced foaming cleanser avoids the common pitfall of blemish products; skin is never left feeling dry or tight.
Perfect Product Pair
Lipid Balance Cleansing Oil and Clarifying Foam make for the perfect purifying double cleanse partners to ensure you get the most effective sunscreen and makeup removal in the evening.
How It Works
While the foaming cleanser dissolves impurities residing on the skin, the active ingredients help to decongest and visibly resurface the complexion, specifically addressing the appearance of blemishes and imperfections.
BHA salicylic acid works to penetrate deep into pores, helping to break down blockages which can often lead to the formation of a blemish.
AHA L-mandelic acid works on the upper layers of the skin, freeing dead skin cells so they can easily be sloughed away. Remarkably L-mandelic acid is both oil and water soluble, and has both AHA and BHA properties to intensify the exfoliating power of Clarifying Foam.
Meanwhile, niacinamide uses its soothing properties to reduce the appearance of redness caused by blemishes, while supporting the natural skin barrier.
Tea tree oil works as an antibacterial agent to help reduce blemish-causing bacteria, promoting a visibly clear complexion over time.
How To Use
Every morning and evening, pump Clarifying Foam into the palm of the hand and massage into moistened face and neck.
Rinse with warm water and pat dry.
Patch testing prior to use is advised. Refer to medik8.co/patch for an in-depth guide to patch testing.
Ingredients
Decongesting and exfoliating from within the pore, this BHA breaks down the clogged oil and skin cells which could cause blemishes.
A softly exfoliating AHA with BHA power, chirally correct mandelic acid is able to work both on the surface of the skin and within pores for a deep but gentle exfoliation.
Otherwise known as vitamin B3, this anti-inflammatory gently soothes the skin, while hydrating and supporting the natural skin barrier.
Antibacterial and anti-inflammatory, tea tree oil helps to keep complexions clear and blemish-free.
Full Ingredients
<!–
What we choose not to include
–>
NO ARTIFICIAL FRAGRANCE
PARABEN FREE
VEGAN FRIENDLY
ZIPPER DONATION
NO SYNTHETIC COLOURS
NO PHTHALATES
ALCOHOL FREE
CRUELTY FREE
Used in Professional Treatments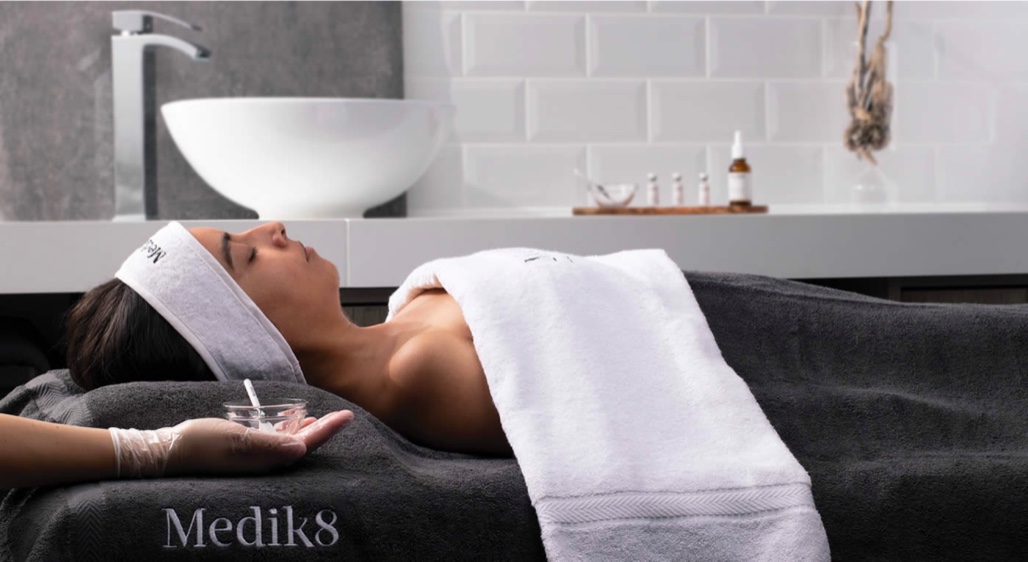 Boost the results of Clarifying Foam
Visit a Medik8 expert for a detailed skin consultation and experience one of our results-driven facials or peels. Read more about our treatments here.
Paired with Professional
Clarifying Foam is perfect to use alongside our treatments designed for blemish-prone skin, including our Signature Clarity Peel and Clarity Facial.
The Science Behind
TEA TREE OIL
Steam-distilled from the Australian native plant melaleuca alternifolia, tea tree oil has an extraordinary history of healing. The leaves of the plant have been used by aboriginals for many years as a herbal remedy with its abundance of aromatic oils. An exceptional antimicrobial, it possesses the ability to target blemish-causing bacteria. Used in many modern-day blemish treatments, including ours, tea tree oil is established as an essential for a clearer complexion.