The one where it all began. Medik8's classic youth-renewing retinol serum that kick-started our innovations in vitamin A technology.
KEY BENEFITS
This 0.3% retinol-infused serum is designed to complement skin's nightly regenerative cycle; working to rejuvenate the appearance of skin while you sleep to restore visible radiance and smoothness.
RESULTS
Retinol 3TR helps to soften the appearance of fine lines and wrinkles, while promoting a visibly brighter complexion.
KEY INGREDIENTS
Retinol (vitamin A), Vitamin E, Jojoba Oil
Delivery Options
Standard Delivery
£3.75 or FREE on orders over £35. Please allow 3-5 working days for delivery.
Priority Delivery
£4.95 or FREE on orders over £100. Next-Day delivery when you order before 6pm Monday to Friday (Excluding bank holidays) Shipped by DPD
Key Benefits
Time Release Technology
Medik8 Time Release Technology gently releases retinol into the skin overnight, ensuring total skin comfort alongside the powerful active.
Youthful-Looking Skin
Retinol is the classic vitamin A, with decades of research proving its abilities to improve the appearance of fine lines, wrinkles and skin smoothness.
Enhanced Stability
0.3% retinol is delivered in a lightweight, Jojoba oil-infused formulation. This not only cares for the skin with moisturising emollients, but also keeps temperamental retinol protected and stabilised; for long term efficacy.
Looking for Even More Power?
The Intelligent Retinol range, featuring innovative retinol-booster climbazole, is the perfect step up for improved retinol results.
How It Works
Retinol, also known as vitamin A, is often referred to as the gold standard in anti-ageing skincare. When applied to the skin, it is converted to retinoic acid, the active form of vitamin A. Retinoic acid works to help support collagen synthesis and prevent its breakdown for visibly plumper, more youthful-looking skin. It can also help to speed up the natural exfoliation process while decreasing melanin production, for a visibly smooth, more evenly toned complexion.
Retinol has the potential to cause some irritation when first introducing it into a skincare regime. Time Release Technology, found in all Medik8 vitamin A products, helps to minimise irritation while maximising visible results. Our Intelligent Retinol serum protects retinol in a polymer reservoir, essentially working as a protective shield between retinol and the skin. The polymer reservoir slows down how quickly the retinol is able to penetrate into the skin, gently delivering the active into the skin throughout the night.
Vitamin A is used in combination with vitamin E, an oil-soluble antioxidant that helps to protect delicate skin from external free radical damage, while stabilising vitamin A for a highly potent, long-lasting formula. In a jojoba-oil base, the nourishing serum protects the delicate retinol molecule for long-term efficacy.
How To Use
After cleansing in the evening, massage 4 drops of retinol across the face, neck and décolletage.
Follow with your regular Medik8 moisturiser. We recommend Advanced Night Restore, designed to be used after vitamin A.
Retinol application should be phased in gradually. Use twice a week for the first 2 weeks, every other night for the next 2 weeks, then every night. Consult a doctor if breastfeeding or pregnant. You should always use a sunscreen in the morning while using vitamin A.
Patch testing prior to use is advised. Refer to medik8.co/patch for an in-depth guide to patch testing.
Ingredients
The classic form of vitamin A helps to boost collagen levels and enhance the skin's natural regenerative cycle, leaving skin looking smooth, even-toned and youthful.
An oil-soluble antioxidant, vitamin E can quench free radicals on the skin while stabilising retinol for optimal power.
Jojoba Oil
A moisturising emollient oil that nourishes the skin, whilst working to protect the retinol's stability for long-term efficacy.
Full Ingredients
<!–
What we choose not to include
–>
NO ARTIFICIAL FRAGRANCE
PARABEN FREE
VEGAN FRIENDLY
ZIPPER DONATION
NO SYNTHETIC COLOURS
NO PHTHALATES
ALCOHOL FREE
CRUELTY FREE
Used in Professional Treatments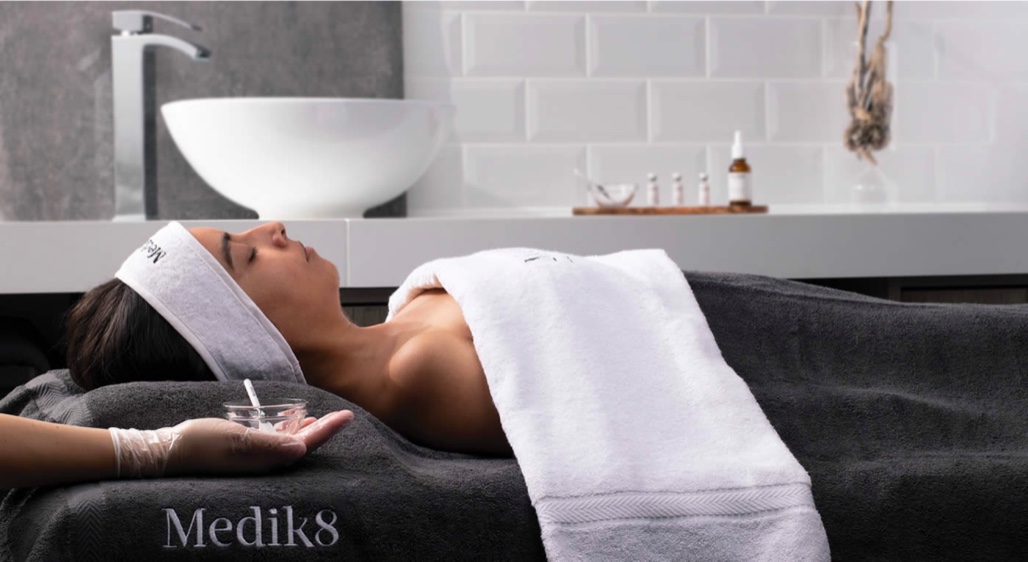 Boost the results of Retinol 3TR
Visit a Medik8 specialist for a detailed skin consultation and experience one of our relaxing anti-ageing facial treatments.
Rewind Professional Skin Peel
A targeted peel that helps to promote collagen production to reduce the appearance of fine lines and wrinkles. It fades away imperfections, leaving the skin visibly smoothed and rejuvenated.
The Science Behind
"Retinol is the classic form of vitamin A, and the one which is most often talked about. However, let's just say it… vitamin A has its challenges. When delivered at levels high enough to have a visible effect on skin ageing, it can cause irritation in the form of stinging, redness and peeling. With our extensive experience in vitamin A, we use the most advanced Time Release Technology delivery system to slowly release vitamin A into the skin; reducing irritation potential whilst providing an exceptionally stable formula."
Daniel Isaacs, Medik8 Director of Research