Reboot your skin with Copper PCA Peptides, a revolutionary antioxidant serum expertly formulated to recharge and energise skin for next-generation anti-ageing results.
KEY BENEFITS
Copper PCA Peptides works to neutralise a broad spectrum of skin-damaging free radicals, leaving the complexion looking smooth, youthful and undeniably radiant.
RESULTS
The award-winning, peptide-infused serum visibly lifts and smooths to keep skin looking plump, soft and hydrated all whilst reducing the appearance of fine lines and wrinkles.
KEY INGREDIENTS
Copper PCA, Dimethylmethoxy Chromanol, Superoxide Dismutase, Anti-Ageing Peptide Complex and Vitamin E
Delivery Options
Standard Delivery
£3.75 or FREE on orders over £35. Please allow 3-5 working days for delivery.
Priority Delivery
£4.95 or FREE on orders over £100. Next-Day delivery when you order before 6pm Monday to Friday (Excluding bank holidays) Shipped by DPD
Key Benefits
Powerful Antioxidant
With antioxidant power 5 times stronger than the next best competitor*, Copper PCA Peptides is the ultimate defence against the signs of premature skin ageing. The energising serum is packaged in a dual-chamber pump to maximise stability and potency, ensuring the actives continue to work when they are applied to the skin.
*Results from 3rd party independent tests assessing antioxidant performance
Anti-Ageing Peptide Complex
Featuring two anti-ageing peptides that boost the visible youth-renewing results of Copper PCA Peptides.
Hydrating and Smoothing
The creamy formula sinks in rapidly; leaving skin feeling incredibly silky, hydrated and smooth.
Vitamin C Alternative
Copper PCA is our alternative to vitamin C in a Medik8 CSA routine, if you have sensitivities to vitamin C or want a pure antioxidant product to use first thing in the morning.
How It Works
The skin has a natural antioxidant defence system that combats free radicals from the environment. But when free radicals overwhelm the skin's natural antioxidant system, the skin cannot protect itself. Free radicals are able to react with skin cells to cause damage, which ultimately leads to premature ageing.
Copper PCA Peptides' antioxidant blend mimics the body's natural free radical defence system. A patented complex of copper PCA, dimethylmethoxy chromanol, vitamin E and superoxide dismutase provide broad spectrum antioxidant protection against a huge range of potentially damaging free radicals.
Potent anti-ageing twin peptides help to boost collagen production for a firmer complexion, while helping to strengthen the skin's natural defence mechanisms.
Copper PCA Peptides' striking dual-chamber packaging is actually the key to its stability. It separates blue copper PCA from white dimethylmethoxy chromanol, preventing them from merging too early and deactivating themselves. This leaves ultimate potency in the formula when they are finally mixed and applied to the skin.
How To Use
Apply after cleansing each morning and evening. Mix a single dose from each pump on the back of your hand.
Apply a small amount to face, neck and décolletage, avoiding the eye area. Use light, upward strokes and allow to absorb before moisturising.
Follow with sun protection in the morning.
Patch testing prior to use is advised. Refer to medik8.co/patch for an in-depth guide to patch testing.
Ingredients
Copper PCA
A patented, extraordinary ingredient with 40 times greater antioxidant performance than vitamin C.* Revolutionary copper PCA protects the skin from damaging free radicals and leaves the complexion soothed from inflammation.
Dimethylmethoxy Chromanol
Able to neutralise a broad spectrum of free radicals, dimethylmethoxy chromanol is a powerful antioxidant that offers comprehensive protection for skin.
Superoxide Dismutase
One of the most powerful antioxidants naturally found in the body, superoxide dismutase is exceptional at neutralising free radicals to prevent skin cell damage.
Anti-Ageing Peptide Complex
A combination of peptides that help to stimulate collagen production to visibly lift and firm the skin for a youthful-looking complexion.
Vitamin E
An oil-soluble antioxidant, vitamin E can quench free radicals on the skin and also regenerate the other antioxidants in the formula for optimal power.
Full Ingredients
<!–
What we choose not to include
–>
NO ARTIFICIAL FRAGRANCE
PARABEN FREE
VEGAN FRIENDLY
ZIPPER DONATION
NO SYNTHETIC COLOURS
NO PHTHALATES
ALCOHOL FREE
CRUELTY FREE
Used in Professional Treatments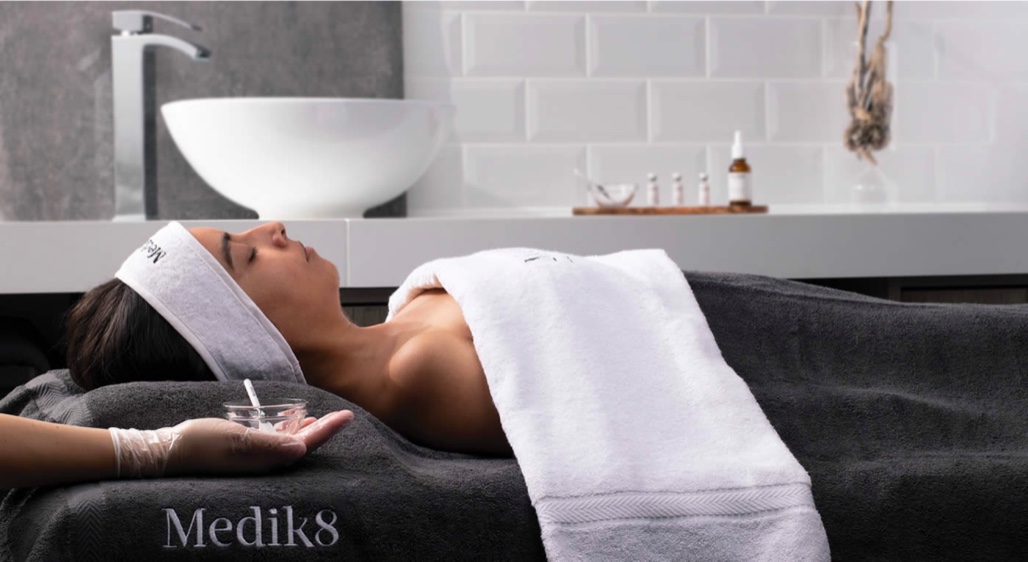 Boost the results of Copper PCA Peptides
Visit a Medik8 specialist for a detailed skin consultation and experience one of our relaxing anti-ageing facial treatments.
Rewind Professional Skin Peel
A targeted peel that helps to promote collagen production to reduce the appearance of fine lines and wrinkles. It fades away imperfections, leaving the skin visibly smoothed and rejuvenated.
The Science Behind
"An incredible result of Medik8's original research, copper PCA is a groundbreaking antioxidant that boasts broad spectrum protection against a wide range of free radicals. Copper PCA Peptides (previously known as Firewall) was independently tested for antioxidant activity and was found to be 5 times more effective than the next leading brand.* Medik8 only uses the most active, chirally correct form of copper PCA for the optimal antioxidant performance."
Daniel Isaacs, Medik8 Director of Research
*Results from 3rd party independent tests assessing antioxidant performance