Target the appearance of expression lines and deeper set wrinkles with this hydrating 30% peptide cocktail.
KEY BENEFITS
An innovative take on traditional peptide technology, this powerful serum works to deliver age-defying peptides to the skin to minimise the appearance of premature skin ageing.
RESULTS
Visible fine lines and wrinkles fade effortlessly away, the appearance of plumpness is rejuvenated and skin texture is perfectly refined.
KEY INGREDIENTS
Drone-Targeted Copper Peptide, MATRIXYL™ 3000, Carnosine, Expression Line Peptide, Hyaluronic Acid, Prebiotics
Delivery Options
Standard Delivery
£3.75 or FREE on orders over £35. Please allow 3-5 working days for delivery.
Priority Delivery
£4.95 or FREE on orders over £100. Next-Day delivery when you order before 6pm Monday to Friday (Excluding bank holidays) Shipped by DPD
Key Benefits
Youthful-Skin Solution
As Liquid Peptides is massaged into the skin, the 30% peptide complex starts its multi-faceted approach to rejuvenating the skin. Fine lines and wrinkles are visibly smoothed as the lightweight serum provides you with the very best in anti-ageing technology alongside our CSA philosophy.
Pioneering Delivery System
Boosted with an targeted delivery system, the formula ensures every peptide is activated within the layer of skin where it's needed the most.
Deeply Hydrating
The ultra-hydrating, crystal-clear serum sinks effortlessly and rapidly into the complexion, helping to boost hyaluronic acid levels in the skin.
CSA Booster
Liquid Peptides perfectly complements vitamin C application in the morning, and vitamin A application at night – enhancing the results of the Medik8 CSA skincare strategy.
How It Works
Peptides often find it difficult to get to where they need to be; they are large and dislike being around oil so they struggle to fit through the small, oil-based gaps between skin cells. Our 30% peptide blend contains an innovative delivery system which ensures that all our peptides can dive deep into the lower layers of the skin for optimal effect.
Drone-targeted copper peptide specifically targets fibroblast cells; skin cells responsible for making collagen and elastin. As the copper peptide is released into the fibroblast, collagen synthesis is stimulated and fine lines and wrinkles are smoothed in appearance.
MATRIXYL™ 3000 tricks skin cells into producing more collagen, while Expression Line Peptide blocks signals for muscle contraction to minimise the appearance of expression wrinkles.
Carnosine protects from glycation-based skin ageing while hyaluronic deeply hydrates, as prebiotics rebalance the skin's natural microbiome.
How To Use
After cleansing in the morning and evening, massage Liquid Peptides across the face, neck and décolletage. Leave to absorb before applying moisturiser.
Patch testing prior to use is advised. Refer to medik8.co/patch for an in-depth guide to patch testing.
Interested in routines & layering?
Liquid Peptides features in multiple carefully curated regime guides, including our Wrinkle Repair regime. Click the link for additional product recommendations and easy-to-follow layering advice.
Ingredients
A collagen stimulating copper peptide encapsulated in a polymer system which dives through the layers of the skin to specifically target collagen-producing cells.
A combination of peptides which "trick" the skin into producing more collagen, helping to firm, plump and minimise the appearance of fine lines and wrinkles.
An innovative peptide which works to fight expression wrinkles by minimising muscle contraction.This peptide can block nerves from sending signals for the muscles to contract, visibly minimising the appearance of expression lines.
A protective peptide that is naturally produced in the body, carnosine blocks skin-damaging sugars from binding to collagen in the skin, preventing the formation of wrinkles.
With a unique ability to attract and retain more than 1,000x its own weight in water, hyaluronic acid draws moisture from the surrounding atmosphere into the skin, leaving the complexion both nourished and supple.
Full Ingredients
<!–
What we choose not to include
–>
NO ARTIFICIAL FRAGRANCE
PARABEN FREE
VEGAN FRIENDLY
ZIPPER DONATION
NO SYNTHETIC COLOURS
NO PHTHALATES
ALCOHOL FREE
CRUELTY FREE
Used in Professional Treatments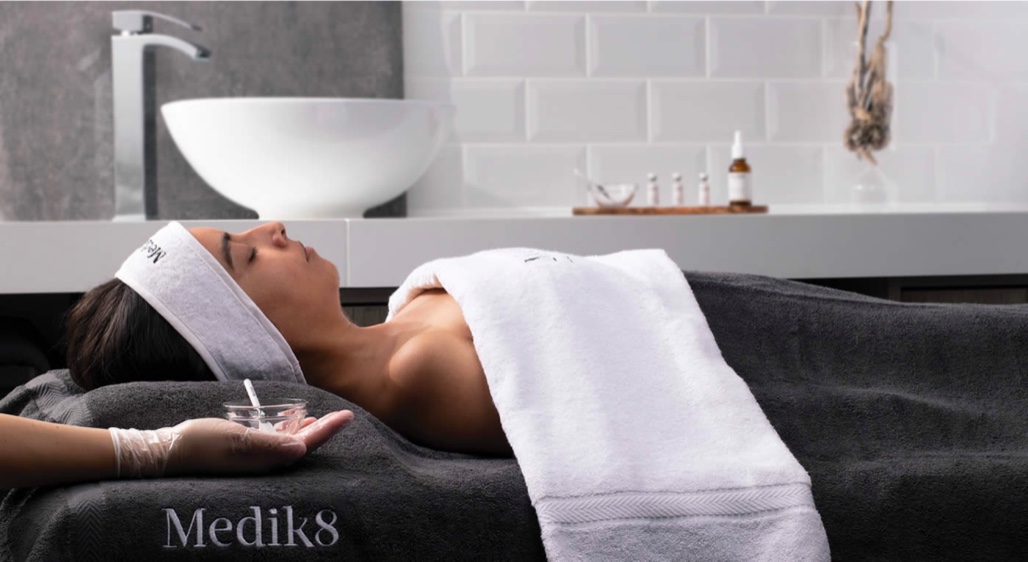 Boost the results of Liquid Peptides
Visit a Medik8 specialist for a detailed skin consultation and experience one of our relaxing anti-ageing facial treatments.
Deep Hydration Facial
A multi-level hydration treatment delivering intense nourishment for dry, thirsty skin. The nutrient-rich mask floods skin with moisture to help plump dehydration lines and revive suppleness. Skin is left soft to the touch, intensively hydrated and healthy-looking.
Universal AHA Professional Skin Peel
Suitable for everyone and any skin concern, this peel visibly brightens, smoothes, decongests and revitalises the skin. Ideal for a first time peel or to maintain results from other peels.
The Science Behind
"Liquid Peptides is a jam packed peptide formula. Its true innovation is a drone-targeted copper peptide which swoops deep into the layers of the skin to deliver peptides where they really need to go. A copper peptide is encapsulated in a polymer shell, with external peptides which fit into receptors ('ligands') on the outside of collagen-making fibroblast cells. This means that the capsule is directed, like a drone, specifically to fibroblasts. When inside, the polymer encapsulation is naturally broken down and the peptide inside can diffuse out of the encapsulation, stimulating collagen and elastin production for plumper, more youthful-looking skin."
Daniel Isaacs, Medik8 Director of Research