Tackle all visible signs of ageing around the eyes while deeply hydrating the delicate eye area.
KEY BENEFITS
This multi-action anti-ageing eye serum helps to lift and shape the appearance of eye contours for an immediate well-rested look.
RESULTS
With a complex of 5 age-defying peptides, the appearance of fine lines and wrinkles are quickly smoothed, creating a bright-eyed awakening effect.
KEY INGREDIENTS
Hesperidin & Glycerin
Delivery Options
Standard Delivery
£3.75 or FREE on orders over £35. Please allow 3-5 working days for delivery.
Priority Delivery
£4.95 or FREE on orders over £100. Next-Day delivery when you order before 6pm Monday to Friday (Excluding bank holidays) Shipped by DPD
Key Benefits
Age-Defying
With a high-performance blend of lifting and smoothing peptides combined with an age-defying protein complex, visible signs of ageing around the delicate eye contours are minimised and skin is deeply nourished.
Cooling Sensation
Eyelift Peptides is a water-based gel that gives an immediate cooling sensation, awakening the appearance of the eye area. Perfect for tired-looking eyes.
Perfect Base for Make-up
The neutral coloured serum absorbs into skin quickly, making it a perfect base for make-up.
How It Works
Overflowing with beneficial peptides and proteins, this sophisticated formula tackles the appearance of all signs of ageing around the eyes.
A complex of 5 anti-ageing peptides, including Matrixyl 3000®, work to visibly lift and tighten the eye contours by helping to stimulate collagen production and minimising the appearance of inflammation.
An anti-ageing protein complex, derived from rice and soybeans, naturally soothes visible puffiness for smooth under-eyes.
Hesperidin works behind the scenes to strengthen the capillaries under the eyes, which tones down the appearance of dark circles.
The hydrating formula contains glycerin for a hit of moisture to nourish skin and reduce the appearance of fine dehydration lines. The under eye area is visibly lifted, moisturised and brighter.
How To Use
After cleansing in the morning and evening, apply Eyelift Peptides around the eye contours, avoiding eyelids.
Patch testing prior to use is advised. Refer to medik8.co/patch for an in-depth guide to patch testing.
Ingredients
Lifting & Smoothing Peptides
5 combined peptides, including Matrixyl 3000®, work in synergy to enhance collagen production and reduce the appearance of fine lines and wrinkles.
Anti-Ageing Protein Complex
Rice and soy proteins strengthen collagen and protect against free radical damage to reduce puffiness and improve the skin's texture.
Found naturally in citrus fruits, hesperidin improves blood circulation and strengthens capillary walls for brighter under-eyes.
By gently drawing water to itself from the lower layers of the skin, glycerin leaves skin nourished and replenished of moisture for a soft and supple complexion.
Full Ingredients
<!–
What we choose not to include
–>
NO ARTIFICIAL FRAGRANCE
PARABEN FREE
VEGAN FRIENDLY
ZIPPER DONATION
NO SYNTHETIC COLOURS
NO PHTHALATES
CRUELTY FREE
Used in Professional Treatments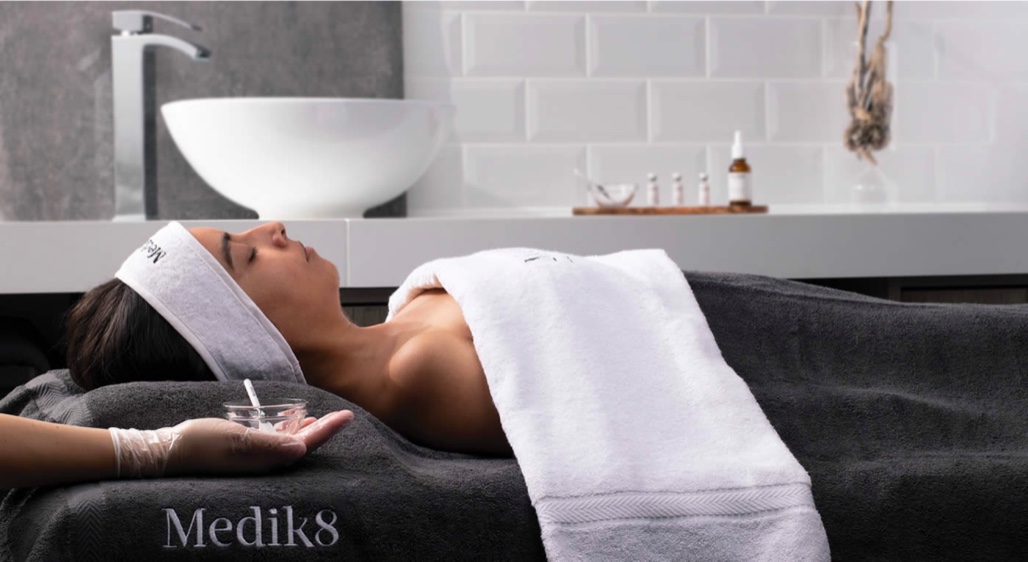 Boost the results of Eyelift Peptides
Visit a Medik8 specialist for a detailed skin consultation and experience one of our targeted treatments for the face and the delicate eye area.
Eye Reveal Professional Skin Peel
An ultra-gentle yet effective solution to target signs of ageing around the delicate eye area.
The Science Behind
"Proteins are made up of short chains of amino acids called peptides. Collagen, elastin and keratin are all examples of peptides found in our skin. A key ingredient in Eyelift, Matrixyl 3000®, is a combination of peptides which have a similar structure to fragments of collagen. When applied, Matrixyl 3000® tricks the skin into thinking that its collagen has broken down, triggering it to produce more. This means more collagen for plumper and firmer skin."
Daniel Isaacs, Medik8 Director of Research