Medik8's targeted solution to hyperpigmentation. Ultra-high concentration oxyresveratrol in our patented stabilisation system; available only at Medik8.
After activating, we recommend you keep the bottle at room temperature (not too cold or warm) and away from windows for optimum efficacy
KEY BENEFITS
The hydrating formula is suitable for all skin types and tones, including sensitive skins.
RESULTS
Designed to improve the appearance of visible age spots, hyperpigmentation, uneven skin tones and post-inflammatory hyperpigmentation from blemishes. The appearance of dark spots are visibly faded after just 4 weeks.*
KEY INGREDIENTS
1% Oxyresveratrol (Oxy-R), Brightening Twin Peptides
Delivery Options
Standard Delivery
£3.75 or FREE on orders over £35. Please allow 3-5 working days for delivery.
Priority Delivery
£4.95 or FREE on orders over £100. Next-Day delivery when you order before 6pm Monday to Friday (Excluding bank holidays) Shipped by DPD
Key Benefits
Incredible Brightening Results
The silky formula works to address uneven skin tone, delivering results in as little as 7 days*.
Medik8 Patented Oxy-R Technology
Medik8 have crafted a unique, 360° approach to keeping this incredibly high level of notoriously unstable Oxy-R potent from the first till the last use.
Triple-Threat to Hyperpigmentation
Featuring two brightening twin peptides, which boost the action of Oxy-R.
Compliments any CSA Routine
Oxy-R Peptides can be used morning and night, to enhance the overall brightening benefits of vitamin C, sunscreen and vitamin A products.
Hydration Booster
The hydrating serum absorbs instantly and is non-greasy, with a silky finish on the skin.
How It Works
Oxy-R Peptides harnesses the powers of gold-standard brightening agent oxyresveratrol, at a previously untouched concentration of 1%. A gentle yet powerful antioxidant, Oxy-R is used in skincare to target areas of hyperpigmentation, dark spots and post-inflammatory pigmentation. Found to be 33x times more effective than kojic acid[1], it works by helping to block the enzyme tyrosinase from functioning – the key enzyme responsible for forming pigment in the skin.
While exceptionally powerful, Oxy-R is an incredibly unstable ingredient. With yet another one-of-a-kind stability innovation, Medik8 have carefully curated a patented system to yield the unique benefits of ultra-high strength stabilised oxyresveratrol. Keeping the 1% Oxy-R stored in a preservation serum in the lid to protect its potency, Oxy-R Peptides uses Click-Activated packaging technology to ensure the formula remains stable from activation to final drop.
Oxy-R Peptides offers a triple-threat to hyperpigmentation, with twin brightening peptides working alongside Oxy-R to improve the visible tone of the skin. Tetrapeptide-30 works to help block the overproduction of pigment that can lead to visible discolourations and uneven skin tone, while acetyl glycyl beta-alanine works to help stop localised areas of pigment from appearing on the skin.
[1] Y. M. Kim et al, Oxyresveratrol and Hydroxystilbene Compounds, The Journal of Biological Chemistry, 2002, 277(18), pp 16340-16344
How To Use
Before the first use, press down firmly on the bottle lid until it clicks and shake for 30 seconds to activate.
After activating, we recommend you keep the bottle at room temperature (not too cold or warm) and away from windows for optimum efficacy.
Recycle the lid and replace with the dropper.
After cleansing in the morning and evening, blend 6 drops of Oxy-R Peptides across face, neck and décolletage, avoiding the eye area.
Leave to absorb before applying your moisturiser.
Oxy-R Peptides is provided in 2x10mL bottles. Each bottle will stay potent for 6 weeks after opening. Activate the second bottle after finishing the first bottle.
Patch testing prior to use is advised. Refer to medik8.co/patch for an in-depth guide to patch testing.
Ingredients
One of the most powerful skin brightening agents available in skincare, which is naturally derived from the mulberry family. It helps to block the action of tyrosinase, to transform dull, uneven skin tones.
An illuminating peptide that helps to minimise the production of tyrosinase, to block the overproduction of melanin.
A brightening peptide solution that works to help block the transport of melanin to the skin cell, where the overproduction of pigment becomes visible on the skin.
With a unique ability to attract and retain more than 1,000 times its own weight in water, hyaluronic acid draws moisture from the surrounding atmosphere into the skin, leaving the complexion feeling both nourished and supple.
Full Ingredients
<!–
What we choose not to include
–>
NO ARTIFICIAL FRAGRANCE
PARABEN FREE
VEGAN FRIENDLY
ZIPPER FOUNDATION
NO SYNTHETIC COLOURS
NO PHTHALATES
ALCOHOL FREE
CRUELTY FREE
Used in Professional Treatments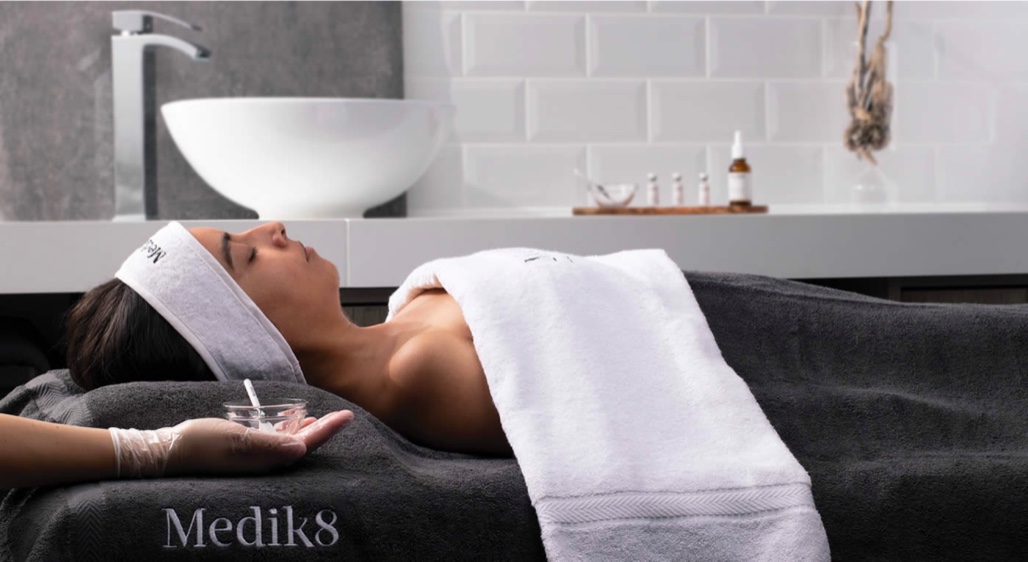 Boost the results of Oxy-R Peptides™
Visit a Medik8 specialist for a detailed skin consultation and experience one of our relaxing facial treatments.
Even Professional Skin Peel
A high performance peel that specifically targets sun damage and hyperpigmentation problems. The Even peel visibly fades pigmentation for a more even and radiant complexion. Oxy-R Peptides is the recommended serum to be used as pre and post-Even peel to boost results.
Oxy-R Peptides is also the recommended serum to be used alongside any Medik8 Professional Peel for Fitzpatrick 4-6.
The Science Behind
Oxy-R Peptides has been tested on a diverse panel of target customers; all with hyperpigmentation skin concerns. This includes sensitive skins, and all fitzpatrick groups, 1-6.
Oxy-R Peptides was proven to deliver fast brightening results, and incredible effects on stubborn areas of hyperpigmentation:
Skin appears visibly brighter after using Oxy-R Peptides for just 7 days*
Skin tone is visibly even after using Oxy-R Peptides for just 7 days*
The appearance of dark spots are faded after just one month*
The appearance of hyperpigmentation is improved after just one month*
*Proven via an independent consumer study
Tested over 4 weeks on 50 participants aged 35-70 with hyperpigmentation skin concerns