Boost luminosity and fight visible signs of ageing with Super C Ferulic. This ultra-brightening serum is Medik8's most powerful vitamin C.
Super C Ferulic (Previously known as Super C30 Intense)
KEY BENEFITS
This high-strength, high-performance vitamin C serum is ideal for those looking to blast pigmentation problems and deliver a hit of anti-ageing power. Ideal for those looking to step up their vitamin C game for maximum results.
RESULTS
Skin is noticeably supple with fine lines and wrinkles visibly diminished and skin texture refined.
KEY INGREDIENTS
30% Ethylated L-Ascorbic Acid, Ferulic Acid, Vitamin E & Turmeric Root Extract
Delivery Options
Standard Delivery
£3.75 or FREE on orders over £35. Please allow 3-5 working days for delivery.
Priority Delivery
£4.95 or FREE on orders over £100. Next-Day delivery when you order before 6pm Monday to Friday (Excluding bank holidays) Shipped by DPD
Key Benefits
Vitamin C
Discover Medik8's highest strength vitamin C serum, Super C Ferulic. Containing 30% vitamin C in a highly stable formula, plus ferulic acid, turmeric root and botanical oils to provide a noticeably younger-looking, more radiant complexion.
Fast Absorbing
The fast-absorbing serum provides beautiful anti-ageing results, as well as leaving skin looking supple and smooth. Kick-start your morning anti-ageing regime with this uplifting scented serum which won't ever lose its power.
Prevents Premature Ageing
Harnessing the power of ultra-stable 30% ethylated ascorbic acid (vitamin C) plus skin-nourishing vitamin E, it fights environmental and sun-induced damage to prevent premature ageing, while boosting collagen levels to smooth and brighten the complexion.
Supercharged Power
Vitamin C, vitamin E and ferulic acid are ultra-potent antioxidants in their own right, but when used together, they boost each other's antioxidant activity to unparallelled heights. The free radical-fighting trio work in synergy with skin to neutralise the effects of environmental aggressors such as pollution and sun damage.
Radiant Skin
The high-strength serum is fortified with brightening turmeric root to leave your complexion glowing and revitalised. The lightweight, dry-touch serum sinks in rapidly, leaving skin supple and protected from free radical damage.
How It Works
High strength and exceptionally stable, Super C Ferulic uses an incredible vitamin C derivative called ethylated ascorbic acid. Traditionally, vitamin C serums have been extremely unstable, turning yellow just a few weeks after being opened, which is an indication of lost potency.
Ethylated ascorbic acid produces the same superior protection as conventional vitamin C serums without any of the stability issues.
Ferulic acid supercharges the antioxidant potential of the serum by helping to regenerate vitamin C while blocking free radical damage. Alongside vitamin E they produce synergistic results for the ultimate antioxidant protection.
Turmeric extract promotes a bright, even skin tone by blocking the enzyme which produces melanin in the skin for a luminous complexion. The natural extract works with vitamin C to provide exceptional antioxidant protection throughout the day.
Perfect Product Pair
When combined, vitamin C and sunscreen give skin the ultimate protection against the sun & environment throughout the day, to minimise signs of premature ageing. Shop our recommended SPF day cream Advanced Day Total Protect here.
How To Use
After cleansing in the morning, massage 4 drops of Super C Ferulic across the face, neck and décolletage.
Leave to absorb before applying moisturiser.
Patch testing prior to use is advised. Refer to medik8.co/patch for an in-depth guide to patch testing.
Interested in routines & layering?
Super C Ferulic features in multiple carefully curated regime guides, including our Even Complexion regime. Click the link for additional product recommendations and easy-to-follow layering advice.
Ingredients
30% Ethylated L-Ascorbic Acid
A highly potent, incredibly stable form of vitamin C, that provides exceptional antioxidant protection from harmful free radicals, while stimulating collagen production for a youthful complexion.
Ferulic Acid
A supercharged plant-based antioxidant, ferulic acid is able to ward off free radical damage and promote a youthful-looking complexion.
?Vitamin E
A lipid-soluble antioxidant that is naturally present in the skin. vitamin E protects the skin from free radicals and regenerates vitamin C for optimum power.
Turmeric Root Extract
A natural extract able to block the creation of pigment in the skin for an illuminated, radiant complexion, while providing exceptional antioxidant protection against free radicals.
Full Ingredients
<!–
What we choose not to include
–>
NO ARTIFICIAL FRAGRANCE
PARABEN FREE
VEGAN FRIENDLY
ZIPPER DONATION
NO SYNTHETIC COLOURS
NO PHTHALATES
ALCOHOL FREE
CRUELTY FREE
Used in Professional Treatments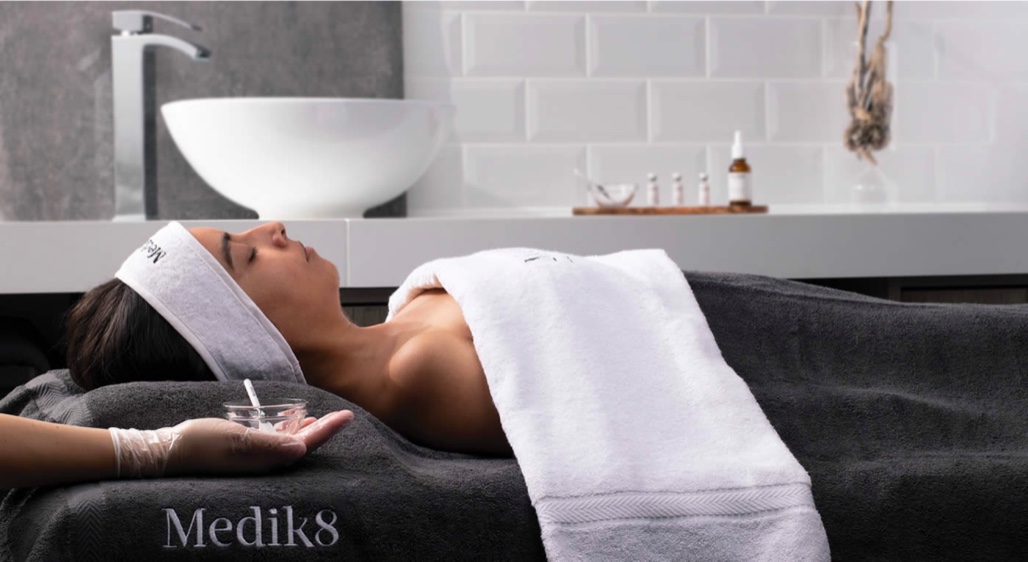 Boost the results of Super C Ferulic
Visit a Medik8 specialist for a detailed skin consultation and experience one of our relaxing anti-ageing facial treatments.
Rewind Professional Skin Peel
A targeted peel that helps to promote collagen production to reduce the appearance of fine lines and wrinkles. It fades away imperfections, leaving the skin visibly smoothed and rejuvenated.
The Science Behind
TURMERIC
An ancient root belonging to the ginger family, turmeric has a long history of use in Asian spices for its exceptional antioxidant powers. The bright yellow spice is often used as an anti-inflammatory in medicine and as a free radical scavenger to offer a whole host of health benefits. Medik8 uses a special derivative of turmeric that is capable of blocking the enzymes responsible for creating excess pigmentation in the skin. This provides a brighter, more even-toned complexion.