An advanced vitamin A night serum that uses a specialised time-release delivery system to care for the delicate eye area.
Intelligent Retinol Eye TR is now upgraded with Climbazole (Previously known as Retinol Eye TR)
KEY BENEFITS
Upgrade your retinol eye cream with Intelligent Retinol Eye TR. A high-performance eye serum that works while you sleep to speed up the natural exfoliation process.
RESULTS
Improves skin texture and minimises the appearance of fine lines and wrinkles around the delicate eye area.
KEY INGREDIENTS
0.1% Retinol, Climbazole & Vitamin E
Delivery Options
Standard Delivery
£3.75 or FREE on orders over £35. Please allow 3-5 working days for delivery.
Priority Delivery
£4.95 or FREE on orders over £100. Next-Day delivery when you order before 6pm Monday to Friday (Excluding bank holidays) Shipped by DPD
Key Benefits
Rejuvenating
Harnessing the power of 0.1% retinol combined with skin-nourishing antioxidant vitamin E, it improves skin texture and minimises the appearance of fine lines and wrinkles.
Hydrating
The fragrance-free serum sinks into skin quickly, leaving a soft and hydrated complexion. Using vitamin E for enhanced stability and Time Release Technology to decrease irritation, Intelligent Retinol Eye TR provides noticable results while being gentle on skin. The most important step in your night-time anti-ageing routine, Intelligent Retinol Eye TR reveals a more youthful and radiant eye area.
Time-Release Technology
Formulated with Time Release Technology, the light, fast-absorbing serum allows retinol to be delivered gradually throughout the night into the deeper layers of the skin. This ensures maximum results without overwhelming or irritating skin. That's why we consider all our retinol products: "intelligent retinol".
Supercharged Results
Intelligent Retinol Eye TR features climbazole, a performance-enhancing ingredient which is able to boost the effects of retinol in the skin without increasing irritation.
How It Works
Designed to complement skin's nightly regenerative cycle, Intelligent Retinol Eye TR™ firms and rejuvenates skin while you sleep.
Retinol, also known as vitamin A, is often referred to as the gold standard in anti-ageing skincare. When applied to the skin, it is converted to retinoic acid, the molecule that signals skin cells to produce proteins such as collagen. This increase in retinoic acid both boosts and preserves collagen levels within the skin for a plump, youthful-looking eye area.
Vitamin A can also boost the regenerative cycle of skin cells and hinder the formation of excess melanin to smooth the skin.
Time Release Technology distributes the intelligent formula continuously throughout the night, slowing down vitamin A absorption for reduced irritation.
Climbazole is able to block the enzyme which breaks down retinoic acid, leaving a reservoir of vitamin A for the skin to use up. This means climbazole strives for maximum vitamin A results, while keeping any irritation potential to a minimum.
Vitamin E, an oil soluble antioxidant that helps to protect delicate under-eyes from external free radical damage, while stabilising vitamin A for a highly potent, long-lasting formula.
How To Use
After cleansing in the evening, use the spatula-style applicator to sweep a small amount of Intelligent Retinol Eye TR across the under-eye and brow bone, avoiding eyelids.
Gently blend.
Retinol application should be phased in gradually. Use twice a week for the first 2 weeks, every other night for the next 2 weeks, then every night.
Consult a doctor if breastfeeding or pregnant.
Patch testing prior to use is advised. Refer to medik8.co/patch for an in-depth guide to patch testing.
Ingredients
0.1% Retinol
Pure vitamin A helps to boost collagen levels, enhance the skin's natural regenerative cycle, leaving skin looking even and youthful.
Vitamin E
An oil-soluble antioxidant, vitamin E can quench free radicals on the skin while stabilising retinol for optimal power.
Climbazole
Climbazole has been found to boost the activity of retinoids in the skin to give the power of higher percentages without the irritation.
Full Ingredients
<!–
What we choose not to include
–>
NO ARTIFICIAL FRAGRANCE
PARABEN FREE
VEGAN FRIENDLY
ZIPPER DONATION
NO SYNTHETIC COLOURS
NO PHTHALATES
ALCOHOL FREE
CRUELTY FREE
Used in Professional Treatments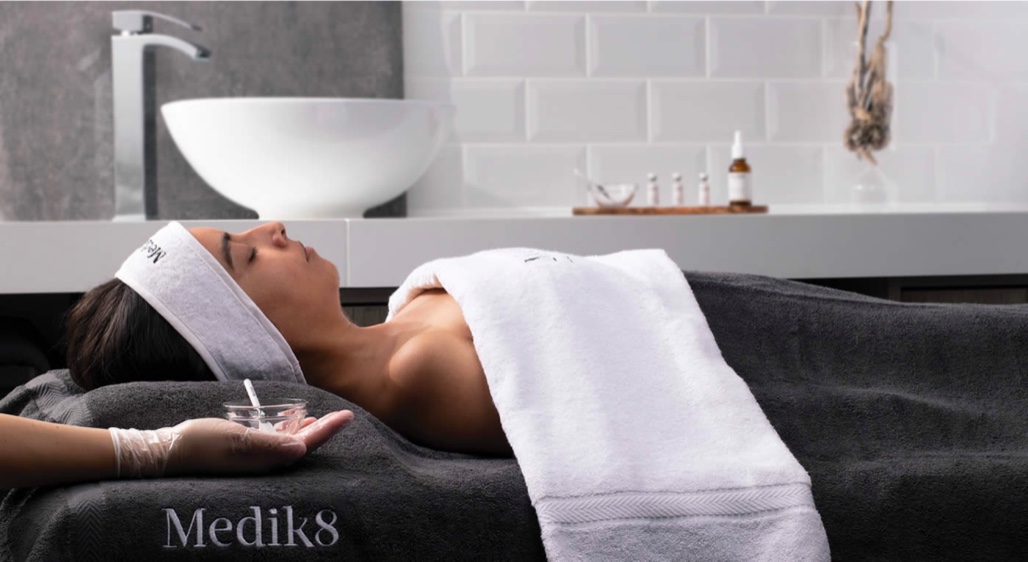 Boost the results of Intelligent Retinol Eye TR
Visit a Medik8 specialist for a detailed skin consultation and experience one of our targeted treatments for the face and the delicate eye area.
Eye Reveal Professional Skin Peel
An ultra-gentle yet effective solution to target signs of ageing around the delicate eye area.
The Science Behind
Eyes are the window to the soul, yet they are often the place where ageing starts to show first. To keep eyes looking youthful and wrinkle-free, invest in Medik8's core routine of vitamin C with sunscreen in the morning, and vitamin A at night. Retinol Eye TR includes 0.1% retinol; a gentle yet effective dosage that cares for eyes while also stimulating collagen production, helping to plump out fine lines and wrinkles and smoothing uneven texture and tone.