Formulated using pure vitamin C, Pure C15 is perfect for those who are experienced using vitamin C in their regime and are looking for a higher strength.
KEY BENEFITS
Pure vitamin C (ascorbic acid) is clinically proven to boost collagen and fight free radical damage.
RESULTS
This innovative serum visibly brightens skin tone, smooths fine lines, firms tired skin and refines skin texture. The result is a radiant, smooth and noticeably more youthful-looking complexion.
KEY INGREDIENTS
15% L-Ascorbic Acid, Vitamin E & Glutathione
Delivery Options
Standard Delivery
£3.75 or FREE on orders over £35. Please allow 3-5 working days for delivery.
Priority Delivery
£4.95 or FREE on orders over £100. Next-Day delivery when you order before 6pm Monday to Friday (Excluding bank holidays) Shipped by DPD
Key Benefits
High-strength
Strength pure vitamin C serum that provides immense antioxidant protection to help prevent premature signs of skin ageing. Using an intelligent rechargeable antioxidant network the serum is able to keep all of its actives stable and potent to deliver incredible brightening and firming results.
Fast Absorbing
The light serum sinks in rapidly and provides an immediate energising and supple feeling to the skin.
How It Works
Our skin is constantly exposed to free radicals which are highly reactive molecules with an unpaired electron. These can react with cells in our body to cause damage which ultimately leads to premature ageing. The body has a natural defence system against free radicals; a complex of antioxidants that both deactivate free radicals and recharge each other so that they can continue working. When the skin is overwhelmed by the environment, there are not enough antioxidants to quench the free radicals. This leads to skin damage.
Pure C15 contains 15% pure ascorbic acid which bolsters the power of the skin's natural defensive system to help keep free radical damage at bay.
Ascorbic acid is combined with Vitamin E and glutathione, 2 antioxidants naturally found in the skin. This complex mimics the skin's natural defensive system and forms a rechargeable antioxidant network.
The antioxidants work synergistically to boost their overall antioxidant power, while regenerating each other for long-lasting potency. The pH of the formula is also optimised to be non-irritating, while still providing the perfect balance for Vitamin C's potency to thrive. Ascorbic acid stimulates collagen synthesis, to promote younger, firmer skin, while protecting from the damaging effects of free radicals.
Perfect Product Pair
When combined, vitamin C and sunscreen give skin the ultimate protection against the sun & environment throughout the day, to minimise signs of premature ageing. Shop our recommended SPF day cream Advanced Day Total Protect here.
How To Use
After cleansing in the morning, massage 5 drops of Pure C15 across the face, neck and décolletage.
Leave to absorb before applying moisturiser.
For freshness, use up one bottle before opening the second.
Patch testing prior to use is advised. Refer to medik8.co/patch for an in-depth guide to patch testing.
Ingredients
The purest form of vitamin C, ascorbic acid provides exceptional antioxidant protection from harmful free radicals, while stimulating collagen production for a youthful complexion.
A lipid-soluble antioxidant that is naturally present in the skin. Vitamin E protects the skin from free radicals and is regenerated by vitamin C for optimum power.
A natural antioxidant present in the body, glutathione is exceptional at regenerating vitamin C to intensify the skin's protection from free radical damage.
Full Ingredients
<!–
What we choose not to include
–>
No Artificial Fragrance
Paraben Free
No Synthetic Colours
No Phthalates
Alcohol Free
Vegan Friendly
Used in Professional Treatments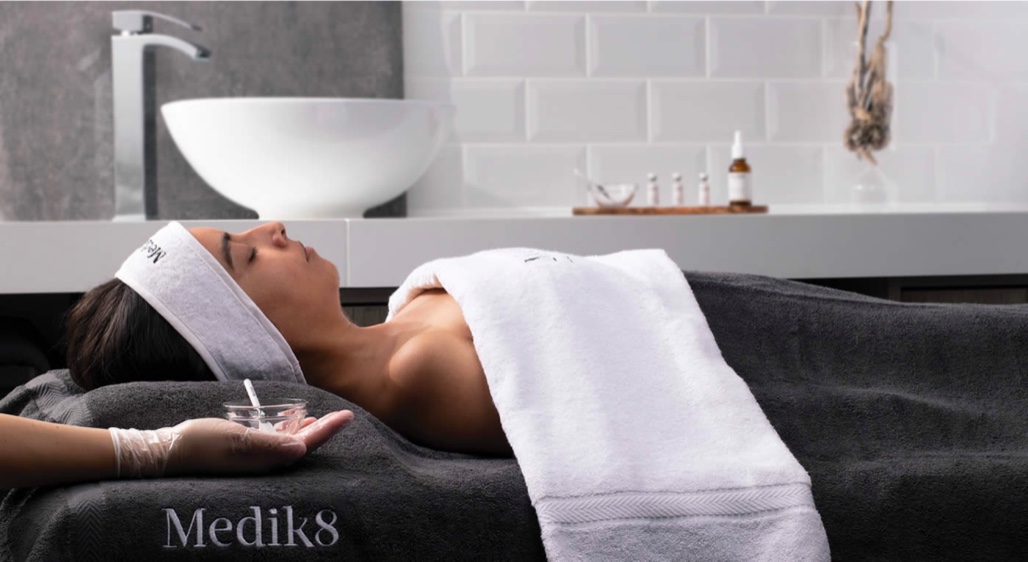 Boost the results of Pure C15
Visit a Medik8 specialist for a detailed skin consultation and experience one of our relaxing anti-ageing facial treatments.
Rewind Professional Skin Peel
A targeted peel that helps to promote collagen production to reduce the appearance of fine lines and wrinkles. It fades away imperfections, leaving the skin visibly smoothed and rejuvenated.
The Science Behind
"Ascorbic acid is notoriously difficult to stabilise. Sometimes vitamin C products turn yellow over time which indicates that the vitamin C is reacting with the air and losing its power. Medik8 takes extraordinary steps to keep Pure C15 potent for as long as possible. The intelligent formula is supplied in 2 smaller bottles to minimise exposure to air. When the bottles are being filled, they are placed in a special chamber saturated with nitrogen, rather than air, to stop ascorbic acid from coming into contact with oxygen. The rechargeable antioxidant network and optimised pH helps to keep the formula stable once it has been opened. Each bottle is guaranteed to stay fresh and potent for at least 8 weeks after opening."
Daniel Isaacs, Medik8 Director of Research