Discover a soothing recipe of just 7 ingredients which calm redness and provide intensive relief to sensitive skin.
KEY BENEFITS
By improving the skin's natural barrier function, this nourishing sage-infused serum helps to combat all kinds of redness, including flare-ups caused by environmental stress, irritants and dryness.
RESULTS
Redness is reduced while damaged, sore skin is left looking calm and feeling comfortable.
KEY INGREDIENTS
Teprenone & Organic Sage Extract
Delivery Options
Standard Delivery
£3.75 or FREE on orders over £35. Please allow 3-5 working days for delivery.
Priority Delivery
£4.95 or FREE on orders over £100. Next-Day delivery when you order before 6pm Monday to Friday (Excluding bank holidays) Shipped by DPD
Key Benefits
Anti-Redness
Teprenone, the key active ingredient in Calmwise Serum, has been found to visibly reduce red, reactive skin in just 1 month.
Restores Skin
As the ultimate restorative serum, it improves skin firmness and hydration, leaving skin supple and glowing.
Soothing
The soothing formula is designed specifically for sensitised skin, so is non-irritating, fragrance-free and paraben-free.
Non-Comedegenic
Suitable for all skin types, the lightweight serum is non-comedogenic and won't aggravate acne, making it a fantastic serum to calm the redness associated with blemishes.
How It Works
This intelligent anti-redness serum supports sensitive skin by prolonging the life of skin cells. The DNA within our skin cells contains a string of amino acids called telomeres. These shorten continuously as we age, eventually becoming so small that they trigger cell death.
Teprenone helps to stabilise telomeres. This extends the life of the cell and consequently enhances the skin's natural barrier function. As a result, the skin's sensitivity to external factors is reduced. In studies, teprenone has been shown to extend a cell's lifespan by as much as a third.*
*Independent trial by Sederma
Organic sage extract is used alongside teprenone to prevent free radical attack. Boasting powerful antioxidant properties, it shields the skin from environmental damage to prevent premature signs of ageing. The extract also works as an anti-inflammatory to soothe redness-prone skin, leaving a smooth and even complexion.
How To Use
After cleansing in the morning and evening, massage 6 drops of Calmwise Serum across the face where required.
Leave to absorb before applying moisturiser.
Follow with sunscreen in the day.
Patch testing prior to use is advised. Refer to medik8.co/patch for an in-depth guide to patch testing.
Interested in routines & layering?
Calmwise Serum features in our carefully curated regime guide, Calming Routine. Click the link for additional product recommendations and easy-to-follow layering advice.
Ingredients
Teprenone
A patented anti-redness active that helps to prolong the life of skin cells, enhancing the skin's protective barrier and reducing sensitivity.
Organic Sage Extract
A powerful natural antioxidant that helps to soothe inflammation and calm irritation.
Full Ingredients
<!–
What we choose not to include
–>
NO ARTIFICIAL FRAGRANCE
PARABEN FREE
VEGAN FRIENDLY
ZIPPER DONATION
NO SYNTHETIC COLOURS
NO PHTHALATES
ALCOHOL FREE
CRUELTY FREE
Used in Professional Treatments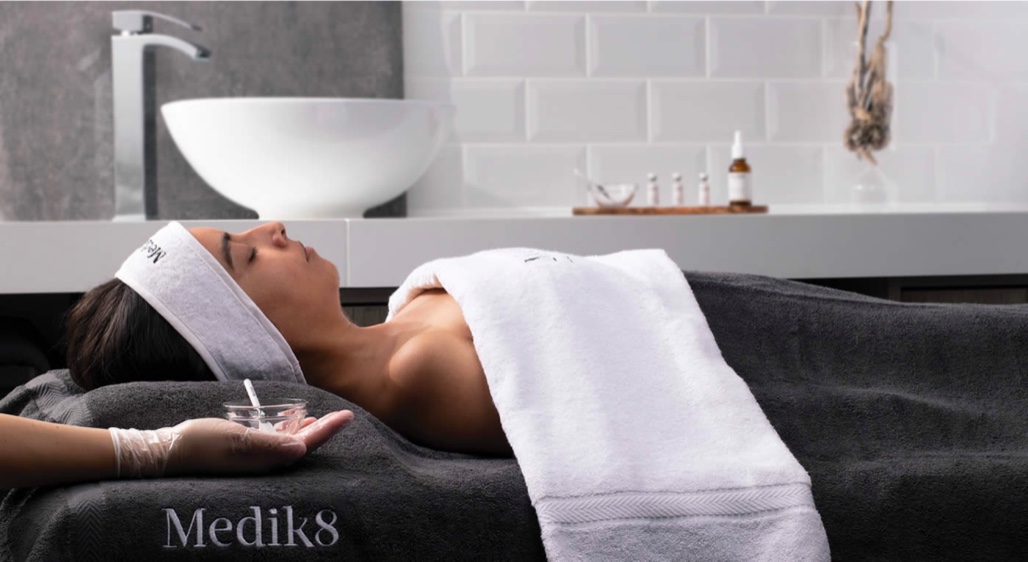 Boost the results of Calmwise Serum
Visit a Medik8 specialist for a detailed skin consultation and experience one of our soothing Redness treatments.
Calming Facial
A professional treatment to soothe and comfort sensitised, irritated skin. The unique application of the calming bio-cellulose mask enriched with zinc and hyaluronic acid caresses the face to restore comfort levels. Feelings of tightness and inflammation disappear revealing visibly calm, even and radiant skin.
Sensitive PHA Professional Skin Peel
A new addition, this peel is for extremely sensitive or redness-prone skin to visibly smooth skin texture and help promote a stronger skin barrier.
The Science Behind
Calmwise Serum (or Red Alert Serum as it was previously known) was the original product that kicked off Medik8 from humble beginnings. Our founder, Elliot Isaacs, developed the revolutionary serum for his sister who suffered from constant redness and very sensitive skin. Elliot used his biochemical knowledge and skin care expertise to craft an extremely effective and easy to use serum, which was the solution to his sister's sensitive skin. And so Medik8 was born and Calmwise Serum remains a best seller to this day.