Revive lips with unrivalled moisture that gets you out of the dry lip-lip balm cycle.
KEY BENEFITS
A squalane-based alternative lip balm, which instantly melts into an oil on the lips. Providing both instant and long-lasting hydration.
RESULTS
Moisture is locked in tight, leaving the lips visibly nourished and replenished
KEY INGREDIENTS
Natural Squalane, Sea Buckthorn Oil & Multiweight Hyaluronic Acid
Delivery Options
Standard Delivery
£3.75 or FREE on orders over £35. Please allow 3-5 working days for delivery.
Priority Delivery
£4.95 or FREE on orders over £100. Next-Day delivery when you order before 6pm Monday to Friday (Excluding bank holidays) Shipped by DPD
Key Benefits
Long-Lasting Hydration
This beautifully nourishing formula absorbs into the lips to replenish lost lipids and gives the lips a skin-like protection level that prevents any lost moisture.
No Ordinary Lip Balm
The gel-like balm, infused with nourishing squalane, puts petrolatum-based lip balms in the shade. Petrolatum (aka mineral oil) masks the problem instead of helping improve lips long-term.
Healing
The gel-like balm is intensified with plant-sourced sea buckthorn oil, which infuses the top layers of the lip skin with omega oils to visibly repair and restore its natural barrier. This helps to support the natural healing process of chapped lips.
How It Works
The lip skin differs greatly to facial skin; it has a much thinner barrier function and therefore struggles to retain hydration. This is where Mutiny comes to the rescue.
Natural squalane nourishes and protects the lip skin. Squalane is chemically almost identical to squalene, a natural part of the skin's sebum and therefore gives the lips a skin-like protection level that prevents moisture from escaping.
Sea buckthorn oil infuses the lips with a full omega profile, helping to restore the lip's natural lipid barrier, keeping hydration locked in tight. This incredible plant-sourced oil supports the skin's natural healing, to visibly recover sore, chapped lips.
Multi-molecular weight hyaluronic acid deeply hydrates every layer of the lip skin.
How To Use
Apply a thin layer of Mutiny to the lips as needed.
Top Tip Use as an indulgent overnight lip mask. Simply apply a thick layer before bed and wake up to visibly smooth, soft and nourished lips.
Patch testing prior to use is advised. Refer to medik8.co/patch for an in-depth guide to patch testing.
Ingredients
Natural Squalane
An almost skin-identical lipid, squalane replenishes lost oils for moisturised, soft and healthy lips.
Sea Buckthorn Oil
A nourishing oil, which is one of the only plant sources to contain omega 3, 5, 9 and 7. Infusing the skin with a full omega profile, it can help to restore the skin's natural lipid barrier, providing long-lasting moisturisation.
?Multiweight Hyaluronic Acid
With the ability to attract and retain more than 1,000x its own weight in water, hyaluronic acid draws moisture from the surrounding atmosphere and lower skin layers, leaving the lips both nourished and supple.
NO ARTIFICIAL FRAGRANCE
PARABEN FREE
VEGAN FRIENDLY
ZIPPER DONATION
NO SYNTHETIC COLOURS
NO PHTHALATES
ALCOHOL FREE
CRUELTY FREE
Used in Professional Treatments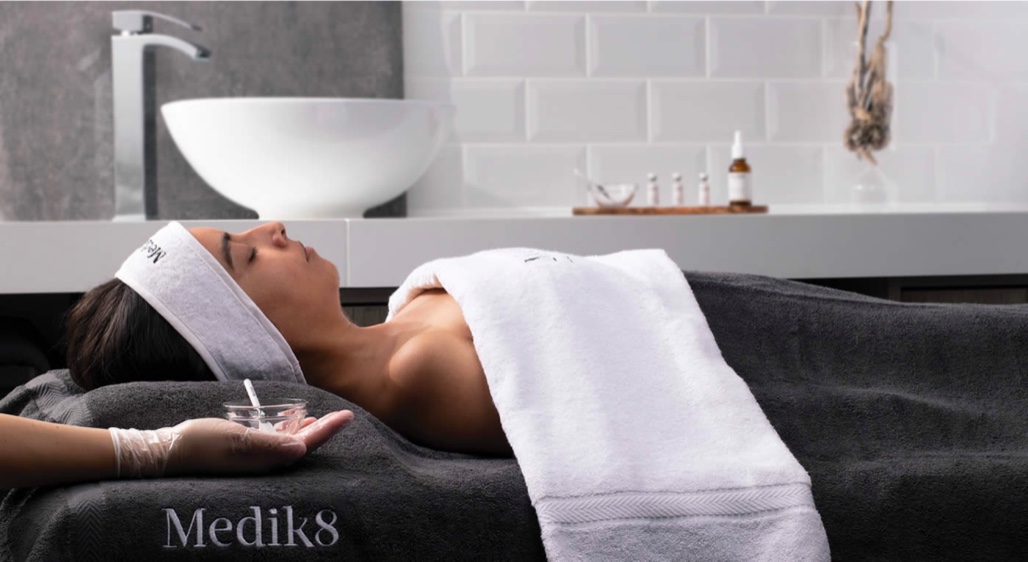 Boost the Results of Mutiny
Visit a Medik8 specialist for a detailed skin consultation and experience one of our powerful anti-ageing facial treatments.
Deep Hydration Facial
A multi-level hydration treatment delivering intense nourishment for dry, thirsty skin. The nutrient-rich mask floods skin with moisture to help plump dehydration lines and revive suppleness. Skin is left soft to the touch, intensively hydrated and healthy-looking.
The Science Behind
'Squalane is almost chemically identical to squalene, a molecule which makes up about 12% of our sebum. It works as a protective, moisturising barrier over the skin to lock in hydration. The difference between squalene and squalane is reactivity; squalene has reactive double bonds which in skincare can oxidise, block pores and cause blemishes. Squalane, however, is entirely unreactive on the skin and non-comedogenic. It is able to penetrate into the natural lipids of the skin, absorbing effortlessly and replenishing the skin's natural barrier. The result; visibly soft, supple and smooth skin.'
Daniel Isaacs, Medik8 Director of Research