An instantly illuminating and hydrating eye balm which helps to visibly brighten and refresh tired eyes.
KEY BENEFITS
Illuminating Eye Balm minimises the appearance of puffiness and dark circles by combining soothing natural extracts with sheer, light-reflecting mineral pigments in a subtle colour match tint.
RESULTS
This multitasking balm infuses the under eye area with hydration while instantly refreshing for a bright, wide awake look.
KEY INGREDIENTS
Illuminating Minerals, Red Algae Extract, Cucumber Extract, Hyaluronic Acid, Glycerin
Delivery Options
Standard Delivery
£3.75 or FREE on orders over £35. Please allow 3-5 working days for delivery.
Priority Delivery
£4.95 or FREE on orders over £100. Next-Day delivery when you order before 6pm Monday to Friday (Excluding bank holidays) Shipped by DPD
Key Benefits
Fresh Look
The balm can be applied underneath or on top of makeup, leaving the eyes nourished, rejuvenated and visibly youthful.
Hydration
Enriched with multi-weight hyaluronic acid and glycerin, true moisture is drawn into the delicate eye area, smoothing the appearance of fine, dehydration lines. The appearance of the under eye area is visibly illuminated and skin texture is smoothed.
Subtle Colour Match Tint
A subtly tinted illuminating under eye formula that targets dark circles and signs of fatigue in a lightweight balm.
How It Works
Illuminating mineral pigments work to enhance the beauty of the delicate under eye area for a brighter and fresh look. The mineral tint effortlessly bounces light away from dark circles. The under eye area is prone to dehydration due to the skin being very thin, therefore Illuminating Eye Balm is expertly formulated with hydrating actives.
Illuminating Eye Balm is expertly formulated with hydrating actives, hyaluronic acid and glycerin, to refresh and awaken the under eye. They work to draw moisture from both the lower layers of the skin and the environment to help add suppleness to this delicate area.
Cucumber extract, made up of 95% water is instantly revitalising and refreshing for the delicate eye area.
Red algae extract is rich in digeneaside, a sugary compound which helps to regulate osmotic pressure under the eyes, minimising fluid retention and therefore the appearance of puffiness. Ideal for everyday lightweight, natural coverage, this innovative formula blends seamlessly into all skin tones.
How To Use
After cleansing in the morning, apply Illuminating Eye Balm around the eye area, avoiding eyelids.
Patch testing prior to use is advised. Refer to medik8.co/patch for an in-depth guide to patch testing.
Ingredients
Illuminating Minerals
Subtly tinted minerals and optical diffusers reflect light to soften the appearance of dark circles.
Red Algae Extract
A fast-acting solution to eye puffiness, red algae extract uses it's calming powers to regulate the osmotic pressure in the under eye area
?Cucumber Extract
Made up of 95% water, cucumber extract is cooling, refreshing and awakening on the skin, vital for the delicate under eye area.
Hyaluronic Acid
Able to hold up to 1000 times its own weight in water, hyaluronic acid sinks easily into the skin where it draws moisture to itself, leaving the under eye area both hydrated and supple.
Glycerin
By gently drawing water to itself from the lower layers of the skin, glycerin leaves skin nourished and the skin replenished of moisture for a soft and supple eye area.
NO ARTIFICIAL FRAGRANCE
PARABEN FREE
VEGAN FRIENDLY
ZIPPER DONATION
NO SYNTHETIC COLOURS
NO PHTHALATES
ALCOHOL FREE
CRUELTY FREE
Used in Professional Treatments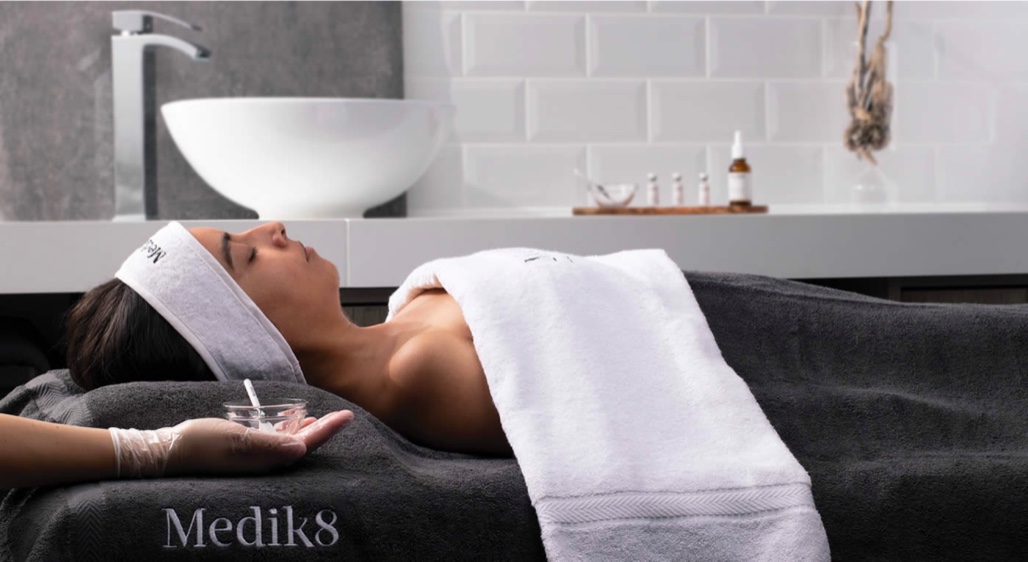 Boost the results of Illuminating Eye Balm
Visit a Medik8 specialist for a detailed skin consultation and experience one of our targeted treatments for the face and the delicate eye area.
Eye Reveal Professional Skin Peel
An ultra-gentle yet effective solution to target signs of ageing around the delicate eye area.
The Science Behind
"Cooling, refreshing and hydrating, cucumber extract is derived from fruit cucumis sativus, which originated in the Himalayas. Cucumbers are known for their ability to reduce swelling of the eyes, minimising the inflammation from sunburn and to promote cooling and healing of the skin. Armed with a multitude of antioxidant components, cucumber extract helps to protect the area under the eyes from free radical attack, and premature ageing. Cucumber also contains fragrant components which are not sensitising, meaning that it is ideal for use on sensitive skin."
Daniel Isaacs, Director of Research