Ensure your under-eyes and lips get the care they deserve with this limited edition nourishing duo.
Featuring a full size Illuminating Eye Balm and Mutiny lip balm, it's the perfect stocking filler or gift to yourself this festive season.
KEY BENEFITS
Illuminating Eye Balm instantly hydrates and brightens the appearance of tired-looking eyes, while Mutiny nourishes lips and protects them from cold, harsh or dry conditions, all while delivering a delicate shine.
RESULTS
The under eye area is infused with hydration while instantly refreshed for a bright, wide awake look. Lips are left soft, healthy and replenished with long-lasting moisture.
KEY INGREDIENTS
Natural Squalane, Sea Buckthorn Oil & Multiweight Hyaluronic Acid, Illuminating Minerals, Red Algae Extract
Delivery Options
Standard Delivery
£3.75 or FREE on orders over £35. Please allow 3-5 working days for delivery.
Priority Delivery
£4.95 or FREE on orders over £100. Next-Day delivery when you order before 6pm Monday to Friday (Excluding bank holidays) Shipped by DPD
Key Benefits
Mutiny (15ml)
This alternative lip balm goes beyond the short-term occlusive effect from petrolatum-based formulas. With its balm-to-oil, lipid-based formulation, Mutiny provides lips with essential nourishment for deeper moisturisation. The squalane-based, omega-rich balm instantly melts down to leave lips visibly soft, supple and plump while a protective film keeps moisture locked in tight.
Illuminating Eye Balm (15ml)
An instantly illuminating and hydrating eye balm to visibly brighten and refresh tired eyes. Soothing natural extracts are blended with light reflecting mineral pigments to help reduce the appearance of dark circles. Hyaluronic acid and glycerin draw moisture to the delicate eye area, smoothing the appearance of dehydration lines.
Top Tips
Illuminating Eye Balm can be applied underneath or on top of makeup, leaving the eyes visibly youthful and rejuvenated. If you are looking for a subtle sheer lip finish, apply Mutiny before your lipstick and discover ultra-hydrated lips and a sheer finish to your lipstick.
Sustainability
In line with Medik8's core sustainability pledge, the Nurture kit is 100% vegan and cruelty-free. Plus, it is presented in a beautiful limited edition carton that is FSC approved and fully recyclable.
How It Works
The skin around eyes and lips is much thinner than the rest of your face, requiring focused attention. Mutiny and Illuminating Eye Balm are specially designed to care for these delicate areas. Gentle yet effective, they work to support and nourish the skin.
Mutiny
Based on nourishing, naturally-derived squalane, Mutiny works to nourish the lips, giving them a skin-like protection level. This innovative lip balm is also infused with sea buckthorn oil which has incredible properties that help to restore the lip's natural barrier, holding the hydration locked in tight and therefore supporting the natural healing process of dry or chapped lips. Multi-weight hyaluronic acid, on the other hand, works as a humectant to draw in moisture to the lip surface. Together, these key ingredients give Mutiny a full hydration profile which assists in reviving lips.
Illuminating Eye Balm
Combining natural calming extracts with subtly tinted mineral pigments and optical diffusers, Illuminating Eye Balm helps to improve the appearance, tired looking eyes. Meanwhile glycerin and multi-weight hyaluronic acid work to draw moisture from both the lower layers of the skin and the environment, to leave the delicate eye area with a smooth, supple and youthful look.
How To Use
Mutiny
Using fingertips, apply a thin layer of Mutiny to the lips, as often as required. Apply a thick layer in the evening to work as a nourishing overnight lip mask.
Illuminating Eye Balm
Apply Illuminating Eye Balm around the eye area, avoiding eyelids.
Ingredients
Natural Squalane
An almost skin-identical lipid, squalane replenishes lost oils for moisturised, soft and healthy lips.
Sea Buckthorn Oil
A nourishing oil, which is one of the only plant sources to contain omega 3, 5, 9 and 7. Infusing the skin with a full omega profile, it can help to restore the skin's natural lipid barrier, providing long-lasting moisture and supporting the natural healing process of dry or chapped lips.
?Illuminating Minerals
Subtly tinted minerals and optical diffusers reflect light to soften the appearance of dark circles.
Red Algae Extract
A fast-acting solution for puffy eyes, red algae extract works as an osmosis booster, helping to minimise fluid retention under the eyes and therefore reducing the appearance of puffiness.
Hyaluronic Acid
Able to hold up to 1000 times its own weight in water, hyaluronic acid sinks easily into the skin where it draws moisture to itself, leaving the under eye area and lips nourished and supple.
NO ARTIFICIAL FRAGRANCE
PARABEN FREE
VEGAN FRIENDLY
ZIPPER DONATION
NO SYNTHETIC COLOURS
NO PHTHALATES
ALCOHOL FREE
CRUELTY FREE
Used in Professional Treatments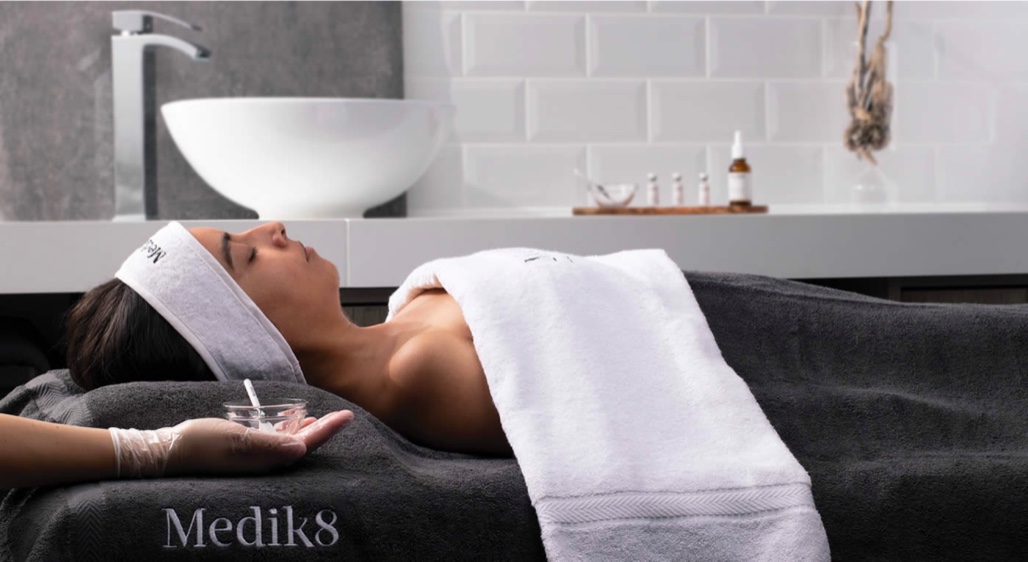 Boost the results of Illuminating Eye Balm
Visit a Medik8 specialist for a detailed skin consultation and experience one of our targeted treatments for the face and the delicate eye area.
Eye Reveal Professional Skin Peel
An ultra-gentle yet effective solution to target signs of ageing around the delicate eye area.
The Science Behind
The Gift of Presence
This festive season take time to create timeless memories, no matter where you are.
Give, celebrate, escape, reflect & nurture with loved ones.
Each set from our Festive Collection was designed to evoke a sense of positivity, hope and joy, whether it's for you or a loved one.
With illustrations inspired by whimsical landscapes from across the globe, each box is finished with beautiful touches of iridescent silver.
Make meaningful moments with loved ones – give the gift of presence.
In line with Medik8's sustainability pledge, every product within the collection is 100% vegan and all cartons are fully recyclable.