Harness the power of Medik8's original best-selling C-Tetra serum in a silky, nourishing cream.
Product may differ from that pictured. We are transitioning to remove the plastic spatula from this product for sustainability reasons.
KEY BENEFITS
Perfect for shielding the skin against environmental stressors, such as pollution and UV exposure, that cause premature skin ageing.
RESULTS
Skin is energised while deeply hydrated, leaving a bright, dewy complexion.
KEY INGREDIENTS
Tetrahexyldecyl Ascorbate, Vitamin E & Hyaluronic Acid
Delivery Options
Standard Delivery
£3.75 or FREE on orders over £35. Please allow 3-5 working days for delivery.
Priority Delivery
£4.95 or FREE on orders over £100. Next-Day delivery when you order before 6pm Monday to Friday (Excluding bank holidays) Shipped by DPD
Key Benefits
Perfect Introduction
The perfect introduction to anti-ageing skincare, C-Tetra Cream shields skin from free radical damage and restores radiance.
Radiant Skin
The fast-absorbing formula helps to maintain skin health, improve uneven skin tone and restore radiance.
Powerful Antioxidant Protection
Using a lipid-soluble form of vitamin C, tetrahexyldecyl ascorbate, the formula is able to deeply penetrate the skin, providing powerful antioxidant protection with minimal irritation.
Hydrating
Hyaluronic acid and glycerin leave skin supple and hydrated, while also supporting skin's natural barrier.
Also in need of SPF?
Check out Daily Radiance Vitamin C, which contains both C-Tetra technology and sun protection to complete C & S of CSA in one easy step.
How It Works
Your skin is packed full of natural antioxidants that defend against free radicals from the environment. When these environmental free radicals outweigh your skin's antioxidants, the skin can no longer protect itself. Free radicals latch onto the defenceless skin cells, causing irreparable damage, which ultimately leads to premature ageing.
C-Tetra Cream contains tetrahexyldecyl ascorbate, a super-stable form of vitamin C that boosts the antioxidant defence levels in the skin. Ever the multi-tasker, it also stimulates collagen production to reduce the appearance of fine lines and wrinkles, leaving the complexion plump, radiant and youthful. As a lipid-soluble form of vitamin C, it is able to penetrate the skin's defensive lipid barrier with ease, delivering benefits deep within the skin.
Vitamin C and vitamin E work together synergistically as 'network antioxidants', boosting the cream's overall antioxidant effect.
C-Tetra Cream also harnesses superior hydration power by combining hyaluronic acid and glycerin with Medik8's signature Moisture Magnets™. These draw water from the atmosphere and from lower layers of the skin to leave the complexion supple and moisturised.
How To Use
After cleansing in the morning, use the spatula to apply C-Tetra Cream and blend evenly across face, neck and décolletage.
Patch testing prior to use is advised. Refer to medik8.co/patch for an in-depth guide to patch testing.
Ingredients
Tetrahexyldecyl Ascorbate
A lipid-soluble form of vitamin C that provides exceptional antioxidant protection from harmful free radicals, while stimulating collagen production for a youthful looking.
Vitamin E
A lipid-soluble antioxidant that is naturally present in the skin. Vitamin E protects the skin from free radicals is regenerated by vitamin C for optimum power.
Hyaluronic Acid
With a unique ability to attract and retain more than 1,000 times its own weight in water, hyaluronic acid draws moisture from the surrounding atmosphere into the skin, leaving the complexion both nourished and supple.
Moisture Magnets
Medik8's signature hydrators bind to skin cells and grab onto water to lock moisture in tight where it is needed the most.
NO ARTIFICIAL FRAGRANCE
PARABEN FREE
VEGAN FRIENDLY
ZIPPER DONATION
NO SYNTHETIC COLOURS
NO PHTHALATES
ALCOHOL FREE
CRUELTY FREE
Used in Professional Treatments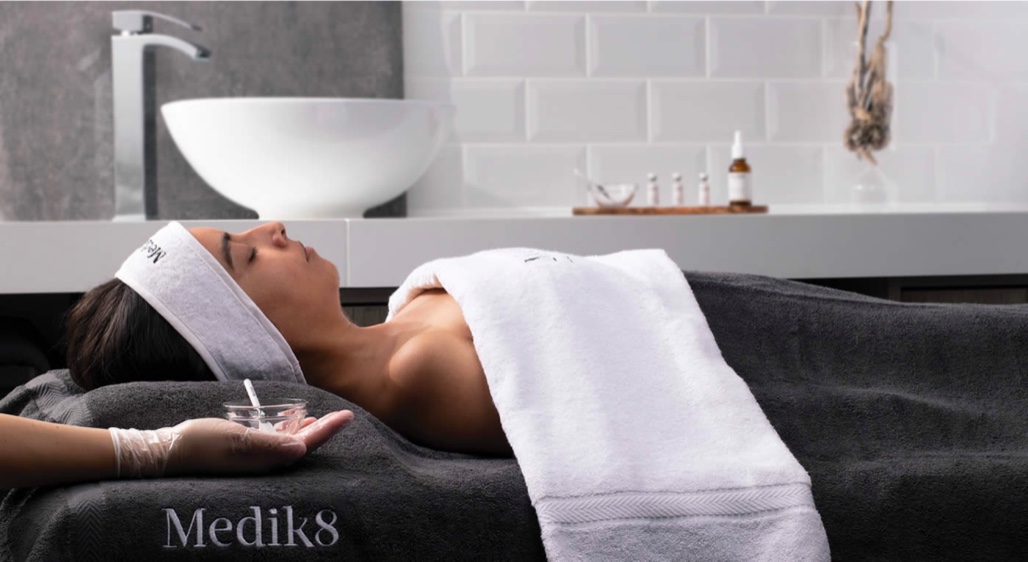 Boost the results of C-Tetra® Cream
Visit a Medik8 specialist for a detailed skin consultation and experience one of our relaxing anti-ageing facial treatments.
Rewind Professional Skin Peel
A targeted peel that helps to promote collagen production to reduce the appearance of fine lines and wrinkles. It fades away imperfections, leaving the skin visibly smoothed and rejuvenated.
The Science Behind
"After two weeks, I started to notice that my skin was brighter and fresher-looking, and that only got more noticeable as the days passed."
Truth in Aging