Transform the texture of your skin with Pore Minimising Tonic™.
KEY BENEFITS
This purifying post-cleanse solution works to keep pores clear and minimised over time.
RESULTS
The refreshing tonic improves skin tone and texture; leaving a flawless base and naturally healthy glow. The result is a smooth and luminous complexion.
KEY INGREDIENTS
Red Clover Extract, L-Mandelic Acid and L-Lactic Acid
Delivery Options
Standard Delivery
£3.75 or FREE on orders over £35. Please allow 3-5 working days for delivery.
Priority Delivery
£4.95 or FREE on orders over £100. Next-Day delivery when you order before 6pm Monday to Friday (Excluding bank holidays) Shipped by DPD
Key Benefits
Shrink Pores
A refreshing tonic solution that easily sweeps across the skin and absorbs instantly. Utilising AHAs to control oil production and decongest the skin; allowing pores to shrink back to their original size.
Hydrating
With a natural spearmint fragrance, the twice-daily tonic is a long-lasting solution to enlarged pores. Skin feels hydrated thanks to water-loving hyaluronic acid while also looking smooth, refined and visibly more youthful.
Antioxidant Protection
Alpha-lipoic acid also provides essential antioxidant protection, preventing enlarged pores caused by natural skin ageing.
How It Works
Exfoliation is absolutely vital for a youthful-looking, clear and visibly pore-free complexion. Pore Minimising Tonic™ harnesses the power of not 1, but 2 exceptional exfoliating acids to clear out debris from pores. When pore blockages occur from mixtures of sebum and dead skin cells they can often stretch out the pores, leading to a more noticeable appearance on the complexion.
Mandelic and lactic acids promote a smooth and even skin texture; ideal for flawless make-up application.
Red clover extract tackles the other main cause of enlarged pores: excess sebum production, by blocking the enzyme which produces sebum to regulate the skin's oil levels. Misshapen pores can also result from the ageing process, as skin starts to sag and lose elasticity.
Alpha-lipoic acid provides essential antioxidant protection to prevent premature ageing caused by free radicals. This keeps collagen and elastin intact and leaves pores taut and youthful-looking.
How To Use
Every morning and evening, apply Pore Minimising Tonic to a facial pad and sweep across the face and neck, avoiding the delicate eye area.
Patch testing prior to use is advised. Refer to medik8.co/patch for an in-depth guide to patch testing.
Interested in routines & layering?
Pore Minimising Tonic features in our carefully curated regime guide, Oily & Enlarged Pores Routine. Click the link for additional product recommendations and easy-to-follow layering advice.
Ingredients
Red Clover Extract
An exceptional botanical pore minimiser, red clover extract helps reduce sebum production, enhances cellular turnover and acts as a natural astringent to minimise the appearance of pores.
?L-Mandelic Acid
A softly exfoliating AHA with BHA power, chirally correct mandelic acid is able to work both on the surface of the skin and within pores for a deep but gentle exfoliation.
?L-Lactic Acid
A gentle AHA that gently exfoliates the upper layers of skin, while deeply hydrating for a nourished and cared for complexion.
Alpha-Lipoic Acid
A potent antioxidant, ALA protects the skin from premature ageing caused by the environment and UV rays. It can prevent the breakdown of collagen and elastin to protect the skin's delicate structure, for a firmer complexion and taut pores.
NO ARTIFICIAL FRAGRANCE
PARABEN FREE
VEGAN FRIENDLY
ZIPPER DONATION
NO SYNTHETIC COLOURS
NO PHTHALATES
ALCOHOL FREE
CRUELTY FREE
Used in Professional Treatments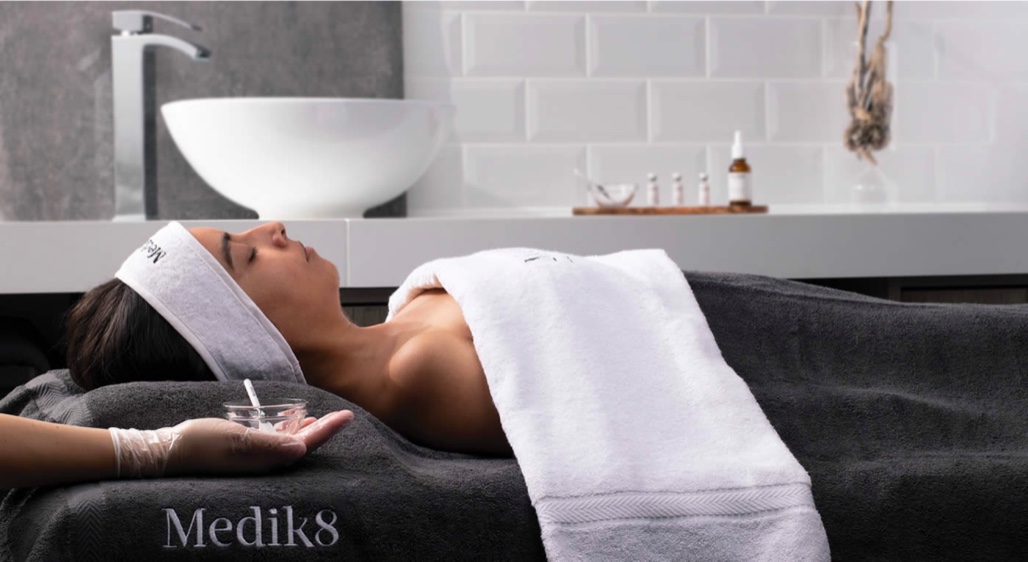 Boost the results of Pore Minimising Tonic
Visit a Medik8 specialist for a detailed skin consultation and experience one of our transformative Pore Refining treatments.
Pore Refining Facial
A skin perfecting facial treatment with a 360 degree targeted approach to tackle the appearance of enlarged pores. Advanced charcoal and moringa extract work in synergy to gently break down blockages. Skin's natural elasticity is rebooted for a flawless, smooth complexion.
Universal AHA Professional Skin Peel
Suitable for everyone and any skin concern, this peel visibly brightens, smoothes, decongests and revitalises the skin. Ideal for a first time peel or to maintain results from other peels.
The Science Behind
MANDELIC ACID
Often derived from almonds, mandelic acid is an alpha hydroxy acid (AHA) which also has properties of beta hydroxy acids (BHA). Both water and oil soluble, the acid can absorb into pores to breakdown blockages of sebum and skin cells, while also working on the upper surface to gently buff away dead skin. This leaves the complexion resurfaced and the pores decongested. Fine lines are smoothed while a luminous glow is achieved. As a large molecule, mandelic acid is not able to penetrate as deeply as glycolic acid, meaning it is a much better option for sensitive skin.