An effective, alcohol-free blemish treatment that's tough on breakouts and gentle on skin. A quick, no-fuss solution to all your blemish concerns.
KEY BENEFITS
Pre-soaked in a clarifying maximum strength salicylic acid serum, Blemish Control Pads dissolve oil and dirt from deep within the pore to purify problem complexions.
RESULTS
Use daily to leave skin noticeably clear, smooth and perfectly hydrated.
KEY INGREDIENTS
Allantoin, Glycerin
Delivery Options
Standard Delivery
£3.75 or FREE on orders over £35. Please allow 3-5 working days for delivery.
Priority Delivery
£4.95 or FREE on orders over £100. Next-Day delivery when you order before 6pm Monday to Friday (Excluding bank holidays) Shipped by DPD
Key Benefits
Blemish control
With maximum strength 2% salicylic acid combined with soothing ingredients, Blemish Control Pads work to clear the appearance of breakouts leaving skin hydrated and calm.
Targeted Treatment
Blemish Control Pads are a targeted treatment to take on active breakouts as and when you need them.
Non-Drying on Breakouts
Glycerin and allantoin work together to ensure the skin remains hydrated during use, offsetting any dryness that is common with other blemish-related products.
Gentle on Sensitive Skin
Each textured pad is ultra-light and soft to the touch, helping blemish-prone skin to stay comfortable during usage. Top tip: the pads can be used on larger areas such as the back, neck and arms to visibly decongest breakouts that appear on the body.
Perfect Product Pair
Crystal Retinal is the perfect choice of vitamin A to use with Blemish Control Pads to help minimise the appearance of blemishes; as it is the only form of vitamin A to be directly antibacterial.
How It Works
Blemishes are formed when a pore becomes clogged with dead skin cells and oil. This creates the perfect environment for irritating bacteria to flourish.
2% salicylic acid, a beta hydroxy acid (BHA) that can penetrate deep within pores and break down the bonds between dead skin cells and oil. This helps to reduce the formation of blemishes. Salicylic acid also works as an anti-inflammatory to soothe red and sore breakouts.
Infused with allantoin and glycerin, they protect the skin's natural moisture balance to ward off dryness while healing and protecting for even the most sensitive of skin types.
How To Use
After cleansing in the morning and/or evening, use a pad to gently wipe the face, avoiding the eye area and leaving a thin layer of liquid.
Allow to dry before moisturising.
Use up to twice per day.
Patch testing prior to use is advised. Refer to medik8.co/patch for an in-depth guide to patch testing.
Interested in routines & layering?
Blemish Control Pads feature in our carefully curated regime guide, Clear Complexion. Click the link for additional product recommendations and easy-to-follow layering advice.
Ingredients
2% Salicylic Acid
Decongesting and exfoliating from within the pore, salicylic acid breaks down clogged skin cells which could cause blemishes. At 2%, it is the maximum strength available without prescription for best possible results.
Allantoin
A botanical extract naturally occurring in comfrey root, an ancient herb renowned for its therapeutic properties. Allantoin promotes healing, speeds up cell renewal and softens skin.
???Glycerin
Naturally present in our skin, glycerin draws water from the lower levels of the epidermis and from the atmosphere to itself. This helps to hydrate the complexion and enhance the skin's natural barrier function.
Korean Clover Extract
Native to South Korea, Korean Clover Extract works alongside glycolic acid to support the skin's natural overnight repair and hydration process. It can help to maintain the natural skin barrier, leaving skin brighter, healthier and in sync.
NO ARTIFICIAL FRAGRANCE
PARABEN FREE
VEGAN FRIENDLY
ZIPPER DONATION
NO SYNTHETIC COLOURS
NO PHTHALATES
ALCOHOL FREE
CRUELTY FREE
Used in Professional Treatments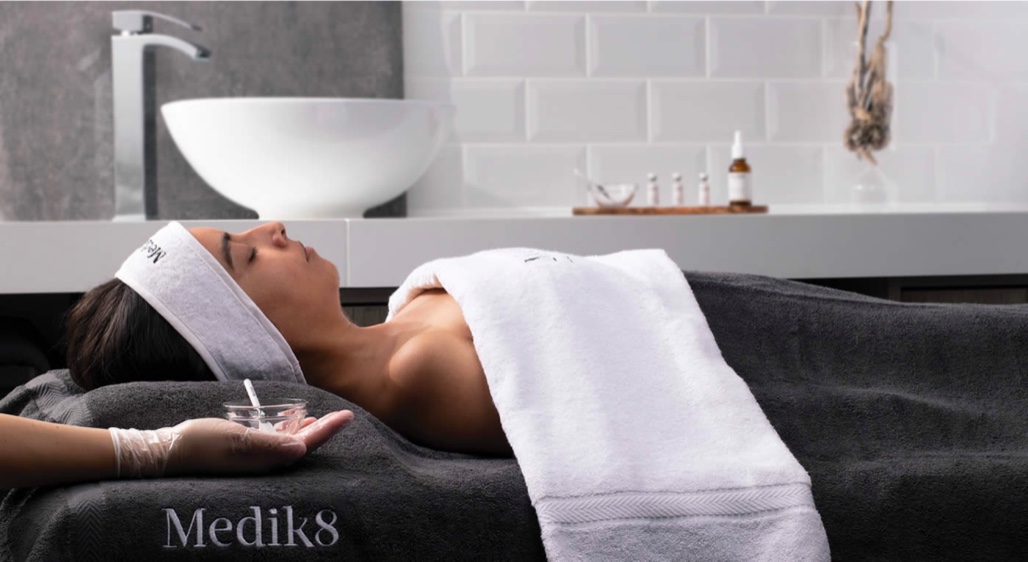 Boost the results of Blemish Control Pads
Visit a Medik8 specialist for a detailed skin consultation and experience one of our transformative Blemish treatments.
Clarity Facial
This clarifying treatment contains passion flower and cranberry fruit extracts. They work in harmony with deep cleansing actives to restore a visibly clear and soothed complexion. Impurities are swept away and moisture levels are boosted, resulting in skin that is re-balanced, clarified and visibly healthy.
Clarity Professional Skin Peel
This peel contains a powerful blend of acids that sink deep into pores to effectively clarify and decongest the complexion. Rapidly brings blemishes under control and dramatically reduces the risk of future breakouts.
The Science Behind
"Salicylic acid is typically difficult to formulate without alcohol because it cannot remain stable in water alone. This is why traditional blemish treatments are sometimes drying and uncomfortable to use. But Medik8 has designed an innovative formula that doesn't need alcohol, and even has allantoin and glycerin for healthy and hydrated skin."
Daniel Isaacs, Medik8 Director of Research