Visibly reduce breakouts in just 24 hours*.
KEY BENEFITS
This rapid action treatment gel features maximum strength salicylic acid (2%), which works quickly to diminish the appearance of blemishes while remaining completely invisible on the skin.
RESULTS
The appearance of pores are minimised and visible inflammation is calmed. Skin is left feeling decongested and healthy-looking.
KEY INGREDIENTS
2% Salicylic Acid, Niacinamide, Azelaic Acid & Dioic Acid
Delivery Options
Standard Delivery
£3.75 or FREE on orders over £35. Please allow 3-5 working days for delivery.
Priority Delivery
£4.95 or FREE on orders over £100. Next-Day delivery when you order before 6pm Monday to Friday (Excluding bank holidays) Shipped by DPD
Key Benefits
Fast-Acting
The fast-acting formula sinks effortlessly into skin to banish blemishes at their core. Fighting blemish-causing bacteria and controlling oil production within the skin.
Flawless Complexion
The dual-action formula clears pores and calms inflammation to promote a flawless, healthy complexion.
Targeted Treatment
Simply apply the quick-drying formula to clean skin, on its own or under make-up, to instantly target individual blemishes or problem areas.
Emergency Rescue
Complete with a handbag-friendly tube, it can be used at home or on-the-go to see you through any skin emergency. Plus, it dries to create a completely clear film over the blemish, so you can use it underneath make-up to stop breakouts in their tracks.
How It Works
Blemishes come in many different forms, however the basic steps to their creation are always the same. Dead skin cells mix with sebum produced by the pores to form a plug. This leaves the perfect environment for blemish bacteria (P. acnes) to thrive, which leads to red and sore inflammation. Blemish SOS targets all of these contributing elements to help promote a flawless complexion.
The targeted serum uses salicylic acid to clear out pore blockages, which helps to loosen clumps of dead skin cells stuck in the pores.
Dioic acid is also useful for reducing the amount of sebum our skin produces.
Antibacterial azelaic acid targets blemish-causing P. acnes.
Niacinamide takes down red and sore inflammation.
How To Use
After cleansing in the morning and/or evening, use a clean finger to apply a small amount of Blemish SOS as needed.
Rub in gently and allow to dry.
Slight tingling is normal.
Patch testing prior to use is advised. Refer to medik8.co/patch for an in-depth guide to patch testing.
Interested in routines & layering?
Blemish SOS features in our carefully curated regime guide, Clear Complexion. Click the link for additional product recommendations and easy-to-follow layering advice.
Ingredients
2% Salicylic Acid
Decongesting and exfoliating from within the pore, salicylic acid breaks down the clogged oil and skin cells that can lead to blemishes.
Niacinamide
Otherwise known as vitamin B3, this soothing anti-inflammatory quickly reduces redness and irritation surrounding the blemish, while regulating sebum production to prevent blocked pores.
Azelaic Acid
With its potent antibacterial properties, azelaic acid targets blemish-causing bacteria such as P. acnes.
Dioic Acid
Able to control the amount of oil produced by the pores, dioic acid helps to declog and prevent future blemishes.
NO ARTIFICIAL FRAGRANCE
PARABEN FREE
VEGAN FRIENDLY
ZIPPER DONATION
NO SYNTHETIC COLOURS
NO PHTHALATES
CRUELTY FREE
Used in Professional Treatments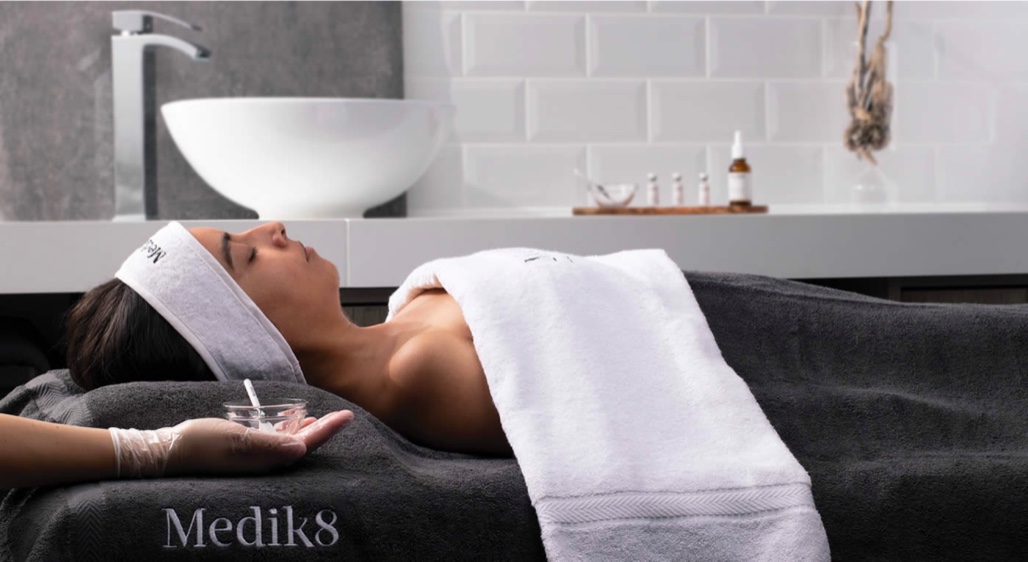 Boost the results of Blemish SOS
Visit a Medik8 specialist for a detailed skin consultation and experience one of our transformative Blemishes treatments.
Clarity Facial
This clarifying treatment contains passion flower and cranberry fruit extracts. They work in harmony with deep cleansing actives to restore a visibly clear and soothed complexion. Impurities are swept away and moisture levels are boosted, resulting in skin that is re-balanced, clarified and visibly healthy.
Clarity Professional Skin Peel
This peel contains a powerful blend of acids that sink deep into pores to effectively clarify and decongest the complexion. Rapidly brings blemishes under control and dramatically reduces the risk of future breakouts.
The Science Behind
Salicylic acid is a BHA (beta hydroxy acid), exfoliating acid that is considered to be the gold standard for blemish prevention. At Medik8, our products containing salicylic acid were designed with blemish concerns in mind, however they are suitable for all skin types. Our maximum strength salicylic acid-infused treatment Blemish SOS™ is there ready as and when you need it.
*Results may vary per person