Medik8's beloved sumptuous cleansing mousse, designed to effortlessly elevate any cleansing experience and results with innovative skin purifying technologies.
KEY BENEFITS
Perfect for all skin types, from sensitive skins seeking skin comfort to those wanting powerful yet easy-to-achieve, speedy cleansing results.
RESULTS
Powered by advanced micellar cleansing technology for simple sunscreen and makeup removal, skin nourishment and pollution neutralisation.
KEY INGREDIENTS
Micellar Technology, Moringa Extract & Glycerin
Delivery Options
Standard Delivery
£3.75 or FREE on orders over £35. Please allow 3-5 working days for delivery.
Priority Delivery
£4.95 or FREE on orders over £100. Next-Day delivery when you order before 6pm Monday to Friday (Excluding bank holidays) Shipped by DPD
Key Benefits
Elevated Cleansing Experience
A rich mousse texture that instantly envelopes skin in an uplifting, comforting and enjoyable cleansing experience.
Powered by Micellar Technology
Purifying micellar cleansing spheres, infused with olive oil, draw in impurities, makeup and sunscreen, for them to easily rinse off with the mousse, leaving skin both clean and nourished.
Pollution Protection
Moringa extract is our natural anti-pollution cleansing agent, acting like a magnet to extract pollution particles from the skin so they can be effortlessly washed away. Ideal to cleanse skin from a day's exposure to the environment.
Everyone Cleanser
pH-balanced Micellar Mousse is suitable for all skin types, including sensitive skins, to compliment any skincare routine. Our ultimate foaming cleanser, once you start using Micellar Mousse, you won't go back.
Perfect Product Pair
Micellar Mousse and Lipid-Balance Cleansing Oil
make for the perfect double cleanse partners to ensure you get the most effective sunscreen and makeup removal in the evening.
How It Works
Micellar Mousse is exactly what its name suggests: a rich, sumptuous mousse-textured formulation. Within it lies advanced technologies to upgrade any cleansing ritual.
A micelle is a sphere made up of tiny cleansing agents called surfactants. The inside of a micelle is an oil-loving environment which loves to grab dirt, oils, pollution and make-up particles. As the luxurious mousse envelops the surface of the skin, the tiny cleansing micelles pick up the oil-soluble particles on your face, gently ridding skin of make-up, sunscreen and impurities..
The micelles also release nourishing olive oil onto the skin to gently moisturise the skin.
Moringa extract acts as a magnet for pollution particles, pulling them towards itself so they can be easily and quickly cleansed away for purified skin.
Glycerin gently hydrates as the nourishing formula deeply cleanses the skin. Skin is left fresh, detoxified and comfortable.
How To Use
Every morning and evening, pump Micellar Mousse into the palm of the hand and massage into moistened face and neck.
Gently remove by splashing with water and pat face dry.
Patch testing prior to use is advised. Refer to medik8.co/patch for an in-depth guide to patch testing.
Ingredients
Olive Oil-Infused Micelles
Made up of deeply cleansing spheres with a heart of nourishing olive oil, the purifying micelles break down make-up, skin oils and impurities.
A natural cleanser and next-generation antioxidant, moringa extract draws dirt, impurities and pollution to itself so they can be easily cleansed away.
Naturally present in our skin, glycerin draws water from the lower levels of the skin itself. This helps to hydrate the complexion, leaving it soft and comfortable.
Full Ingredients
<!–
What we choose not to include
–>
NO ARTIFICIAL FRAGRANCE
PARABEN FREE
VEGAN FRIENDLY
ZIPPER DONATION
NO SYNTHETIC COLOURS
NO PHTHALATES
ALCOHOL FREE
CRUELTY FREE
Used in Professional Treatments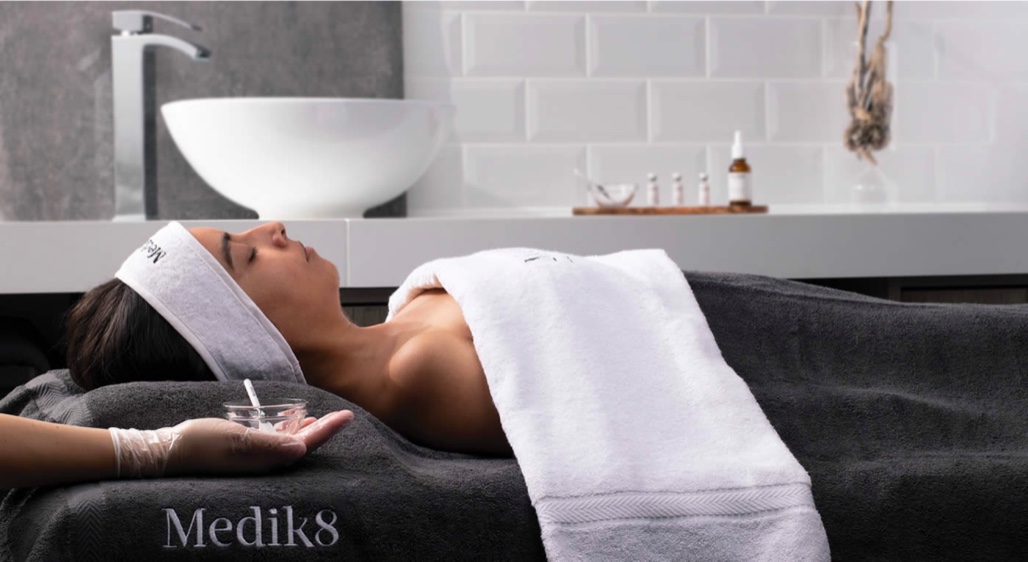 Boost the results of Micellar Mousse
Visit a Medik8 expert for a detailed skin consultation and experience one of our results-driven facials or peels. Read more about our treatments here.
The Science Behind
"Often traditional micellar waters and cleansing wipes can leave traces of make-up, dirt and cleansing molecules on the skin, which have the potential to cause irritation and block the absorption of products put on top. By combining the cleansing power of micelles with a luxurious mousse formula, make-up and dirt are washed down the plug hole and the complexion is left residue-free. "
Daniel Isaacs, Medik8 Director of Research