Our original hyaluronic acid serum – supercharged. Harnessing all of the hydration power of our best seller, Hydr8 B5, with added Natural Moisturising Factors alongside a potent triple-action hydration booster which recharges the skin's internal moisture source.
KEY BENEFITS
The lightweight serum helps to kickstart the natural production of hyaluronic acid in the skin, blocks its breakdown and works in conjunction with hyaluronic acid to deliver immediate and long-term hydration for all-day moisture.
RESULTS
Hydr8 B5 Intense gives your skin the power to withstand dehydrating changes in temperature and humidity, leaving the complexion showered in moisture.
KEY INGREDIENTS
Multiweight Hyaluronic Acid, Vitamin B5 , Natural Moisturising Factors and Saskatoon Berry
Delivery Options
Standard Delivery
£3.75 or FREE on orders over £35. Please allow 3-5 working days for delivery.
Priority Delivery
£4.95 or FREE on orders over £100. Next-Day delivery when you order before 6pm Monday to Friday (Excluding bank holidays) Shipped by DPD
Key Benefits
Fast-absorbing Serum
Maintaining the same textual characteristics of the original best-seller, this lightweight, fast-absorbing serum upgrade is the ultimate antidote for parched, dry skin.
Deeply Hydrating
Just a few drops twice a day will leave your skin hydrated beyond recognition. Simply massage the berry-toned serum into skin and feel the difference in a matter of seconds.
Powerful Ingredients
The super-soft serum receives its vibrant purple hue from antioxidant-rich saskatoon berry. This nourishing superfood protects the skin's natural stores of hyaluronic acid to promote a supple complexion from the inside out.
How It Works
Amplify your skin's natural hyaluronic acid levels with Hydr8 B5 Intense. Harnessing the power of our original best-seller serum with multi-weight hyaluronic acid and vitamin B5 combined, a triple-action booster complex supercharges the power of hydration.
Amplify: Biosaccharide gum works in conjunction with hyaluronic acid which can deliver immediate and long-term hydration for all-day moisture. This can lead to a lasting reservoir of hyaluronic acid in the upper layers of the skin for added bounce and moisture.
Stimulate: Soy extract can help to stimulate the natural production of hyaluronic acid.
Protect: Purple-hued superfood saskatoon berry helps to fight the enzymes that break down hyaluronic acid within the skin, preserving its moisture-boosting power.
Combined, the tri-booster can provide both immediate and long term hydration, plumping up the appearance of fine lines and restoring that covetable dewy glow.
Natural Moisturising Factors (NMF): Your skin instinctively produces Natural Moisturising Factors, such as amino acids, fatty acids and sodium PCA, which it uses to boost water retention. These components increase hydration, which in turn helps to recharge the skin's flexibility and help it to function in optimal conditions.
How To Use
After cleansing in the morning and evening, massage 6 drops Hydr8 B5 Intense across the face, neck and décolletage.
Leave to absorb before applying moisturiser.
Patch testing prior to use is advised. Refer to medik8.co/patch for an in-depth guide to patch testing.
Interested in routines & layering?
Hydr8 B5 Intense features in our carefully curated regime guide, Hydration Recharge. Click the link for additional product recommendations and easy-to-follow layering advice.
Ingredients
With a unique ability to attract and retain more than 1,000 times its own weight in water, hyaluronic acid draws moisture from the surrounding atmosphere into the skin, leaving the complexion both nourished and supple.
Also known as panthenol, vitamin B5 helps the skin to retain moisture, while supporting the regeneration of skin cells.
Sodium PCA, glycerin, urea, proteins, sugars, 15 different amino acids, lactic acid, creatine; natural components in the skin which bind and hold water for ultimate hydration.
Found in the wild open woods of western Canada, saskatoon berries are packed full of wonder-antioxidants called anthocyanins. Saskatoon can help to block the enzyme which breaks down hyaluronic acid, leaving a reservoir of hyaluronic acid within the upper levels of the skin.
A natural and potent antioxidant, soy is able to help stimulate the skin's natural production of hyaluronic acid, alongside helping to enhance collagen synthesis for youthful-looking and hydrated skin.
Full Ingredients
<!–
What we choose not to include
–>
NO ARTIFICIAL FRAGRANCE
PARABEN FREE
VEGAN FRIENDLY
ZIPPER DONATION
NO SYNTHETIC COLOURS
NO PHTHALATES
ALCOHOL FREE
CRUELTY FREE
Used in Professional Treatments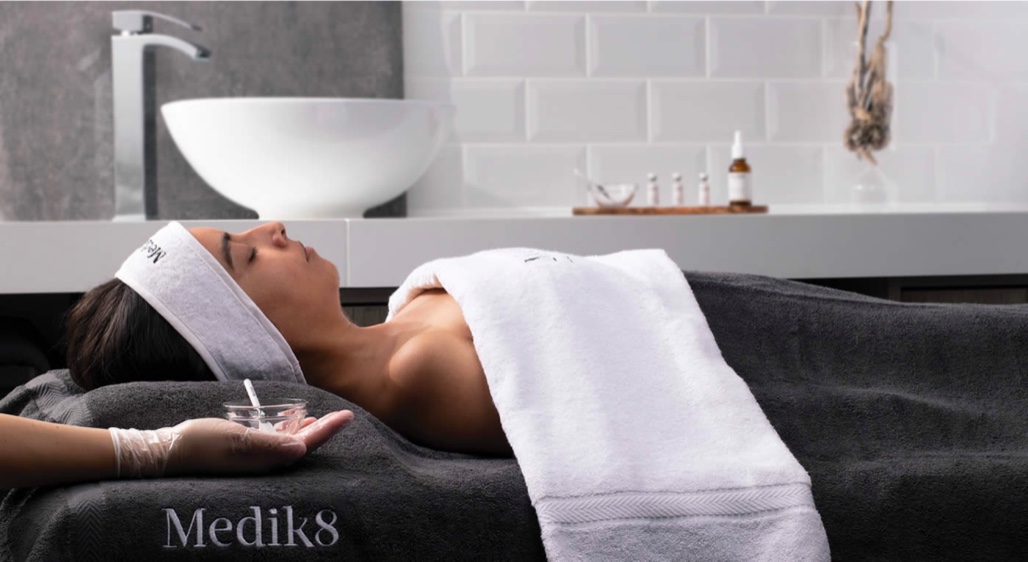 Boost the results of Hydr8 B5 Intense
Visit a Medik8 specialist for a detailed skin consultation and experience one of our powerful anti-ageing facial treatments.
Deep Hydration Facial
A multi-level hydration treatment delivering intense nourishment for dry, thirsty skin. The nutrient-rich mask floods skin with moisture to help plump dehydration lines and revive suppleness. Skin is left soft to the touch, intensively hydrated and healthy-looking.
Universal AHA Professional Skin Peel
Suitable for everyone and any skin concern, this peel visibly brightens, smoothes, decongests and revitalises the skin. Ideal for a first time peel or to maintain results from other peels.
The Science Behind
"The natural red-purple hue of Hydr8 B5 Intense comes from the antioxidant powerhouse saskatoon berry. Bright purple and packed with legendary anthocyanins – exceptional antioxidants which fight off free radicals – saskatoon has another superpower up its sleeve. It can help to inhibit the enzyme which breaks down excess hyaluronic acid within the skin, leaving the upper layers overflowing with hyaluronic acid for the ultimate plumped up, youthful-looking complexion."
Daniel Isaacs, Medik8 Director of Research