Leave nothing behind with Eyes & Lips Micellar Cleanse. A triple-phase micellar cleansing system that gently removes long-wear lip and eye make-up without the need to tug skin.
KEY BENEFITS
Effortlessly dissolving tough waterproof mascara and high-pigment colours in seconds.
RESULTS
Lashes and skin are conditioned and hydrated and your complexion is left soft and purified
KEY INGREDIENTS
Vitamin B5, Hyaluronic Acid, Chamomile & Cornflower
Delivery Options
Standard Delivery
£3.75 or FREE on orders over £35. Please allow 3-5 working days for delivery.
Priority Delivery
£4.95 or FREE on orders over £100. Next-Day delivery when you order before 6pm Monday to Friday (Excluding bank holidays) Shipped by DPD
Key Benefits
Superior Make-up Removal
Refreshing and nourishing, the clear formula soothes skin as it removes all traces of waterproof and long-wear make-up. A little goes a long way and there is no need to pull or tug skin.
Fast-Acting
The triple-phase micellar system gets to work in seconds; dissolving make-up and impurities while hydrating skin and delicate eyes.
Fresh Scent
Formulated without artificial fragrance, the cleanser has a clean and fresh scent from the chamomile and cornflower botanicals.
How It Works
This innovative formula uses triple-phase micellar technology for superior make-up removal. The upper phase harnesses the power of traditional micellar water (which contains 2 phases of water and oil) in combination with the lower phase which is an oil-like cleanser.
Powerful hydrators, vitamin B5 and hyaluronic acid, help to replenish and nourish the eyelashes for optimal growth conditions. The infusion of moisture also helps to minimise dehydration lines around the eyes for a smoother complexion.
Chamomile and cornflower work in combination as anti-inflammatories to soothe and comfort the lids and lips.
How To Use
Shake the bottle to activate the solution.
Apply Eyes & Lips Micellar Cleanse to a reusable facial pad, gently press over eyes or lips for a few seconds and sweep away until make-up free.
Patch testing prior to use is advised. Refer to medik8.co/patch for an in-depth guide to patch testing.
Ingredients
Vitamin B5
Also known as panthenol, vitamin B5 helps the skin to retain moisture, while also supporting the regeneration of skin cells.
Hyaluronic Acid
Able to hold up to 1,000 times its own weight in water, hyaluronic acid draws moisture to itself, leaving lashes flexible and shiny, and skin hydrated and supple.
Chamomile
Calming and soothing, chamomile reduces inflammation and nourishes the lashes and lips.
Cornflower
A botanical extract, cornflour water helps to gently depuff eyes and soothe skin.
Full Ingredients
<!–
What we choose not to include
–>
NO ARTIFICIAL FRAGRANCE
PARABEN FREE
VEGAN FRIENDLY
ZIPPER DONATION
NO SYNTHETIC COLOURS
NO PHTHALATES
ALCOHOL FREE
CRUELTY FREE
Used in Professional Treatments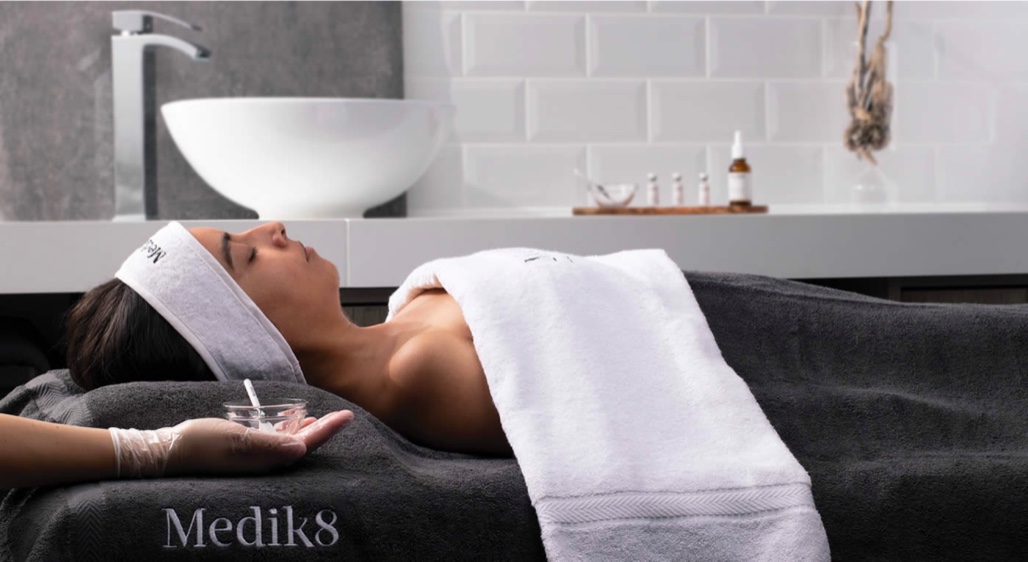 Boost the results of Eyes & Lips Micellar Cleanse
Visit a Medik8 expert for a detailed skin consultation and experience one of our results-driven facials or peels. Read more about our treatments here.
Used in Professional
Eyes & Lips Micellar Cleanse is loved by professionals, featuring in all Medik8 Professional Peels, plus many of our facials.
The Science Behind
Medik8 Cleansers are designed by our in-house formulation scientists and researchers. Every aspect of our cleanser formulations are carefully optimised to ensure high performance while maintaining skin comfort: all are pH balanced and feature considered surfactants, hydrators, and efficient cleansing actives.