Discover the ultimate plant-based, anti-ageing alternative for vitamin A. Ideal for those who can't use retinol – e.g. when pregnant or nursing.*
KEY BENEFITS
Designed to help promote a more youthful complexion, the lightweight serum harnesses the gentle power of 1.25% pure bakuchiol.
RESULTS
The oil-based serum helps to reduce the appearance of fine lines and wrinkles, while improving overall skin texture and tone.
KEY INGREDIENTS
Bakuchiol, Brightening Peptide Precursors, Centella Asiatica and Inka Omega Oil
Delivery Options
Standard Delivery
£3.75 or FREE on orders over £35. Please allow 3-5 working days for delivery.
Priority Delivery
£4.95 or FREE on orders over £100. Next-Day delivery when you order before 6pm Monday to Friday (Excluding bank holidays) Shipped by DPD
Key Benefits
Targets Signs of Ageing
Bakuchiol Peptides helps to reduce the appearance of fine lines and wrinkles and improve overall skin texture and tone. Visibly plumped and supple, the skin is left feeling soft and smooth.
Soothing on the Skin
The conditioning serum is incredibly soothing and calming on the skin, helping to visibly reduce any inflammation and redness.
Perfect for Expecting & Nursing Mums
A clinically proven alternative to retinol that is ideal for those that can't use vitamin A – e.g. when pregnant or nursing* as it is not recommended during this time.
Photostable
Bakuchiol Peptides can be used both day and night, for accelerated visible anti-ageing results.
How It Works
Bakuchiol is a clinically proven alternative to retinol; while molecularly it has no structural resemblance to retinoids, a recent study by the British Journal of Dermatology has found that bakuchiol is comparable to retinol in anti-ageing effects, and is better tolerated than retinol (read our blog to find out more). Containing 1.25% pure bakuchiol, Bakuchiol Peptides is the perfect alternative for those who cannot use vitamin A.
Bakuchiol is able to stimulate collagen and elastin production within the skin, while blocking the inflammatory pathways within the skin. This can result in a visible calmed, even and youthful-looking complexion.
Brightening peptide precursors penetrate the skin with ease, blocking the overproduction of pigment in the skin, resulting in a visibly brighter, more even complexion with less visible hyperpigmentation.
Centella asiatica helps to stimulate the production of collagen and is perfect for visibly soothing and calming inflamed, sensitive skin.
Inka omega oil is rich in omegas 3, 6 and 9, and is able to slip into the gaps in the stratum corneum to restore the skin's natural barrier and block moisture loss.
While bakuchiol naturally has short-term photostability, meaning it can be used day and night, the formula has also been optimised for true long-term photostability; contained in a UV-protected glass bottle and infused with photo-stabiliser krameria triandra root extract within the formula.
How To Use
After cleansing in the morning and evening, massage 6 drops of Bakuchiol Peptides™ across the face, neck and décolletage.
Patch testing prior to use is advised. Refer to medik8.co/patch for an in-depth guide to patch testing.
Interested in routines & layering?
Bakuchiol Peptides features in our carefully curated regime guide Mum-To-Be/ New Mum Alternatives. Click the link for additional product recommendations and easy-to-follow layering advice.
Ingredients
Bakuchiol
A clinically proven alternative to retinol, bakuchiol helps to stimulate collagen and elastin production, smoothing the appearance of fine lines and wrinkles. Incredibly gentle, it is suitable for those that cannot usually tolerate vitamin A.
Brightening Peptide Precursors
A lipo-amino acid that can penetrate the natural skin barrier with ease. They stop the action of MSH (melanin stimulating hormone), therefore blocking the production of melanin, for a visibly brighter and even skin tone.
?Centella Asiatica
A naturally-derived anti-inflammatory with incredible wound healing benefits on the skin.
?Inka Omega Oil
One of the highest, organic sources of omegas among natural seeds. The natural oil can slip into the gaps between skin cells in the stratum corneum to restore the skin's natural barrier and block moisture loss.
Please note; Bakuchiol Peptides contains natural extracts which can vary in colour from season to season. Hence there may be some slight variations in colour across different batches.
*Of course, due to ethical considerations the Bakuchiol Peptides formula has not been tested on pregnant women, but there is nothing in the formula which is known to be an issue (eg vitamin A or high levels of exfoliating acids). If you are at all concerned, always consult your doctor.
Full Ingredients
<!–
What we choose not to include
–>
NO ARTIFICIAL FRAGRANCE
PARABEN FREE
VEGAN FRIENDLY
ZIPPER DONATION
NO SYNTHETIC COLOURS
NO PHTHALATES
ALCOHOL FREE
CRUELTY FREE
Used in Professional Treatments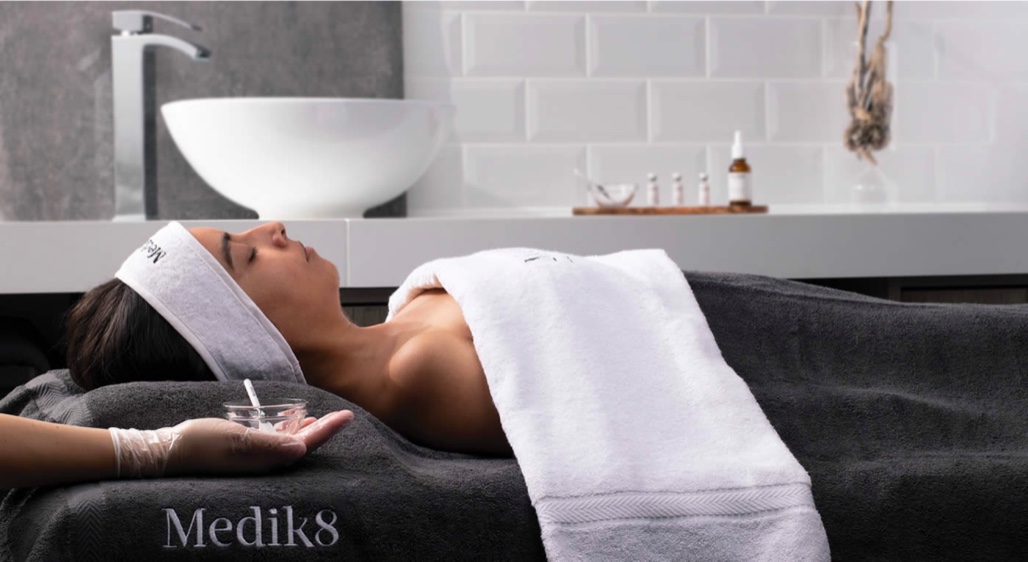 Boost the results of Bakuchiol Peptides
Visit a Medik8 specialist for a detailed skin consultation and experience one of our relaxing facial treatments.
Calming Facial
A professional treatment to soothe and comfort sensitised, irritated skin. The unique application of the calming bio-cellulose mask enriched with zinc and hyaluronic acid caresses the face to restore comfort levels. Feelings of tightness and inflammation disappear revealing visibly calm, even and radiant skin.
Sensitive PHA Professional Skin Peel
A new addition, this peel is for extremely sensitive or redness-prone skin to visibly smooth skin texture and help promote a stronger skin barrier.
The Science Behind
"Bakuchiol has short-term photostability, therefore it can be used in the morning throughout the day. However, through laboratory testing we have discovered that bakuchiol loses its activity when exposed to sunlight over a period of a few months. Therefore, we have taken a dual-actioned preventative approach to keeping our formula stable in the long-term. Bakuchiol Peptides is housed in a UV-protected glass bottle, to protect the formula from photooxidation which can eventually cause a significant loss in performance. The UV-light stabilising coating on the bottle targets the UV rays before they can cause any damage, absorbing the highly energetic UV light and then dissipating the energy. Photo-stabiliser krameria triandra root extract on the other hand, works to absorb any UV which penetrates through the packaging, protecting the bakuchiol molecule within the formula."
Daniel Isaacs, Medik8 Director of Research