An ultra-gentle foaming cleanser that is designed to keep the most sensitive of skins comfortable during an effective cleansing ritual.
KEY BENEFITS
The Medik8 cleanser for very sensitive skins. Gentle Cleanse features mild cleansing agents plus sensitive-friendly ingredients, optimised for gentle cleansing power.
RESULTS
The lightweight foam leaves skin feeling totally refreshed, hydrated and soft-to-the-touch.
KEY INGREDIENTS
Rosemary Leaf Oil & Glycerin
Delivery Options
Standard Delivery
£3.75 or FREE on orders over £35. Please allow 3-5 working days for delivery.
Priority Delivery
£4.95 or FREE on orders over £100. Next-Day delivery when you order before 6pm Monday to Friday (Excluding bank holidays) Shipped by DPD
Key Benefits
Kind to Skin
pH-balanced and created with sensitive skins in mind, this cleanser is perfect for those looking for a simple cleansing ritual that ensures skin comfort throughout use.
Gentle yet Effective
The mild formula works to gently lift impurities and dirt from the skin to be rinsed away with ease.
Antioxidant Protection
Rosemary leaf oil works to neutralise damaging free radicals from the environment that are residing on the skin's surface, thus helping to prevent the signs of premature ageing.
Replenished Hydration
Natural glycerin infuses the skin with hydration, ensuring skin never feels dry or tight.
Perfect Product Pair
Lipid Balance Cleansing Oil and Gentle Cleanse make for the perfect double cleanse partners to ensure you get the most gentle yet effective sunscreen and makeup removal in the evening.
How It Works
A lightweight foaming cleanser that is considerate to very sensitive skins, designed to offer total care and comfort during cleansing.
Ultra-gentle and kind to skin, Gentle Cleanse is formulated with mild cleansing agents that softly wash away light makeup, sunscreen and daily impurities.
Glycerin acts as a humectant, to draw water to itself from the lower layers of the skin and from the environment. This leaves the skin feeling nourished and hydrated, but never left with the tight feeling often associated with traditional foaming cleansers.
Rosemary leaf oil is rich in antioxidants that work to neutralise damaging free radicals on the skin surface which can cause damage and premature ageing. This helps to promote a visibly healthy, youthful complexion.
How To Use
Every morning and evening, pump Gentle Cleanse into the palm of the hand and massage into moistened face and neck.
Gently remove foam by splashing with water and pat face dry.
Patch testing prior to use is advised. Refer to medik8.co/patch for an in-depth guide to patch testing.
Ingredients
Rosemary Leaf Oil
A powerful botanical antioxidant, rosemary leaf oil protects the skin from free radicals to prevent premature ageing.
Glycerin
By gently drawing water to itself from the lower layers of the skin, glycerin leaves skin nourished and replenished of moisture for a soft and supple complexion.
Full Ingredients
<!–
What we choose not to include
–>
NO ARTIFICIAL FRAGRANCE
PARABEN FREE
VEGAN FRIENDLY
ZIPPER DONATION
NO SYNTHETIC COLOURS
NO PHTHALATES
ALCOHOL FREE
CRUELTY FREE
Used in Professional Treatments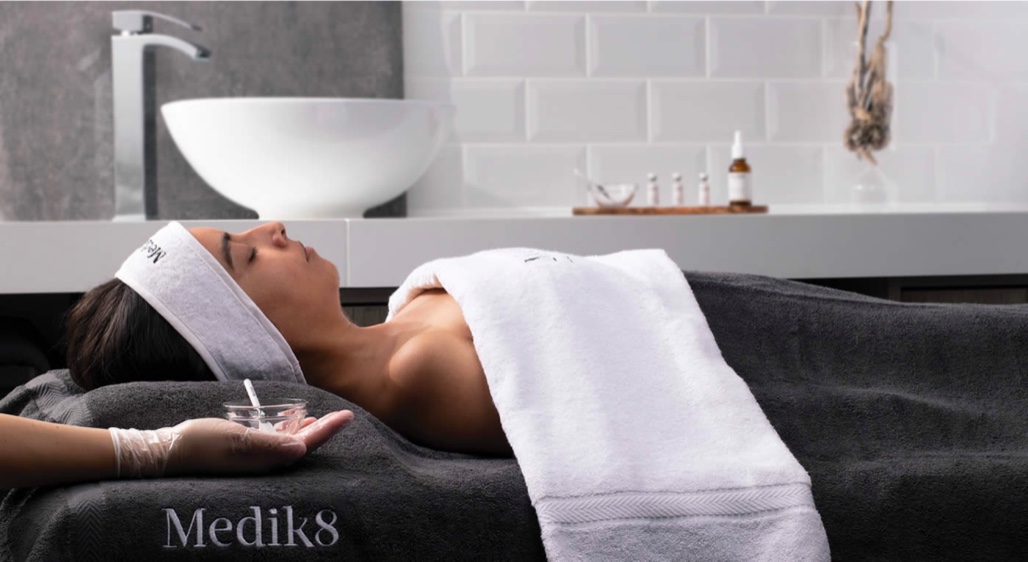 Boost the results of Gentle Cleanse
Visit a Medik8 expert for a detailed skin consultation and experience one of our results-driven facials or peels. Read more about our treatments here.
The Science Behind
Medik8 Cleansers are designed by our in-house formulation scientists and researchers. Every aspect of our cleanser formulations are carefully optimised to ensure high performance while maintaining skin comfort: all are pH balanced and feature considered surfactants, hydrators, and efficient cleansing actives.