The original, bestselling C-Tetra serum. A gentle yet effective lightweight vitamin C serum for restoring the appearance of skin radiance and minimising the visible signs of ageing.
KEY BENEFITS
C-Tetra promotes a youthful-looking, glowing complexion. Skin feels immediately soft, supple and smooth.
RESULTS
Vitamin C minimises the appearance of fine lines and wrinkles over time, while helping to visibly balance and brighten the skin tone.
KEY INGREDIENTS
Tetrahexyldecyl Ascorbate (Vitamin C) & Vitamin E
Delivery Options
Standard Delivery
£3.75 or FREE on orders over £35. Please allow 3-5 working days for delivery.
Priority Delivery
£4.95 or FREE on orders over £100. Next-Day delivery when you order before 6pm Monday to Friday (Excluding bank holidays) Shipped by DPD
Key Benefits
Daily Glow
The silky jojoba oil-infused serum works to effortlessly give skin a boost of radiance, promoting a visible healthy glow.
Antioxidant Power
Vitamin C and E provide daily protection from harmful free radicals generated by sun exposure, which can cause premature skin ageing.
Gentle yet Effective
Tetrahexyldecyl ascorbate is a stabilised, gentle form of vitamin C which makes it perfect for those new to vitamin C, or sensitive skins that don't want to compromise on results.
Looking for more power?
Check out C-Tetra Luxe, with double the concentration of vitamin C as C-Tetra and additional brightening and nourishing ingredients for supercharged results.
How It Works
Your skin contains natural antioxidants that work to defend against free radicals from the environment. When these environmental free radicals outweigh your skin's antioxidants, the skin can no longer protect itself. Free radicals latch onto the defenceless skin cells, causing irreparable damage, which ultimately leads to premature skin ageing.
C-Tetra works to protect the skin from free radical damage, featuring vitamin C to boost the natural antioxidant defence levels in the skin. Vitamin C is a key pillar of our CSA Philosophy, due to being one of the most powerful vitamins for preventing the signs of premature skin ageing. Vitamin C also helps to stimulate collagen production, and can disrupt the overproduction of melanin to brighten the appearance of dark spots and uneven skin tone. The result? Visibly radiant, healthier, more youthful-looking skin. C-Tetra contains tetrahexyldecyl ascorbate, a form of vitamin C which is a stabilised modification of ascorbic acid (the purest form of vitamin C) that is gentle on the skin yet proven to deliver visible results.
Vitamin C and vitamin E work together synergistically as 'network antioxidants', boosting the serum's overall antioxidant effect to keep skin protected throughout the day.
C-Tetra is based on jojoba seed oil, for lightweight nourishment and an instant glowing appearance. The natural emollient oil slips effortlessly into the skin barrier, delivering the vitamin C benefits with ease.
Perfect Pair
When combined, vitamin C and sunscreen give skin the ultimate protection against the sun & environment throughout the day, to minimise signs of premature ageing. Shop our recommended SPF day cream Advanced Day Total Protect here.
How To Use
After cleansing in the morning, massage 4 drops across the face, neck and décolletage
Leave to absorb before applying sunscreen. We recommend Advanced Day Total Protect.
Patch testing prior to use is advised. Refer to medik8.co/patch for an in-depth guide to patch testing.
Interested in routines & layering?
C-Tetra features in many of our carefully curated regime guides, including our Fine Lines Defence regime. Click the link for additional product recommendations and easy-to-follow layering advice.
Ingredients
Tetrahexyldecyl Ascorbate
A lipid-soluble form of vitamin C that provides exceptional antioxidant protection from harmful free radicals, while stimulating collagen production for a youthful complexion.
Vitamin E
A lipid-soluble antioxidant that is naturally present in the skin. Vitamin E protects the skin from free radicals and is regenerated by vitamin C for optimum power.
Full Ingredients
<!–
What we choose not to include
–>
NO ARTIFICIAL FRAGRANCE
PARABEN FREE
VEGAN FRIENDLY
ZIPPER DONATION
NO SYNTHETIC COLOURS
NO PHTHALATES
ALCOHOL FREE
CRUELTY FREE
Used in Professional Treatments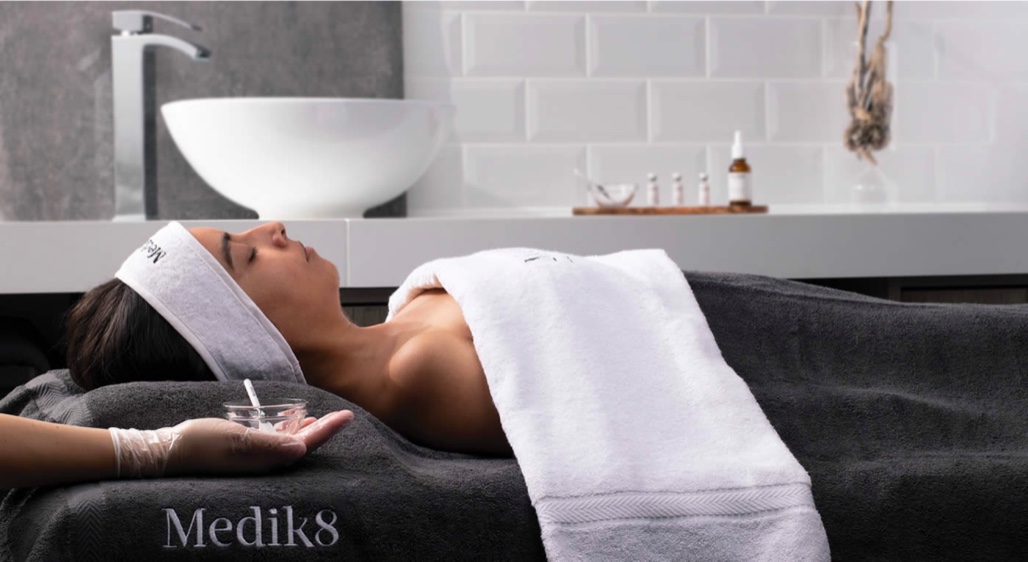 Boost the results of C-Tetra®
Visit a Medik8 specialist for a detailed skin consultation and experience one of our relaxing anti-ageing facial treatments.
Rewind Professional Skin Peel
A targeted peel that helps to promote collagen production to reduce the appearance of fine lines and wrinkles. It fades away imperfections, leaving the skin visibly smoothed and rejuvenated.
The Science Behind
"It is exceptionally difficult to formulate a long-lasting vitamin C serum that will keep its power over time. It is notoriously unstable, sensitive to oxidation and can often turn yellow in colour, which indicates that it has gone off. Medik8's C-Tetra range utilises an extremely stable form of vitamin C, called tetrahexyldecyl ascorbate. This molecule is altered to make it less reactive to oxidation, meaning that even 6 months down the line you can be sure your vitamin C is still as potent as when you first opened it."
Daniel Isaacs, Medik8 Director of Research